Mini Game and Fans Invited to Leave Messages for P3P
P3P site updates for today include letting fans leave their messages to show to their support for P3P by clicking the blue banner next to the blog button. Then you must leave...
Your name (nicknames permitted).
Email address.
Question or message to show your support.
Indicate if it's a message or question you're leaving.
Would be interesting if someone left English messages and they were later published!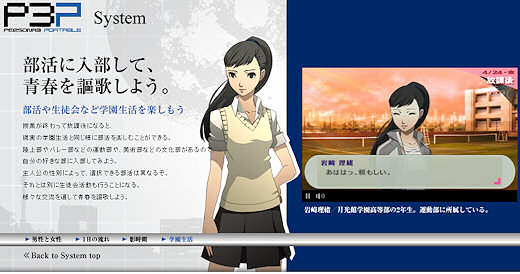 The other updates are...
Velvet Room video introducing the new assistant, Theodore.
Campus life video introducing the new Social Link, Rio Iwasaki.
So another tip for knocking up those Social Links. Rio's giving some basic training at the sports club and suggests the Heroine does a bit of shouting if she gets too tired running to keep going. Tell her you aren't that unfit and she'll be happy.
Also if you click on the Velvet Room button, you get a quest from Elizabeth to return a red attache case to her from Yukari so after choosing to accept the quest, visit Yukari's page in the characters section to find another video. Yukari visits the hospital and suggests the Heroine can throw away all the formalities (so you don't have to add "-san" to her name).
None of Tomoko Komiya's vocals in this short sample of the Velvet Room theme song.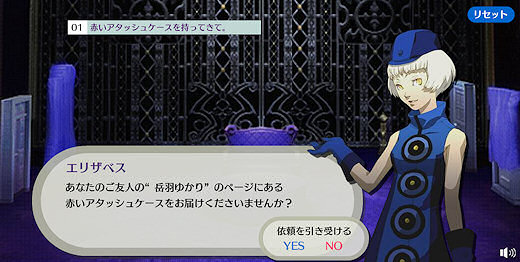 And no, there will be no same sex romance in this version of P3P as suggested by Director Azusa Kido during the commentary in last Thursday's issue of Famitsu...