Rebuild of Evangelion 1.01 Movie The Game
From June 4th, you can experience the Rebuild world of Evangelion on your PSP or PS2. "Rebuild of Evangelion 1.01" fairly much looks like the existing Bandai games available for the two consoles where you can interact with the characters during your everyday life as Shinji as the story progresses with multi-branching scenarios.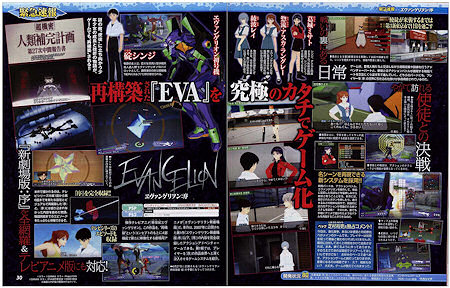 However, it seems they've changed the battle system. Instead of just a top-down 2D view it's a full 3D presentation this time and there's a wider selection of equipment to choose from when battling the Angels.
Seems they've also decided to put in Asuka and Kaworu in already even though they don't really have much of a role in the first actual Rebuild movie.
This is going to be the third Eva related game for the PSP Gainax is planning to roll out this year...