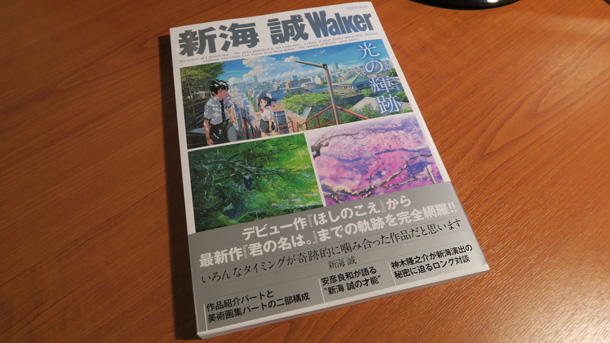 It's been a while since Makoto Shinkai released his first art book, "A Sky Longing for Memories" (which you can get an English copy of by Vertical Comics). Now he's released a new one at around the same time as his latest youth movie, "Your Name" and it's a B2 sized, 160 page book subtitled "Walker: Hikari no Kiseki [Trails of Light]".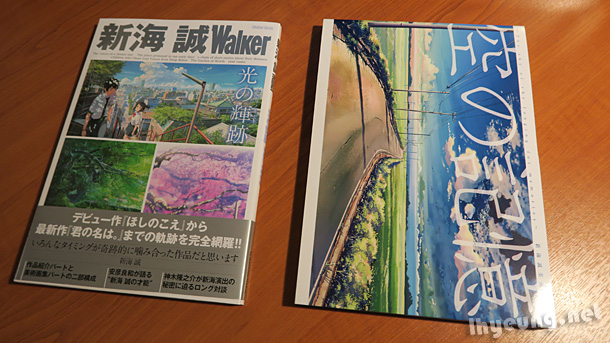 The book itself it around the same price as "A Sky Longing for Memories", slightly more expensive at 2990JPY.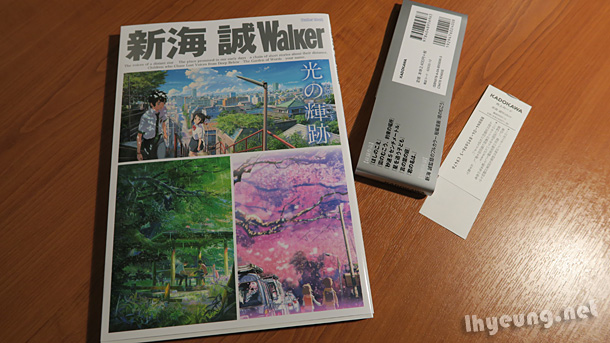 It's also more wordy due to all the interviews it contains.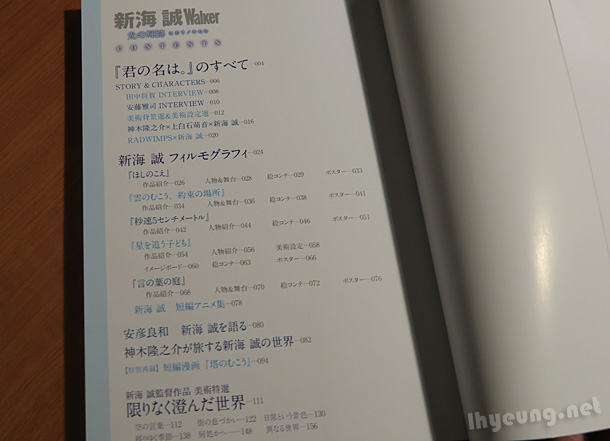 Full breakdown of the contents:
P6 - 23, Your Name
P24 - 77, Filmography
P78, Shorts
P80 - 81, Yasuhiko Yoshikazu Talks Makoto Shinkai
P82 - 93, Ryunosuke Kamiki Travels Through the World of Makoto Shinkai
P94 - 110, Beyond the Tower
P111 - 161, Background Art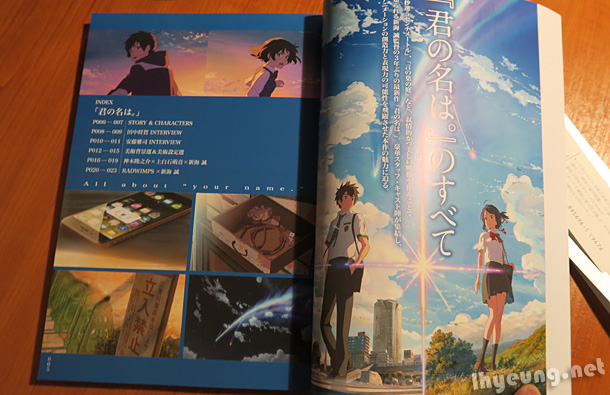 P6 - 23, Your Name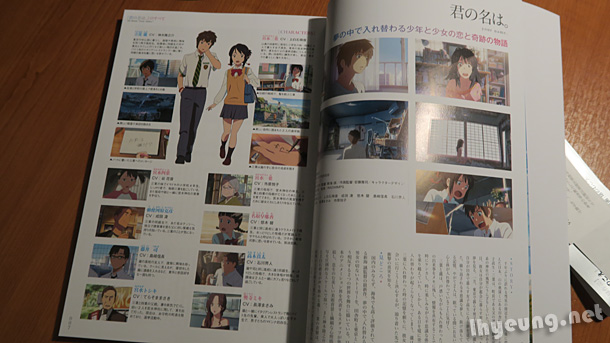 The first section features his latest movie, "Your Name, Kimi no Na wa" which managed to top the Oricon movie charts for 3 weeks since screening. It introduces the story, the characters and interviews the cast as well as the team.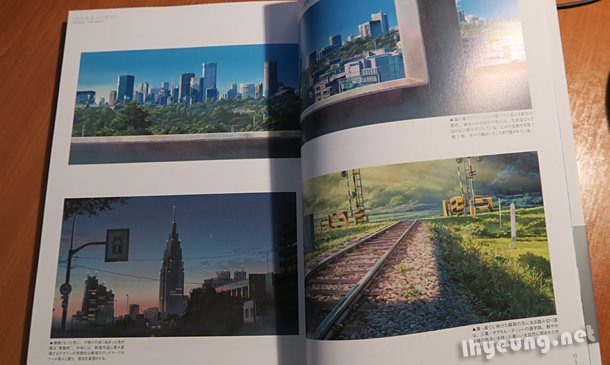 The NTT Docomo tower in Shinjuku and trains seem to be a favourite feature for Shinkai... Maybe it's considered a landmark over there. It is quite a sight when you see it in person and you can pretty much see it from anywhere if you're in the Shinjuku area.
On the other hand, trains are pretty much a part of life in Japan so that's pretty much a given in Anime.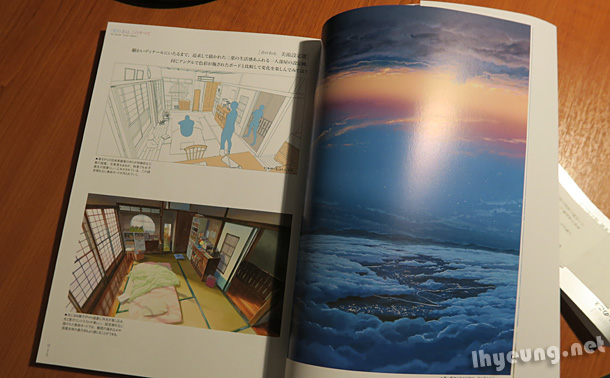 There aren't many background art featured in this section (only 2 pages) which kind of makes sense considering there is a separate guidebook dedicated to Your Name. However, it's a good introduction.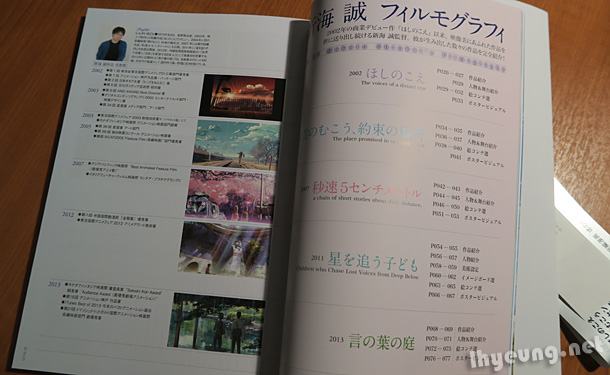 P24 - 77, Filmography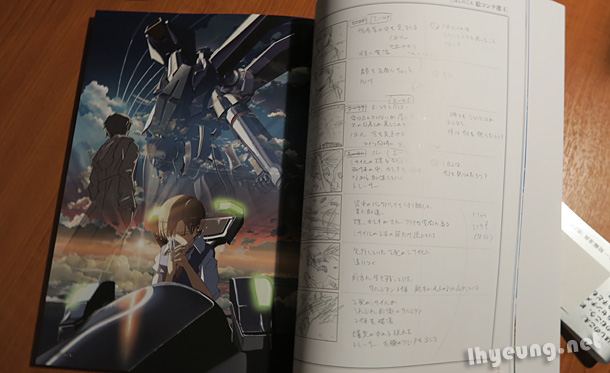 Starting from his indies movie that he created all by himself back in 2002, Voices of a Distant Star until the 2013 movie, Garden of Words.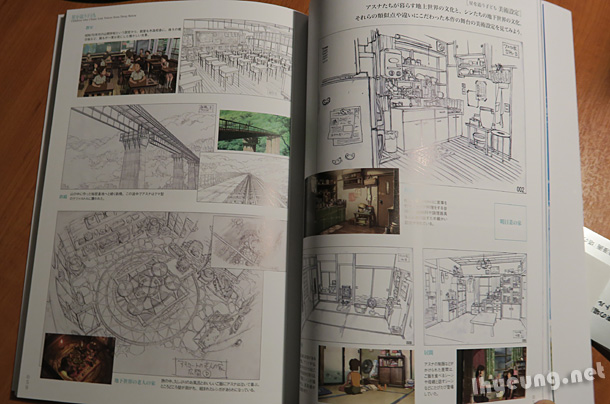 Each section show cases screenshots from the movies, storyboarding and character concept art followed by full page illustrations that were either used as the box art or promotional posters.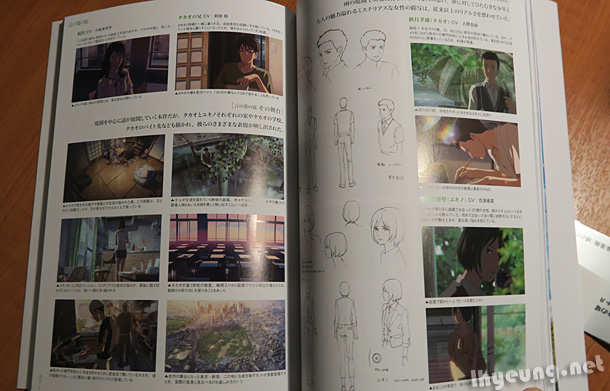 Always nice to look at the art.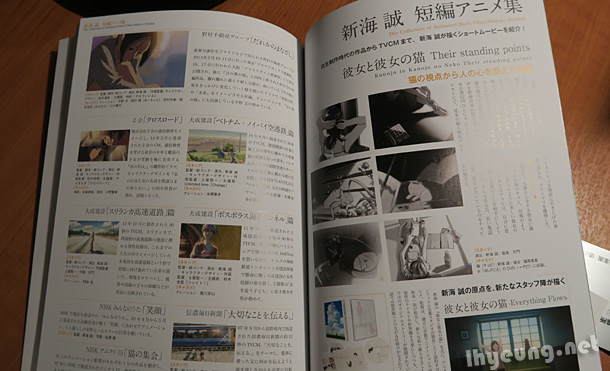 P78, Shorts
These were mainly commercials like Crossroads which was produced for Z-Kai, a company that runs cramming schools and Daisei, a construction company.
P80 - 81, Yasuhiko Yoshikazu Talks Makoto Shinkai
Short interview with Yasuhiko Yoshikazu about what he thinks of Makoto Shinkai's works. Yasuhiko worked on 1979's Mobile Suit Gundam's character designs.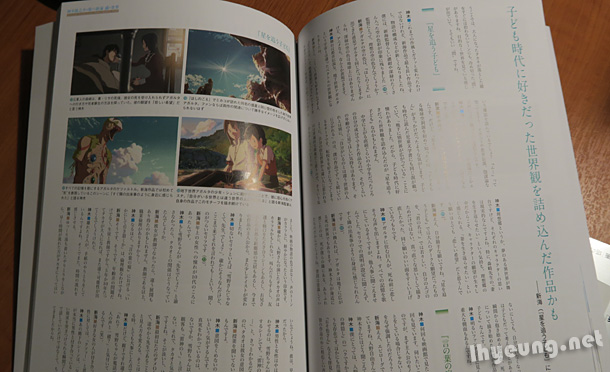 P82 - 93, Ryunosuke Kamiki Travels Through the World of Makoto Shinkai
Ryunosuke Kamiki, an actor who's also a fan of his works and voices the protagonist, Taki Tachibana in Your Name, chats with Shinkai about each of his titles.
There's some interesting things mentioned in here and as a fan of 5cm here are some of them translated...
Kimi no Na wa (Your Name)
The movie was supposed to start off with Taki and Mitsuha leaving messages for each other on their phones in the pilot movie but then, after considering the theme (body switching presumably) Shinkai decided it was best if they wrote words like "baka (idiot)" on their own bodies somewhere instead.
There was a lot of comedy involved in the movie. Shinkai thought that the more he managed to make people laugh at Taki or Mitsuha, the more the viewers will like the characters. Viewers grow so attached that when something tragic happens to them, it becomes that much more emotional.
True that you're more attached to people who can make you laugh, isn't it?
Sound was also prioritised for the movie. Shinkai feels sound is very important in movies, especially when it's silence. When you watch movies in a cinema and you reach a silent part of the movie, you get the feeling you shouldn't move or make a sound and it becomes that much more tense.
5 Centimetres per Second
Shinkai was in the archery club when he was in (senior) high school so that was one of the reasons he chose it as the club Takaki joins. He knows how to animate the sport. The other reason is that it also gives a sense of distance which symbolises the way Takaki just goes on with his life, focuses on what needs done and also travels far away leaving things behind.
Oukasho was probably the happiest chapter where Takaki finds the most happiest moment in his life. As a kid, he didn't have to worry about becoming independent yet so it was quite easy for Takaki to be caught up in the moments he shared with Akari. As a result of that, he feels like he can't find anything else that can top those moments as he grows up and ends up feeling very sad about it.
However, as we learn from both the official novel and the alternative POV "One More Side", Takaki does move on as he passes by a woman (Akari who was also out for a walk presumably) who radiated happiness.
In the last chapter, there was a lot of focus on recording sounds of shoes from different people which felt cold and lonely as Takaki wandered around Shinjuku aimlessly. Shinkai likes listening to the sound of footsteps so even in Kimi no Na wa, he wanted at least the sound of 2 different people walking.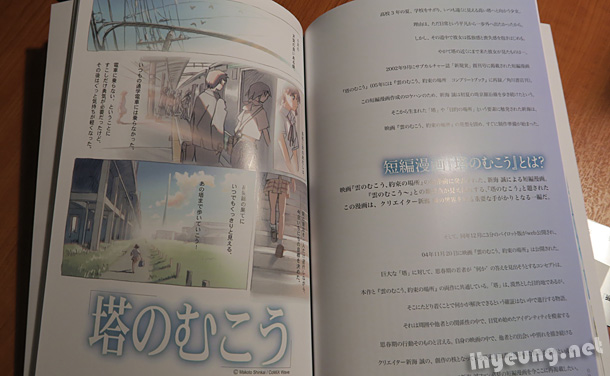 P94 - 110, Beyond the Tower
First published in 2002, in the September issue of Shin Genjitsu [New Reality], this was a rough short coloured Manga that Shinkai made "The Days Promised in Our Early Days" was in the works. In other words, this was probably a very important draft that lead to the final version of that movie - similar to the short story "The Sky Outside The Window" before 5cm went into production.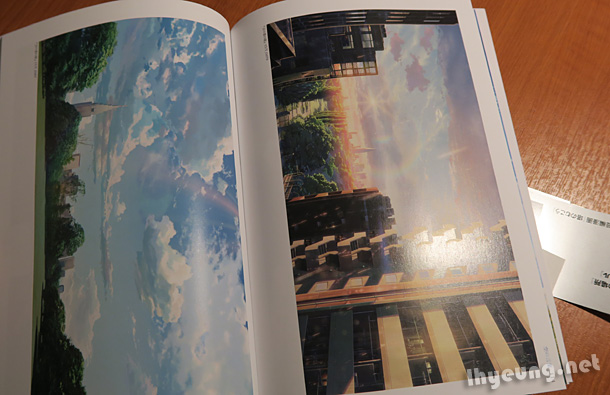 P111 - 161, Background Art
And to wrap up the book, we have a selection of the beautiful background art from his various movies.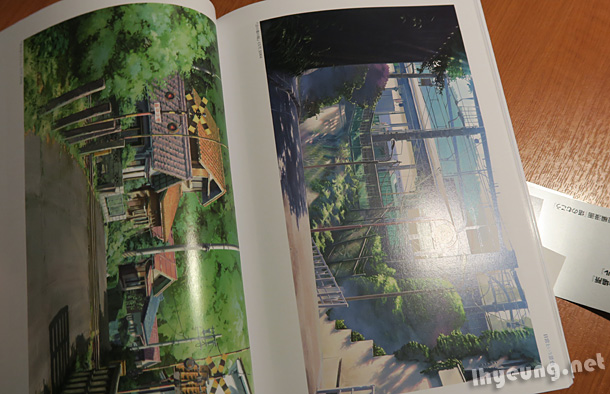 This particular selection is to show off how Shinkai can pull of any kind of world setting from real world locations to fictional places.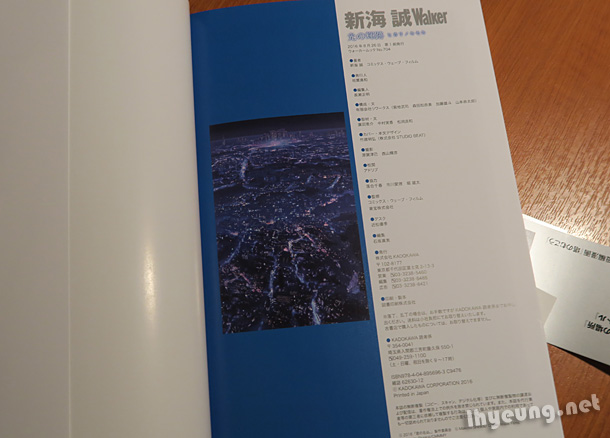 Most of the art you'll have seen from previous published books and, the same could be said of the concept art because they can be found inside the disc release booklets. That said, the Skies book only covers up to 5cm so some of the background art you see in this book are fairly much new (at least to me!). Those full page prints of the various movie illustrations and the last 50 pages or so are nice to look at.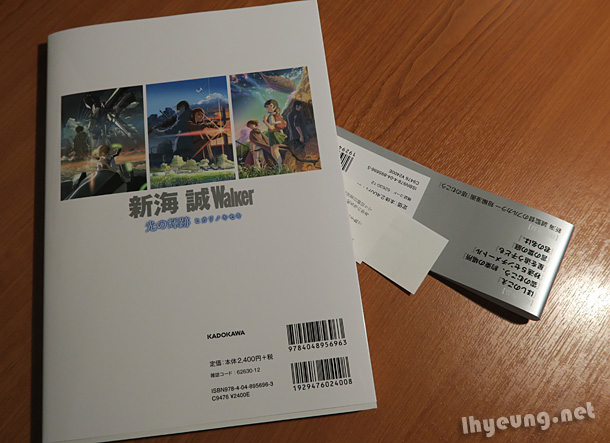 For me personally, the highlight was the art that wasn't in the Skies book and the concept Manga for Promised Days.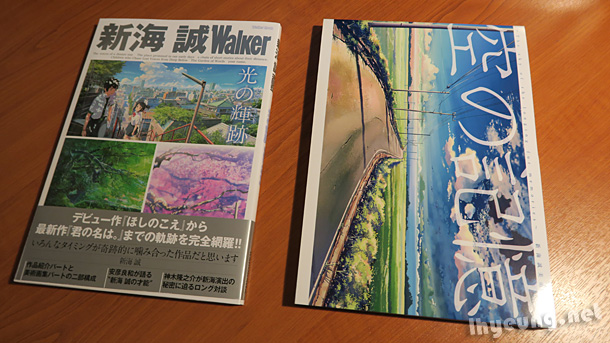 Hopefully for Vertical Comics will get round to publishing this book in English too.
I imported this book from Japan via the Tenso.com proxy service but it seems you can also purchase it from Play Asia.com.