Update:
This art book is now available from 
Penguin Random House
 in English, ISBN 9781941220436 although I can't verify its contents.
Finally got a hold of Makoto Shinkai's first artbook, "Sora no Kioku" and it wasn't easy considering how well the first batch has been selling. Don't get this confused with the "Complete Book" that was released for "The Place Promised in Our Early Days" because that was more of a fanbook that contained everything related to that movie only, not just artwork.
Unfortunately, you will have to wait until the second print is ready if you would like to get your hands on this book yourselves because it appears to be sold out right now. I suggest keeping an eye on HMV JP and Hobby Link Japan for now.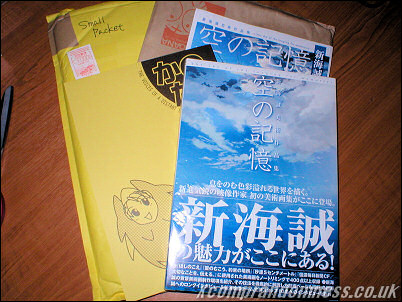 With that said, lets open and have a look inside the book itself in the meantime. Feel free to click on the photos for a closer look.
An advertisement leaflet I got with the book.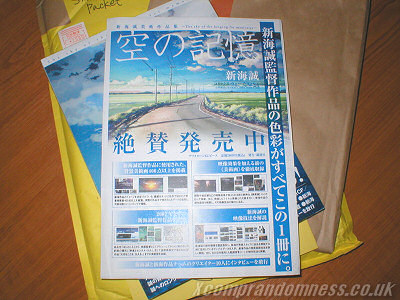 This is the back of the outside cover. You'll probably just leave it off because it's more like a gift wrapper.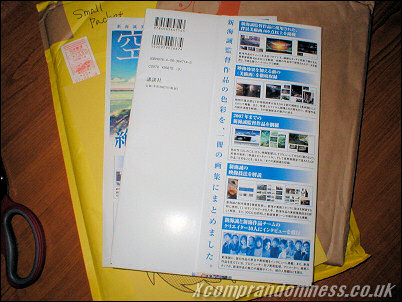 Taking the outside cover off, we have the actual B5 sized, 175 paged landscape artbook itself. A very nice glossy cover featuring one of the scenes from 5cm's "Cosmonaut".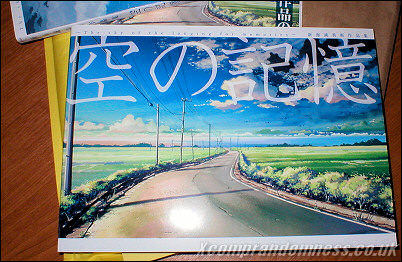 Opening the book you can see the contents pages and following that is a glossary of all the terms used in animation such as RGB, anti-aliasing, resolution, trace and flare.
The main contents are:
5 Centimetres per Second, 98 pages.
The Place Promised in Our Early Days, 34 pages.
The Voices of a Distant Star, 12 pages.
Shinano Daily Newspaper CM, 3 pages.
Makoto Shinkai's Style, 7 pages.
Interviews with Makoto Shinkai and his ten member staff, 14 pages.
The first section is devoted to Shinkai's most recent movie, "5 Centimetres per Second".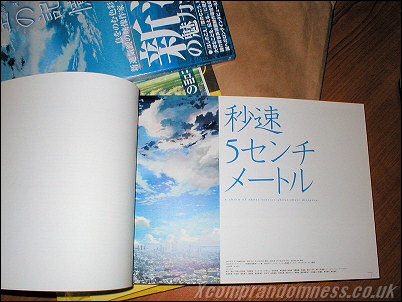 Throughout the book there's little facts about how scenes were composed, what Shinkai had in mind when he directed them and what locations they're based off. Sometimes you'll even find the movie script itself.
Here's "Spring, Hometown", a picture of the place that Takaki and Akari passes through in the first chapter of the movie, "Oukashou". On the left page, you can find the conversation the young couple had about cherry blossoms and also a paragraph of text that gives a brief description about the location which is modelled off a grove in front of Sanguubashi Station saying that in his work, Shinkai tries to render the clouds in the sky so that it resembles the skies he sees in his home town of Nagano.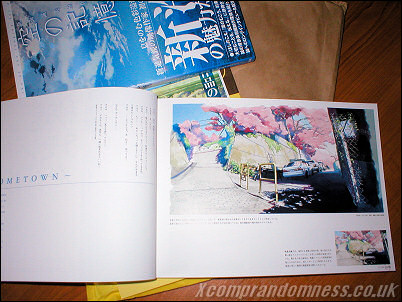 To recreate the sense of time here; morning, sunset and night, notice the artists paid attention to the form the clouds are in, not just the sunlight.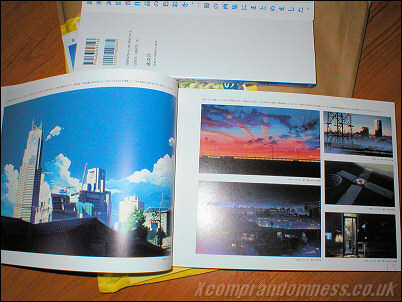 More script from the movie. The part when Takaki is reading Akari's letter and one of his female classmates come in. No location hunting was done for the junior high and primary schools they went to. Instead, the chairs and desks you see were modelled and randomly positioned by computer in 3D. The characters were then added using a cell.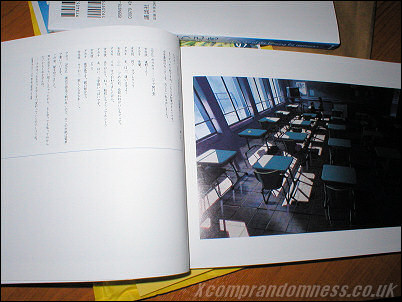 The titles written in Takaki and Akari's library cards are real books such as Judith Worthy's "Garden in the Sky" and C.S. Lewis' "Prince Caspian: The Return to Narnia". Also can't forget to mention the book Akari picks up later in high school, "The Grass Harp" by Truman Capote.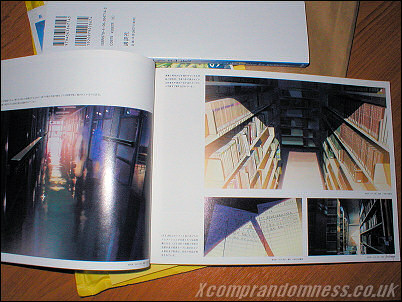 The staff spent time writing all that text in the timetable.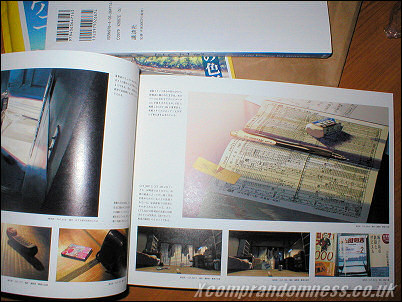 The 24 x 24 dot, duo coloured LED displays at the JR Shinjuku station. This was used in "The Place Promised in Our Early Days" too but wasn't quite as apparent.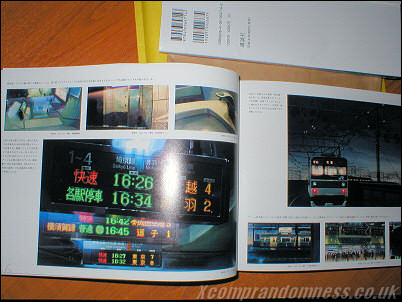 You won't be able to see the same retro waiting room and the wooden shed that the little couple was in in 1994 because the Iwafune Station has since been modernised in 2003.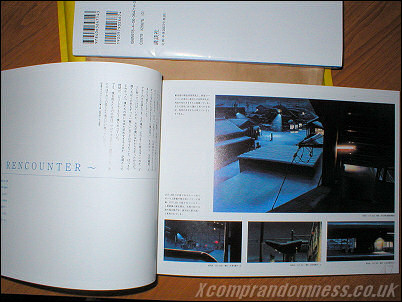 So old looking yet it seems so warm and comfy in that cold winter's night.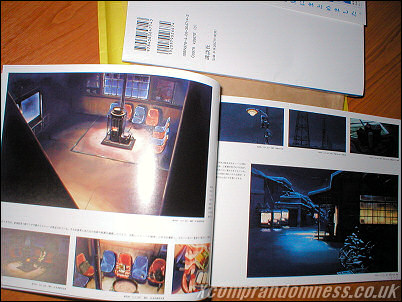 The sudden change in weather from a snowy night to the clear blue sky with tiny sparsely separated clouds so that viewers could feel the sadness of our young couple's separation and also the great world that lay ahead of them, almost to the point of despair.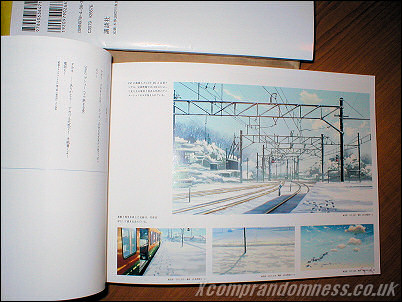 Composing the "cuts" together to form Takaki's dream in the opening of "Cosmonaut".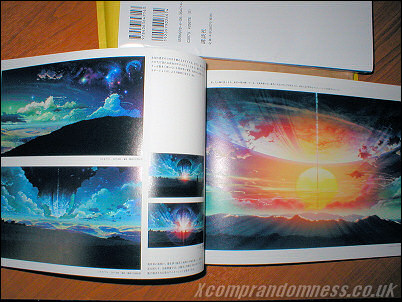 Shinkai commented "You can probably see this kind of sky somewhere," on this picture to the left where you can see a sky full of stars and a galaxy.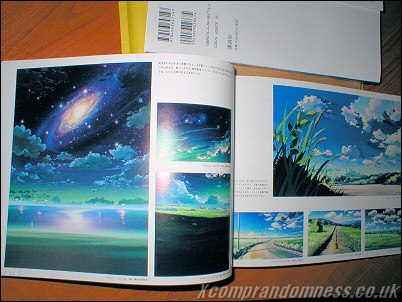 The school which Cosmonaut was based in, "Kagoshima Established Tanegashima Senior High" has now been renamed as "Tanegashima Central High School" in 2008 this year, after it merged with "Tanegashima High".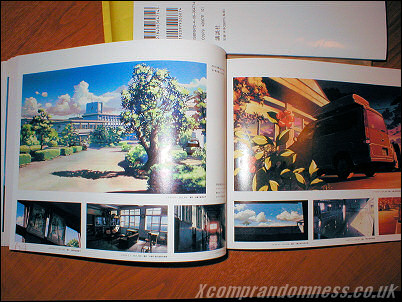 The drinks that Kanae and Takaki chose were based off real products, namely "Yogurt 200ml" and "Tanegashima Coffee 500ml". However, Tanegashima Coffee has since been taken over by Dairy Coffee.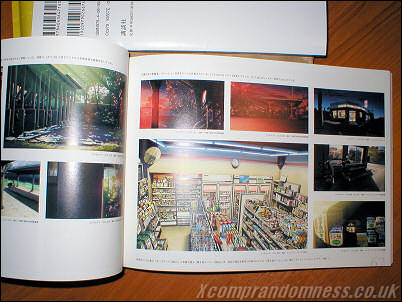 Nice night shot.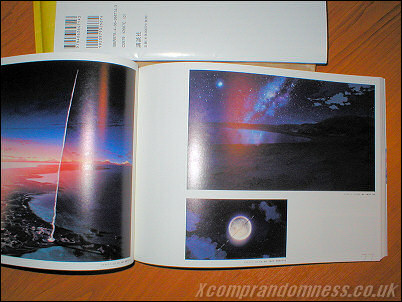 2008 March, Takaki is working as a freelance programmer as you can see from the word API (Application Programming Interface) on his white board. His apartment is modelled after one in the Tokyo, Nakanosaka area.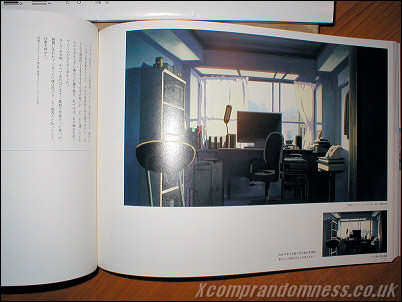 This is one of the scenes where the high resolution Blu-ray version of the movie shows through.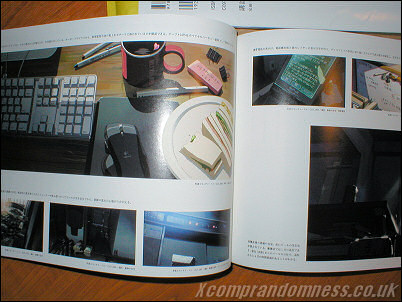 In the DVD version, you can't see the "crystals" that make up the text on Takaki's phone but you can in the Blu-ray version. Shows how much attention to detail there is in this animated movie.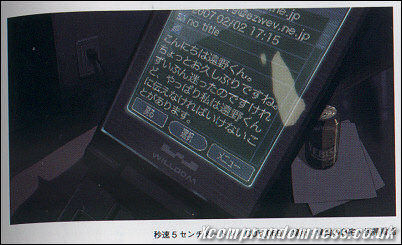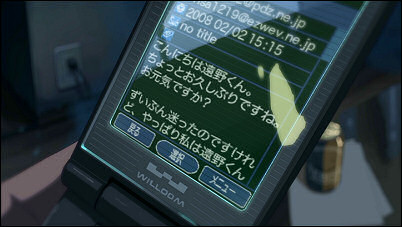 The "conbini (convenience store)" that Takaki went in was captured during a location hunt. However, all the magazines and items you see there are all fiction. The staff had a little bit of fun drawing whatever they liked to decorate the racks.
Want to see this night shot of Tokyo? Well, the location hunting team went to a high building in Ikebukuro, shot multiple pictures and superimposed them to form this scene.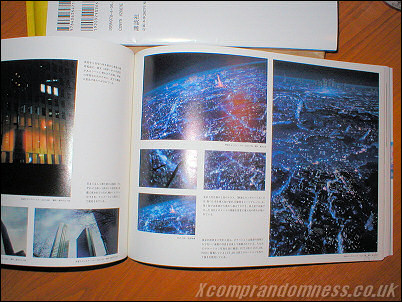 And that's the end of the 5cm section. It's the start of a new season for Takaki as he comes across Akari at a crossing and makes up his mind to move on.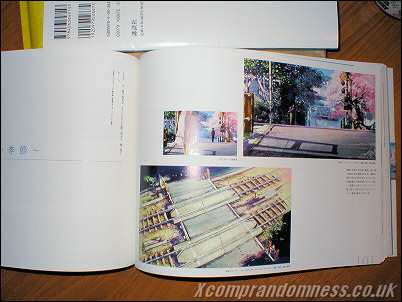 Next is "The Place Promised in Our Early Days".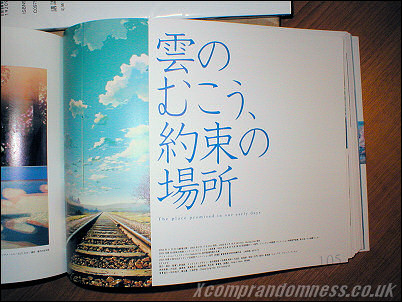 Just like "Voice of a Distant Star", Shinkai had planned to do all the backgrounds himself but this wasn't possible due to time constraints. This was when he looked for talented art graduates and formed his current team of artists.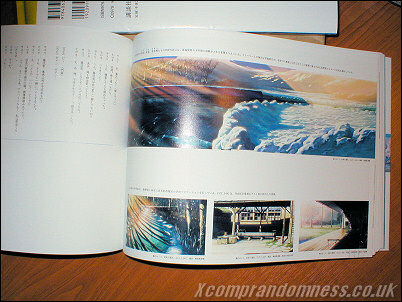 Here's the tower.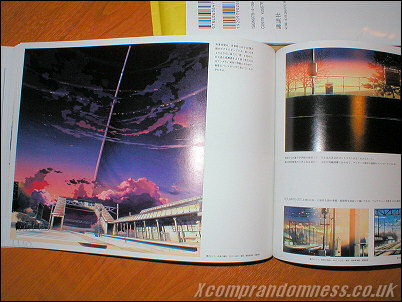 The abandoned area where Hiroki and Takuya built their "Bella Ciela".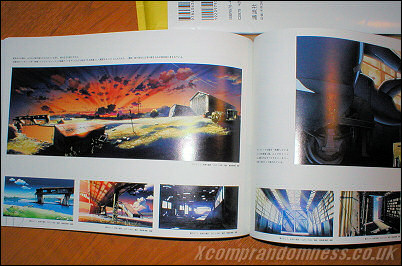 Three years after Sayuri's disappearance, the two friends who were now seventeen went their separate ways.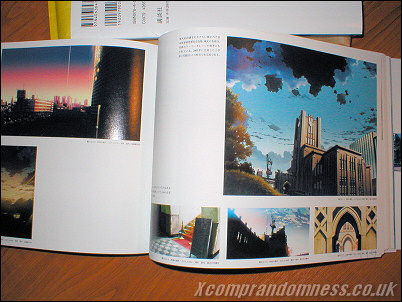 The other world.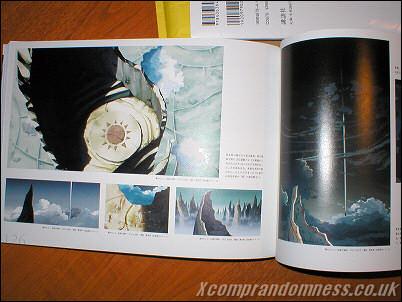 And of course, Shinkai's first commercial movie "The Voices of a Distant Star" where the English title was inspired by one of Arthur C. Clarke's novels. He also produced the entire movie alone.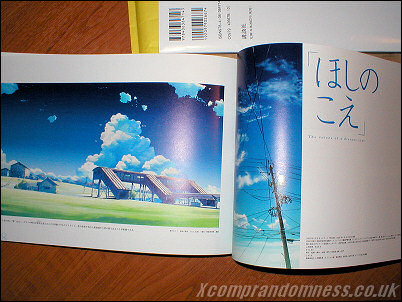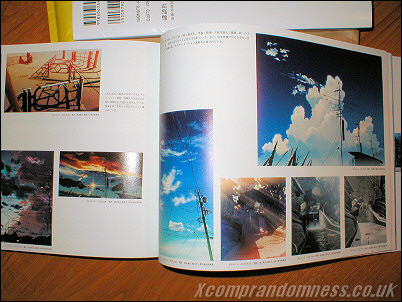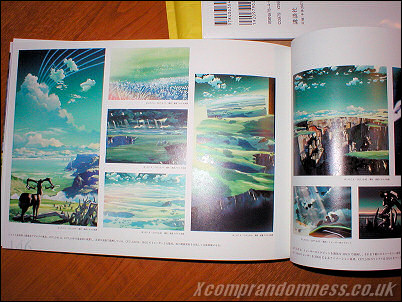 Last but not least, you probably wouldn't know about this unless you've been keeping up-to-date with Shinkai's works, the Shinano Daily Newspaper commercial, "Conveying those important things".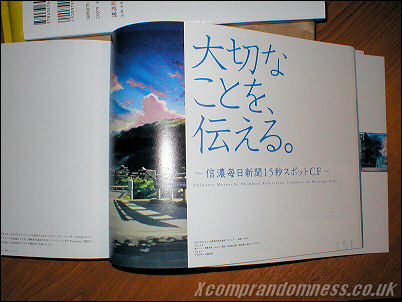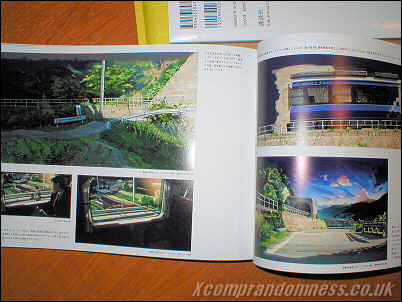 The opening for adult visual novel game "Ef The Latter Tale" isn't being considered part of his work in this book, just in case you're going to order this book and was wondering if that would be in it too.
If you've worked with graphics before, I'm sure you'll know how layers are used but, how does Shinkai transform all those photos he take to use in his movies. Well, here he shows you how it's done.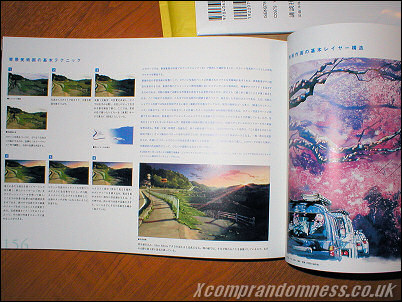 That about wraps up the preview of the Makoto Shinkai's first artbook but, lets not forget his staff that he wanted to thank for helping render and make all those beautiful 5cm backgrounds possible. From left to right after Shinkai's picture are Takumi Tanji, Akiko Majima, Akira Hirosawa, Minako Shimada, Kaori Izumiya, Yoshitaka Takeuchi, Yumi Ishii, Tasuku Watanabe, Takayo Nishimura (Character Designer, Animator) and Kouichirou Itou (Line Producer).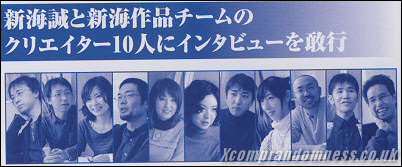 I was a little disappointed that it wasn't one background per page but, it's still great to look at. I also wasn't really expecting to learn anything more about 5cm after watching through the interviews from the LE DVD and reading the novel but, a number of interesting new "making of" facts were pointed out here.
Well, hope that helps make up your mind whether to get this book or not! If you want some higher resolution scanned samples, take a look at Icie's blog.