Thanks goes to FallingStar for tweeting to me about this! I must have missed Shinkai's tweet about this somehow!
It's been over 4 years since 5 Centimetres Per Second premièred in Japan and since then, it's been novelised and manganised. Now it's getting another novel, subtitled "One More Side" - But it's not a sequel.
The original 5cm light novel was written by Makoto Shinkai himself. Now Arata Kanou, the author who wrote the novels for Voices of a Distant Star and The Place Promised in Our Early Days, has written a different version of the novel. A 384 page paperback due to go on sale tomorrow, May 20th.
Update:
A release date has appeared on
Penguin Random House
as February 26th with ISBN 9781947194090. The cover doesn't look like it's by Shinkai or his team but still looks quite good.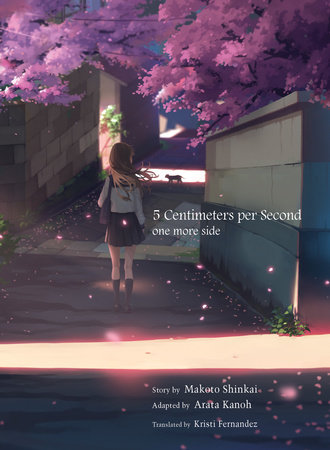 Kodansha USA revealed at Anime Expo 2018 that they will be publishing an official English version of this book so, you guys will be able to read it soon!
As you might have already guessed from the subtitle, it's a different take on the story. Quoting from Kanou's blog entry, "It's just like how the story develops one way in the novel version and then another in the Manga version of Voices of a Distant Star. It's kind of like parallel worlds."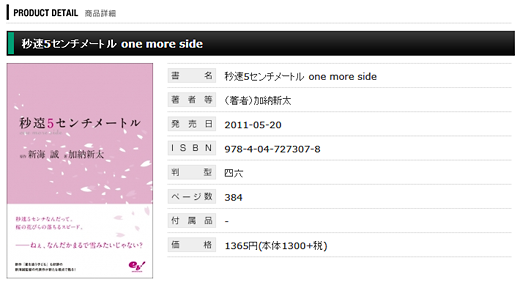 Originally it was to be subtitled "Another Side" but Kanou wanted something similar to the theme song, "One More Time, One More Chance".
In Makoto Shinkai's original version of the novel...
Chapter 1 - Takaki's perspective.
Chapter 2 - Kanae's perspective.
Kanou's version looks at the scenarios from the other character's perspective...
Chapter 1 - Akari's perspective.
Chapter 2 - Takaki's perspective.
Chapter 3 - A first person-like third person perspective.
And will I be getting this novel...? I don't know yet.
Will I be finishing the third chapter of the original novel? Probably not since I have other priorities at the moment. But for those of you who are fluent in Thai, you might like to know it's been officially translated in that language and is available as part of the "Makoto Shinkai's Memory Box" set. Thanks to Khiki for this info!