Free Evangelion 2.22 Apps for iPhone from Yahoo Japan
Gainax is really pushing the Evangelion 2.22 marketing at full force with burgers and a fully themed convenience store. It might make sense considering how the simultaneous Blu-ray and DVD limited edition releases are out next month in Japan. Then again, the very first movie's DVD LE release still sold out last time without this much marketing...
Now Yahoo Japan is offering 8 different free apps to download for the iPhone. They are divided into two groups, one that allows you to take photos with the Eva pilots or mecha in them and the other gives you a selection of wallpapers such as the Nerv logo or MAGI. You can choose a Shinji, Asuka, Rei or the new character Mari themed app.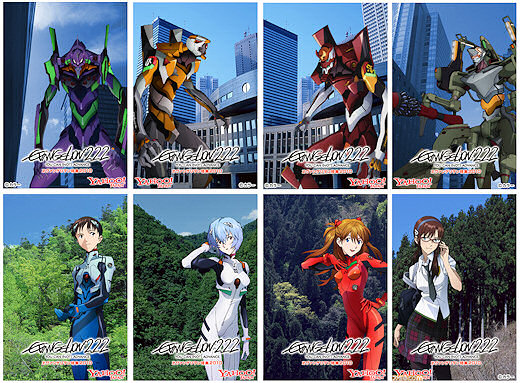 Also by downloading the app, residents in Japan will have access to this again "limited edition" Yahoo packaging for the movie's Blu-ray/DVD release apparently. While stocks last of course.

There are plans to release two other apps so that you can put the app icons together to have full body portraits of your favourite Eva character too so watch out for them.
These torso icons remind me of those cushioned mousepads... ^^;