Falcom Reveals Their First Fighter and New Sora no Kiseki RPG
Falcom must really love their "Sora no Kiseki" RPG setup because they are now working on a fourth title for the PSP!
There's not much information regarding this new title named "Zero no Kiseki" at the moment other than teaser screenshots and that the protagonists are named Loyd Bannings and Elly McDowell. Apparently these characters were shown in the bonus "Legend of Heroes 7 Design Works" book that came as a bonus with their last game, Ys7.
Expect to see this sometime this year, 2010.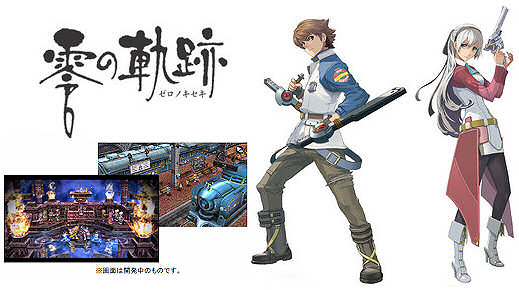 The official site for their other title is also up and should be Falcom's first beat-em-up game, "Ys vs Sora no Kiseki: Alternative Saga" due for the PSP on July 29th. As the name suggests, it will be a cross-over between characters from the developer's two most popular series, featuring 4 player fighting action in an arena.
First press copies will come with...
The game's soundtrack.
A disc containing a selection of Falcom's best music tracks.
A special booklet about the game.
Pretty excited since I've been collecting all things SoK related. It's got a good story and a streamlined battle system but the third title was a little on the boring side so will the fourth prove better? It will also be interesting to see if they throw in an artbook too this time as has been Falcom tradition.
Hope there's a cameo of Estelle and Joshua to see how they've been doing since Second Chapter!
If you'd like to get a hold of the games and goodies, you can contact the Falcom sales department directly with your details in English and they will ship to you by EMS. Play-Asia also offers a few of their games but, I don't think they ship them with some of the bonus goods Falcom throws in.