Evangelion 2.22 Commemorates with Burger Meals
In "commemoration" of the upcoming Evangelion 2.22 DVD/Bluray release that will both feature a collector's film strip and an extra 3 minutes of footage, fast food store Lotteria is doing a special meal.
From April 22nd this week, those in Japan will be able to purchase the "Eva BurChicki Box" (the Japanese like to shorten words) for 980 Yen each (US$11). As the name suggests, it comes with a piece of chicken, medium-sized fries, a choice of drink and one of the following burgers...
Prawn burger.
Fried egg with vegetables burger.
Miraculous burger.
Super cheese burger.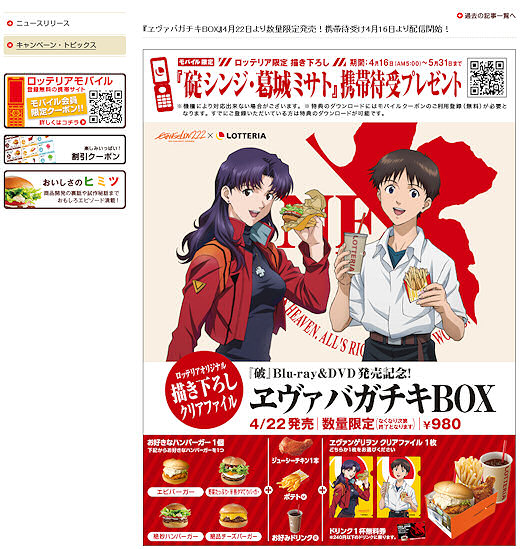 It's twice more expensive than a McDonalds over here but, customers will also get a choice of two clear file folder designs featuring an illustration of either Misato or Shinji enjoying their  meal. There will also be an extra free drink coupon with the Nerv logo on it.
Of course, the meal is a "limited edition" and will only be available while stocks last. The packaging reminds me of the food sets that were also available during the Japanese premiere. Oishii? (Yummy?)
Too bad we didn't get anything like this at the UK premiere but for those of you who missed the screening here, don't forget it will be on the big screen at the Anime Weeknd, BFI Southbank next month.