FFVII On the Way to a Smile, Now in Hardback with New Stories
Never knew they released this on the same day as the Blu-ray release of FFVII Advent Children Complete until Amazon JP's automated service recommended it to me today... They just had to do it after I bought all the other books that contained the stories separately. They really know how to squeeze money out of their fans.
Anyway, this 263 page black hardback copy of the On the Way to a Smile short stories collection costs 1470 Yen (US$15) and contains all stories released so far...
Case of Denzel, Case of Tifa which were released in Japan only.
Case of Barret which was released with the limited edition of the DVD in America.
Also four new stories Case of Nanaki, Case of Yuffie, Case of Shinra and Case of Lifestream!
Note that the first three stories have been revised with no significant new scenes however according to those who have already bought it.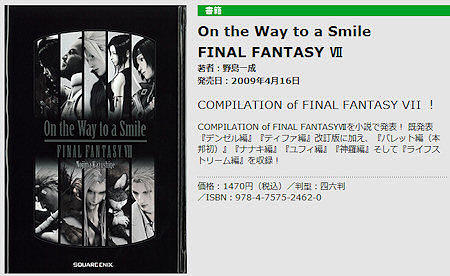 It also seems none of the reviewers like Nojima's writing style and criticises how poor it is compared to real novels. I can't help but agree because a lot of the sentences he writes are very plain and straight to the point. He doesn't spend any time setting up or building the scenes with a colourful and wide array of vocabulary. When I looked at Vilaeth and Cockatiel's translation of Case of Denzel over at Adventchildren.net after I had completed mine, I was wondering where a lot of their text came from but on the other hand, I feel they made it actually read more like a novel which is probably best for those who like reading books.
Still, maybe I'll pick this up together with the Beast Player Erin novels... But I won't be translating them unless they're really good. Maybe just write up some summaries.
Somehow I have the feeling there will be an "On the Way to a Smile Complete" version after Nojima finishes the story for Cloud himself as well as the rest of the gang.