Prinnies Can Be the Heroes Too! Get Those Sweets Back!
Disgaea fans must really love those Prinnies because Nippon Ichi is giving those penguin-like characters their very own action game on the PSP.
Entitled "Prinny ~ Can I Really Be the Hero Too? ~" (Prinny ~Ore ga Shujinkou de ii'su ka?~), Etna is mad that her precious sweets have been stolen and now it's up to her Prinnies to get them back before the day ends. If not, they are in for some serious punishment worse than death!
Taking control of one Prinny at a time, players must fight their way through the stages in the game with 1000 lives to spare. There are catches of course.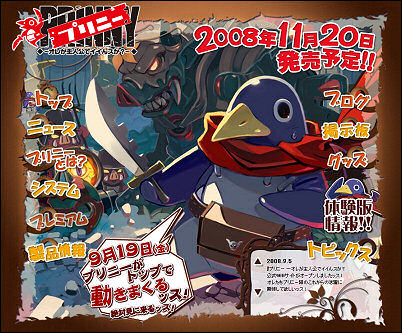 The Prinnies explode the instant they get hit by the enemy!
Also by beating each stage (a total of ten), time will pass in the Demon World, affecting the difficulty of each stage such as the little gimmicks that appear will change. Naturally the enemies of the underworld won't be at their full potential during the morning and daytime when the sun is out, getting stronger as night closes in. You'll also find the dialogue with the bosses change depending on the time.
New maps and bosses will also be available for download.

Available on November 20th, the obligatory pre-order gift will be soundtrack CD with a selection of the game's BGM, composed by the Disgea's series music composer, Tenpei Satou.
A playable demo will also be available on the Playstation Store towards the end of this month on September 29th. Check out Game Watch for a whole bunch of screenshots!