Picking a Camera, The Canon PowerShot A720 IS
Decided to pick up a new digital camera because I didn't like how my old 2MP Olympus D-380 was lacking storage space (only up to 128MB Smart Media cards) and didn't have optical zoom. It was sufficient when I used to only take the odd photo 6 years ago, though.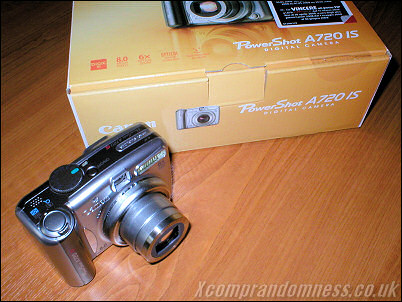 I done quite a bit of research before making the decision to buy this Canon PowerShot A720 IS because I didn't know that much about photography and digital cameras have moved on quite a bit since my first one. The criteria I had ended up with for picking my camera was the following minimum specifications:
5 mega pixels.
Good enough for average sized printouts at least and any cropping.
3x optical zoom.
Zoom in on distance objects (of course).
Optical image stabilisation (IS).
Minimise blurring of images due to the minor movements of the hands. With digital image stabilisation (i.e. cameras that just knock up the ISO setting), you get lower image quality.
Long exposure times for night shots.
I just like taking night shots when away.
Manual aperture and shutter speed controls.
I want to play about with some "depth of view" shots. Also in case I ever want to learn a bit about professional photography in the future.
Unlimited video capture with sound.
Not as great as an actual camcorder of course but handy.
After browsing around for some time, I think out of all the specifications listed above, finding a digital compact "point and shoot" camera with optical image stabilisation and manual controls was the hardest to find. Most of the cameras I've seen available at shops use digital image stabilisation and very few come with manual controls... Well, I guess they don't call them "point and shoot" for nothing.
Initially I had considered Sony's Cybershot DSC-W130 because I have a spare 2GB PSP memory card lying around and it met most of the specs I had come up with above. The only problems were:
It only had a maximum exposure time of 2 seconds which isn't that great for some night shots according to the articles I had read.
Videos are limited to 10 minutes each, auto volume balance.
No manual controls.
Then I came across Canon's PowerShot A720 which cost quite a bit more but it also offered better features:
Maximum of 15 seconds exposure time.
Unlimited video (it's actually limited to 1 hour each and your memory card size).
Manual controls (aperture, shutter speed, ISO, focus).
6x optical zoom instead of 4x.
1cm macro mode instead of 4cm.
I was already on a very tight budget for the Sony camera but, with the more powerful features it had I thought I should just stretch a little further so that I won't have to swap the camera too soon. I think it's the extra 2x zoom that makes it more expensive than the Sony camera.
So here is the camera itself. It comes with two alkaline AA batteries, SD memory card, mini USB cable, AV cable, manuals and some Canon branded software.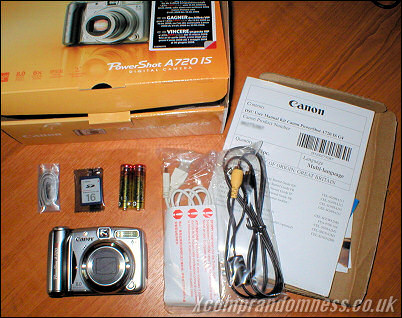 These are actually just quick start manuals. The main manual that goes through the camera's features and operations in much more detail is only available in electronic PDF on the CD which is pretty inconvenient.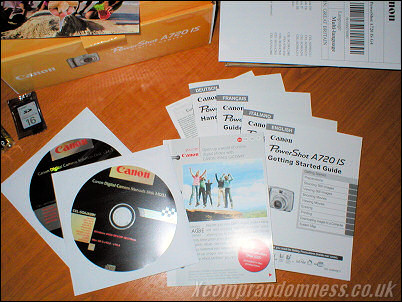 The camera is about two thirds of my old Olympus in size but both are encased in plastic and feels sturdy enough. You might be wondering if that bulky part where the shutter button is is obstructive or not when you're holding it but, it actually isn't and feels quite natural as a grip.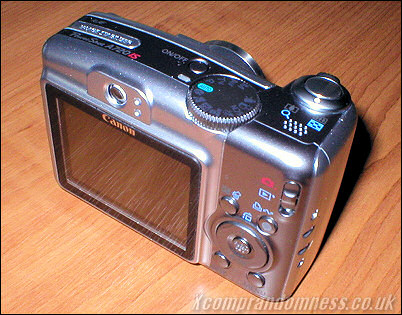 The camera uses two AA batteries as you'll probably have guessed and they don't last very long. Most likely because of the 2.5" LCD which is twice the size of my old camera and looks much better. I got in just over 150 pictures before the camera asks to switch batteries so it's best if one already owns some high capacity rechargeable batteries. I use 2700mAh Uniross ones which last for more than double that.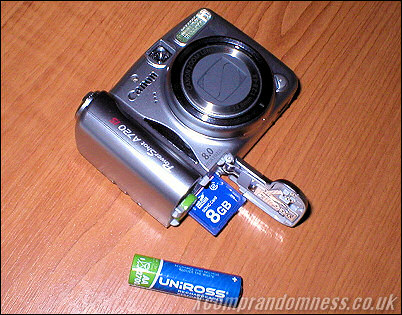 As this is an 8MP camera, the boxed 16MB SD card won't let one play about with it much which meant I had to shell out for a new memory card too. I went for an 8GB Sandisk which should be plenty of space for a bundle of video clips too while away without access to a computer.
For my Olympus camera, I had to slide the front hatch open to turn the camera on, revealing the lens. For this new Canon camera, there's a button at the top to turn it on which kind of makes me wonder if it would accidentally be toggled on while inside a bag. If it was kept in a case however, it should be fine.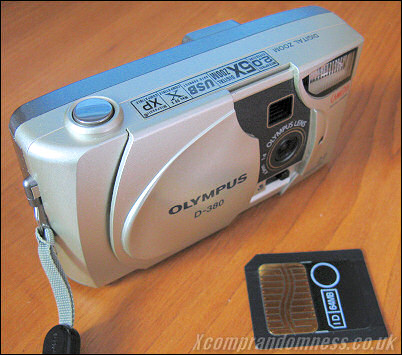 Once the camera is powered on, one can start snapping photos. A dial at the top allows one to set it to the different modes that are available and additional buttons next to the LCD screen allow adjustments to be made such as turning the flash off. I'm sure the "Auto" will be the most frequently used for the casual photographer. For anyone else that's looking for manual controls (like me), a manual mode allows one to set the ISO, aperture, shutter speed, focal range amongst other settings such as white balance. There's basically a mode for all kinds of shooting conditions for the beginner who doesn't want to fiddle around with such settings.
As a side note, it might just have been bad luck but for some reason, the pressing the right side of the circular ring button occasionally made a loud clicking noise whenever I pressed it. Fortunately after some use, the sound was pretty much gone.
So, with my new camera ready, I set off to the local park to take some test shots. Feel free to click on any of the following photos to see them in full 8MP size (3264 x 2448). None of them have been modified in any way using Photoshop (or in my case Paint Shop Pro).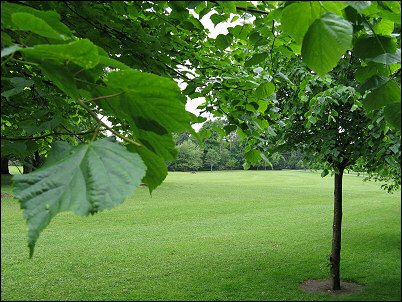 I'm very impressed by the camera's auto focus. Point it anywhere, hold down the shutter button for less than a few seconds and it'll have made all the necessary settings to snap a generally well balanced looking photo. One can see the AF system kicking into place as the green rectangles show where the camera is focusing. This can also be set so that the camera focuses on the entire scene too of course.
Unlike my old camera, the level of detail remains fairly sharp even when viewed at 100% full size.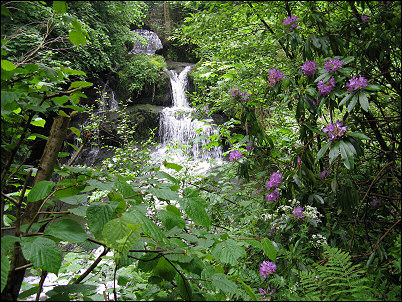 Zooming in on the archway towards the top of the waterfall at maximum 6x zoom. To me, the photos still look decent - especially when considering the camera is more sensitive to shaking hands now. The built-in Image Stabilisation (IS) technology helps reduce that but I'll talk about that later. I wasn't using anything to steady my hands here.
Don't ask about "barrel distortion" or other similar zoom related terms because I didn't read up about those...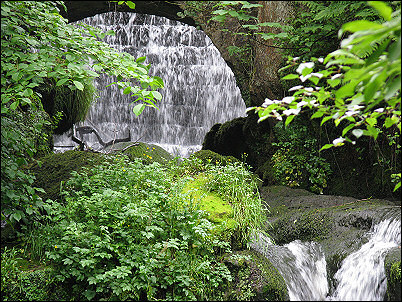 Besides auto focus that works in scenes, there is also a "Face Detection" mode that allows the camera to focus on human faces. It works very well most of the time unless there isn't enough lighting or the person in the shot is looking sideways.
Sony's camera had one extra feature called "Smile Shutter", snapping a picture as soon as a single person smiles and I read in reviews that it works well too, not just some gimmick. Something I don't really mind not having though.
Macro mode (used for capturing objects in close range) is what I use the most so I was once again impressed by the camera's 1cm range compared to my old 30cm. This means it's great for grabbing detailed textures if you're into graphics work such as 3D world modelling. Notice the tiny stones underneath all the bigger ones that the camera manages to pick up while in this mode.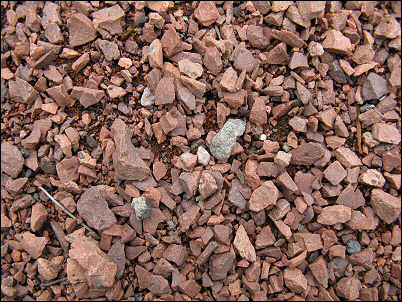 Another example of the macro mode in action, this time with the focus adjusted on the flowers while other objects are slightly blurred out.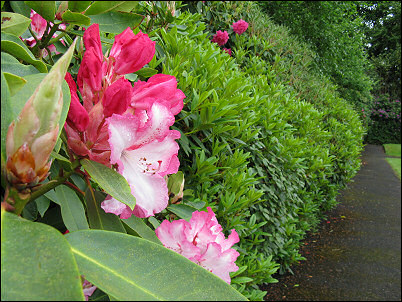 Depending on which mode or settings one uses, the camera can blur out the background as can be seen here. I haven't really managed to achieve any good shots with manual mode yet but, I'm very interested in shooting some "depth of field" shots and night or evening shots.
This is one of the gates leading to the park's flower garden.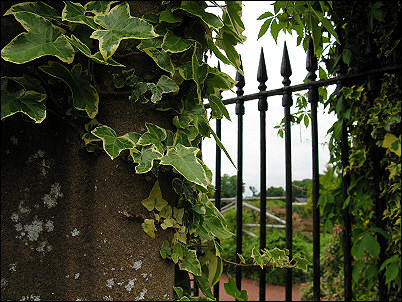 And that just about ends my test shots from the park. I don't want to put up too many because of the file sizes. To finish up the little trip, here are two video clips that I shot with the camera to show off its video capabilities. Movies are recorded in the Motion JPEG, AVI format at a maximum resolution of 640 x 480, 30fps with mono sound. While recording, the optical zoom is disabled.
Just right-click the image and select "Save As" to download the zip files.
This is the waterfall without optical zoom being used, 25s 46.3MB.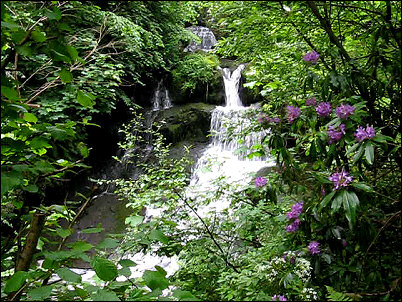 Later I spotted a little squirrel nearby so in order not to scare it, I had set the camera to its maximum zoom. Cute, isn't it? That's not me breathing in the background. It was a gardener cutting some leaves nearby. The video is 36s at 65.9MB.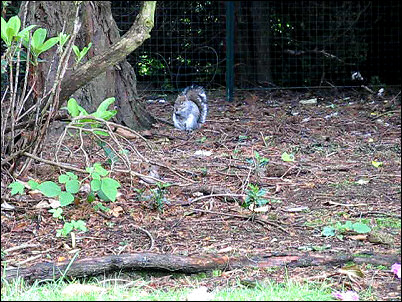 It's around 100MB per minute and the quality is pretty good considering this is a photo camera. It's good to know IS continues to help out while recording videos.
Back indoors, IS is also great for taking non-flash assisted images because of longer exposure times. This meant the camera is again more sensitive to shaking hands and may turn out blurred. With my old camera, I always had to keep the flash on or rest my the elbows on the desk to hold the camera as still as possible. Now I can take shots without having that giant flash of light on the objects I'm trying to shoot.
Look at how well this photo of the Makoto Shinkai artbook turned out.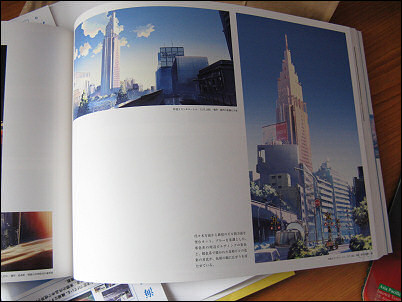 And another page, this time with a block of text.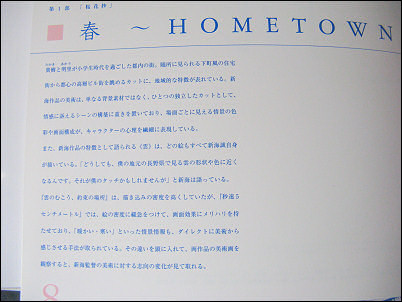 The only real downside to having optical IS instead of digital IS is that the price of the camera is also higher. This technology also allows this Canon camera to detect how one is holding it. If the camera is tilted so that it's standing vertically while viewing photos, it will automatically rotate the image on the screen. I don't really have a use for this so I just turned it off.
Once all the pictures and videos are taken, the files can either be extracted with a card reader or via the mini USB connector. There's also an AV output port so the camera can directly output to a PAL/NTSC TV. A nice feature that allows one to share photos quickly without the need to boot up and crowd around a computer.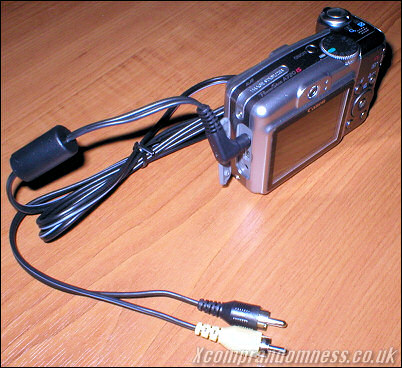 The other Sony camera I had a look at kind of wins in this aspect because it has HDTV support for better quality output but it's another feature I'm not all that bothered about. In case you're wondering however, photos can be shot in wide screen mode if you really wanted to.
So it's all good so far but the Canon camera isn't without its little "problems". It can initially be pretty noisy during operation, making artificial shutter sounds, beeps when you press buttons and other warning sounds from its mini speaker. Fortunately these can be turned off.
What bothers me most is it doesn't let me use it like a removable storage drive unlike my old Olympus camera and the software on the CDs are horribly designed! Most don't even work with the camera! Fortunately, Windows XP allows one to extract and delete the files directly off the card easily as if one were browsing files.
However, I would suggest having a card reader ready if one wishes to move files back onto the camera too. If only the camera had a separate opening for the card though like my old camera.
There's supposed to be some software that unlocks hidden features within Canon cameras but, I don't think I'm ready to try that.
Other than the above, the Canon PowerShot A720 IS has been a very impressive camera and I look forward to capturing more photos and videos with it in the future.