As expected, Square-Enix is re-releasing the Chrono Trigger soundtrack. If you missed out on it the first time, here's your chance to get your hands on it again!
Due on July 29th for 3800 Yen (US$39), the Chrono Trigger OST [DS Edition] will contain…
The full 78 track soundtrack from the DS remake span across 3 discs.
A bonus DVD containing an interview with main composer Yasunori Mitsuda and a 5.1 surround sound music video of the two orchestral soundtracks that came as a free music CD for pre-orders of the game.
You can sample the tracks now over at the official site and take a sneak peek at the said video content. It seems the music video will be a recording of the band performing the music.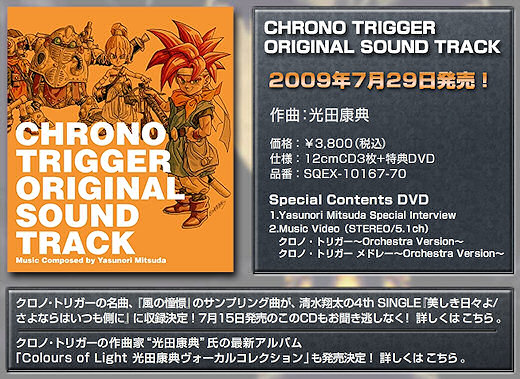 Continue reading →