Right, I gave in. After watching the Nendoroid dance and Vocaloid 2 videos, I finally decided to purchase the Hatsune Miku figure. This is the 33rd figure in the Nendoroid series and it's the first figure that I've imported (not counting the free Gashapon ones YesAsia gives away) so lets see what's here.
It's also the first time I ordered from HobbyLink Japan and it seems their packaging is as good as Amazon's. The goods are tightly sealed away by a piece of film to prevent it moving about inside the box. Shipping isn't too expensive either for this large item, coming in at around £4. Took about 2 weeks to get here by SAL. It's cheaper than using HMV or Amazon... Play-Asia on the other hand, just didn't have a re-stock date so I didn't order with them this time.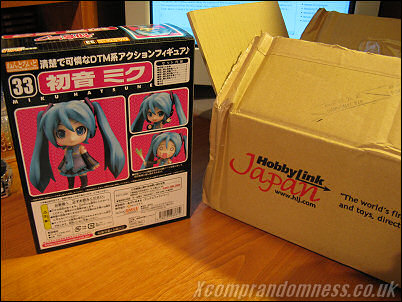 Seems the figure is still very popular in demand because the summer batch appears to be sold out everywhere. Won't be until December until Good Smile produces the next batch. Character designer must have earned quite a bit from royalties by now.
And here's the figure out of the box with all the different pieces for changing poses such as the little arms, hands and leg. Kind of creepy with those faces lined along the bottom.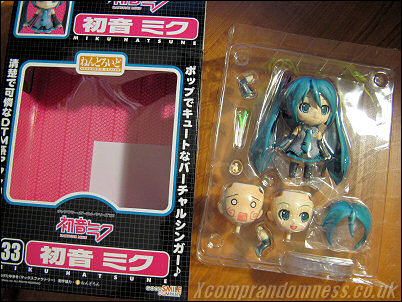 All the little parts that make up the head and that has to be removed before changing Miku's face.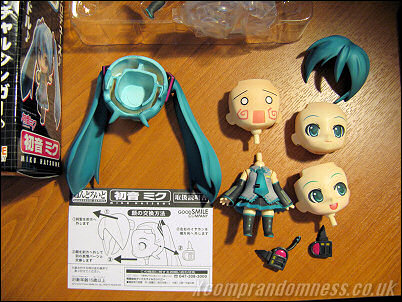 Here's one of the poses shown on the box with Miku slightly bending one leg.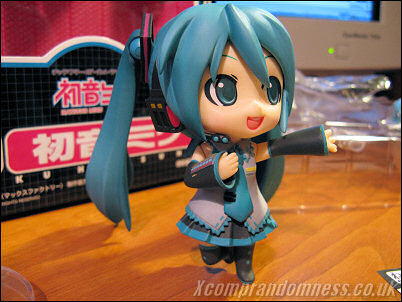 The famous leek when Miku puts on that shocked expression in the Vocaloid video. There's also a little stand for Miku to sit on. The box says the figure can't stand on its own but, her two long strands of hair (don't know what they're called!) actually holds supports her up...
Not much difference in the two different hairstyles eh?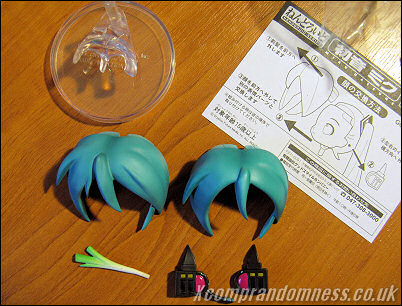 Here she is with the new face and "Loituma Girl" leek pose from the video.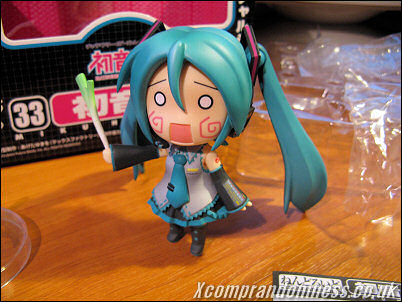 And again with her strands of hair up. Works with her expression. Stand can't keep her up in this pose!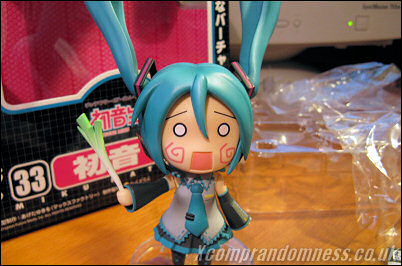 The little joints that keep Miku together. Looks like Good Smile likes to stick smiley faces on them.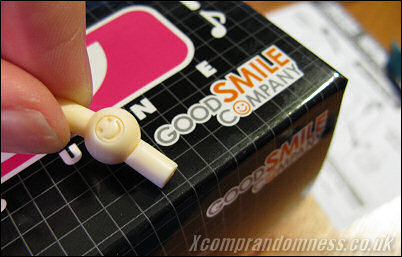 Normal Miku, the way she came in the box.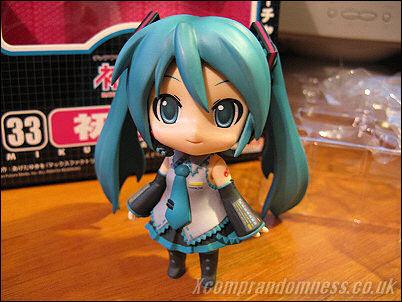 Looks just as cute without the two strands of hair which also happens to be detachable.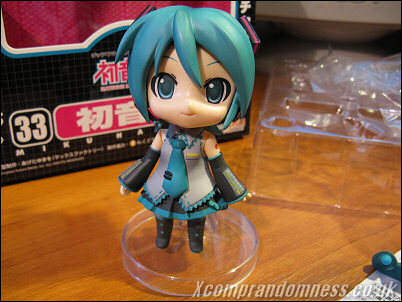 Think I'll be keeping her in this pose!