Your Name Art Book Review
There has been an artbook released for every Makoto Shinkai movie so far and Your Name is no exemption - not surprising considering its run away success and that it got a special "Collectors Edition".
Unlike the visual guide book, it does not contain concept art or storyboards but the format is no different, once again in B6 paper back size.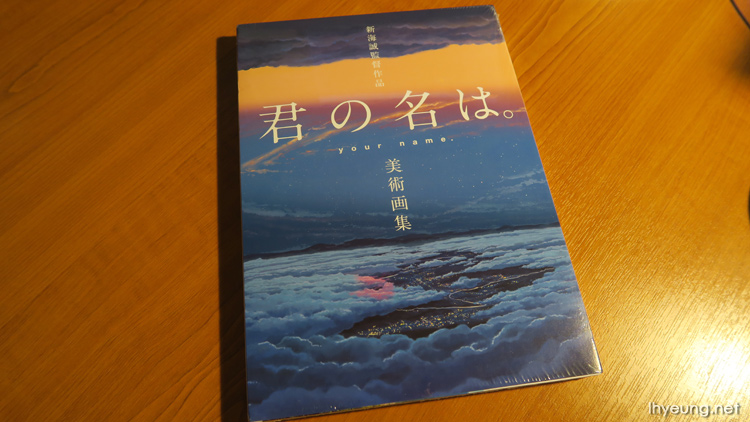 Pull off the slip cover and you'll see the actual cover of the book features a beautiful rendered shot of Suwa Lake or the fictional Itomori Lake from the movie.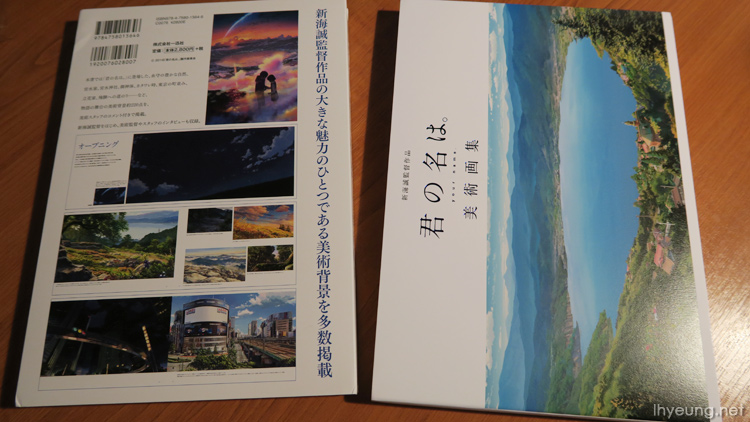 Title is actually cut-in and shiny just like the CE box.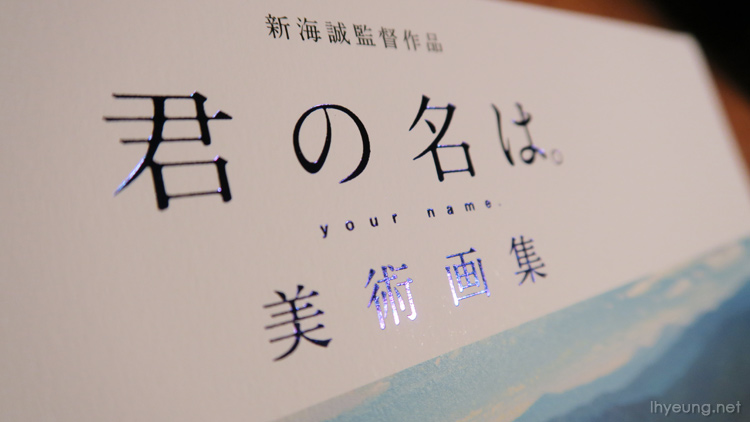 Cover itself is actually another cover for the book itself...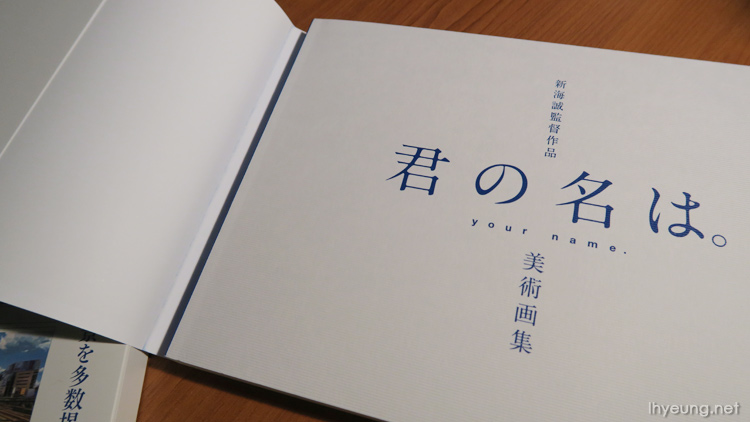 Contents page.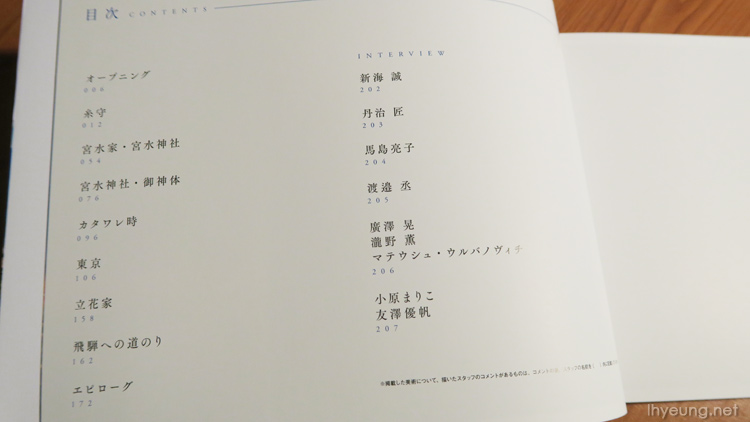 Itomori, 42 Pages.
The book is supposed to be filled with 220 pieces of background art and background only, no characters or details about how they were produced. They are mostly full page prints with a bit of commentary from the artists.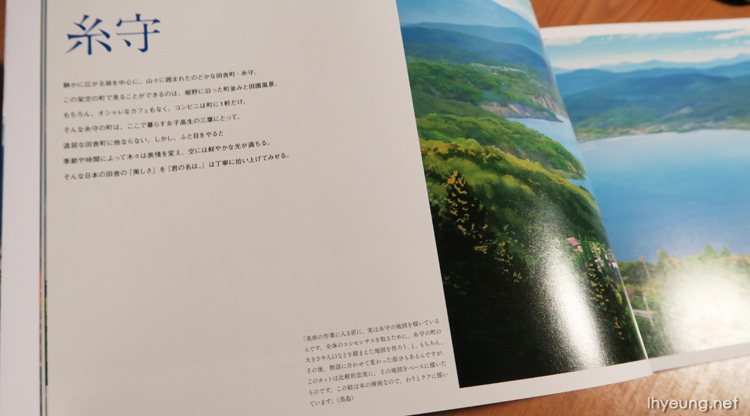 Anyone recognise the big rocket-like tower from Western Shinjuku where the Metropolitan Building is?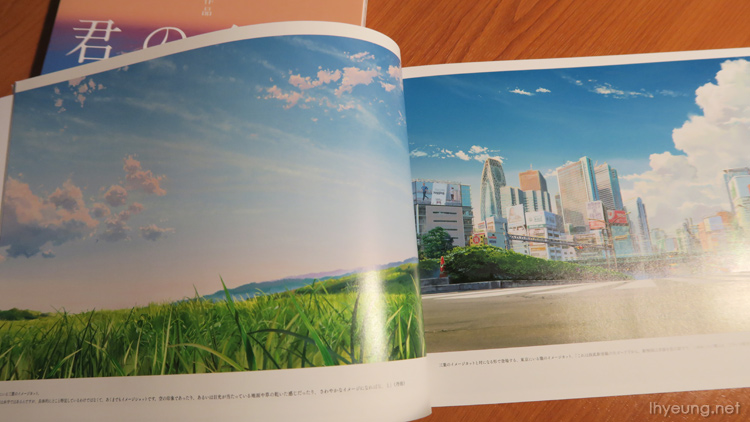 Itomori is actually a fictional rural town based on the Gifu Prefecture which also happens to be near Shinkai's hometown of Nagano. He basically mapped how his fictional location of Itomori would be before working on the story.
Originally Shinkai's image board featured a lot of Western buildings in Itomori but Akiko Majima (Art Director) preferred traditional Japanese buildings with big signs like this and was given the permission to populate this area the way he suggested.
I guess if Shinkai stuck with his idea then it wouldn't have gone quite so well with the whole Kuchikami Sake and bracelet making tradition the Miyamizu family had.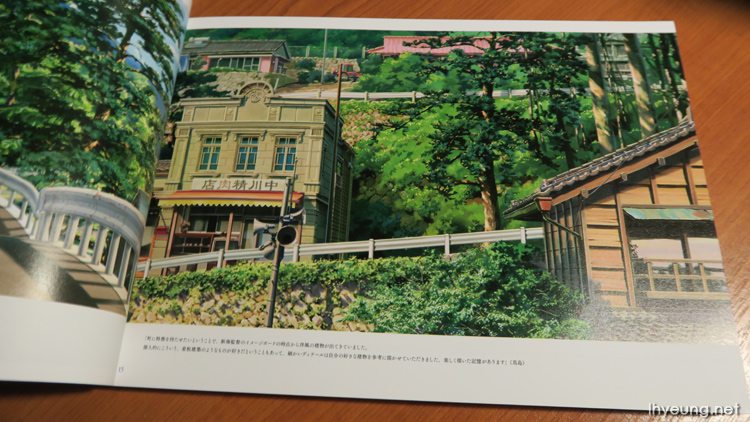 The lovely make-shift cafe next to one of Itomori's bus stops.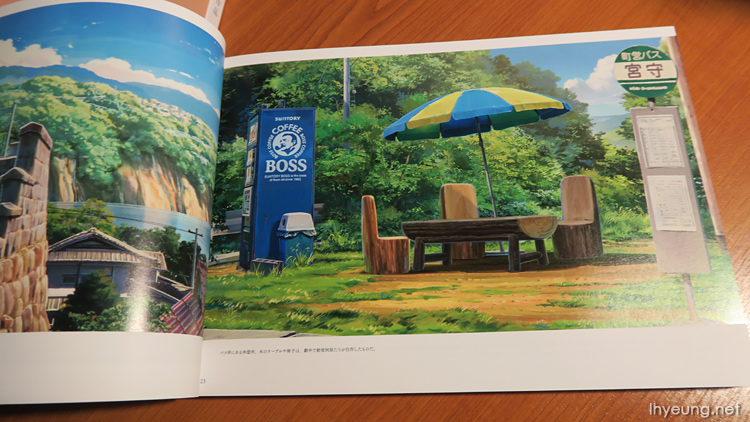 As mentioned before, the convenience store (AKA "conbini" in Japanese) is the same one featured in 5cm Cosmonaut, captured on the island of Tanegashima. Marteusz Urbanowicz (Artist) was happy he could render it again being a big fan of the movie.
There's a lot of original artwork, they're not just screenshots minus the characters from the movie thankfully.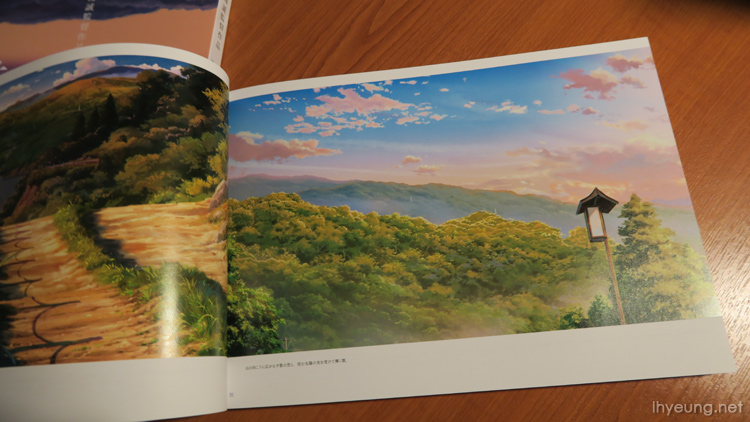 Some are basically composites - what the scenes looked like before other layers were added.
They're not all full page prints like here. On the left, you can see the artists added extra girders to the school structures so that the architecture looked more earthquake resistant.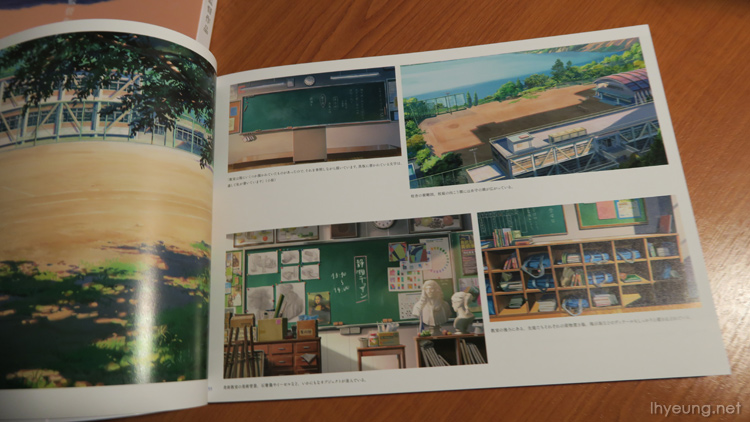 Whey, look! Hida's mascot, Sarubobo!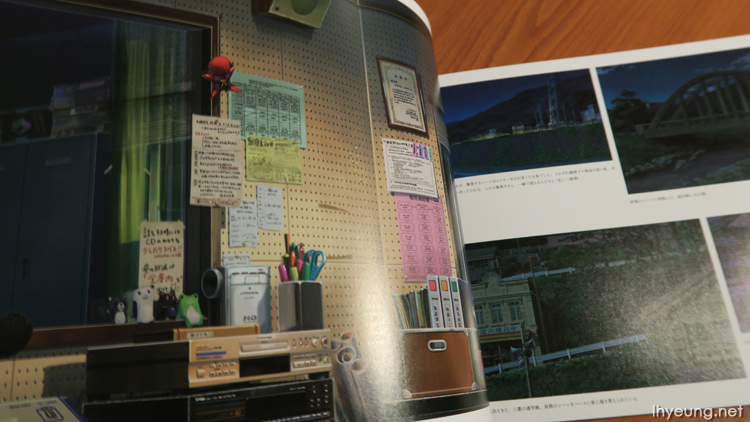 The shop interior was outsourced to another company to complete.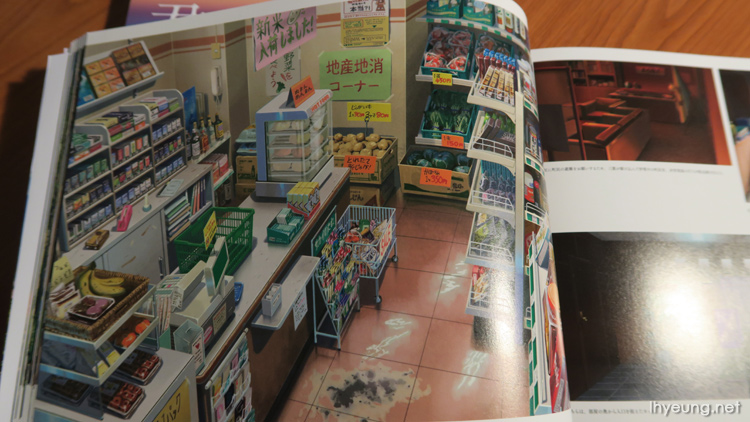 Miyamizu Residence/Shrine, 22 Pages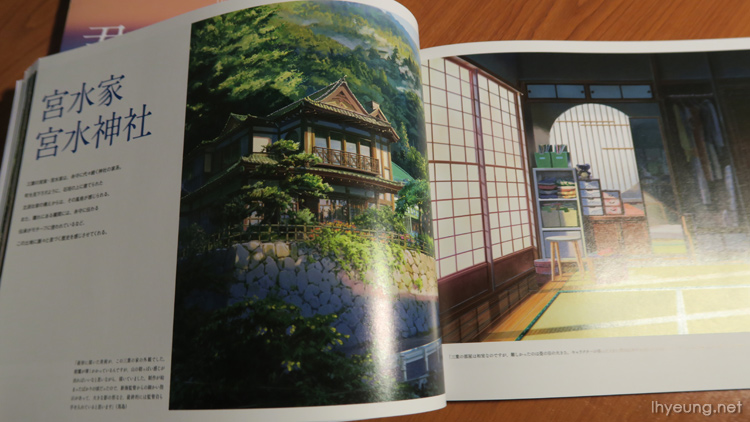 You get some close-up shots of Mitsuha's desk and room in this section of the book.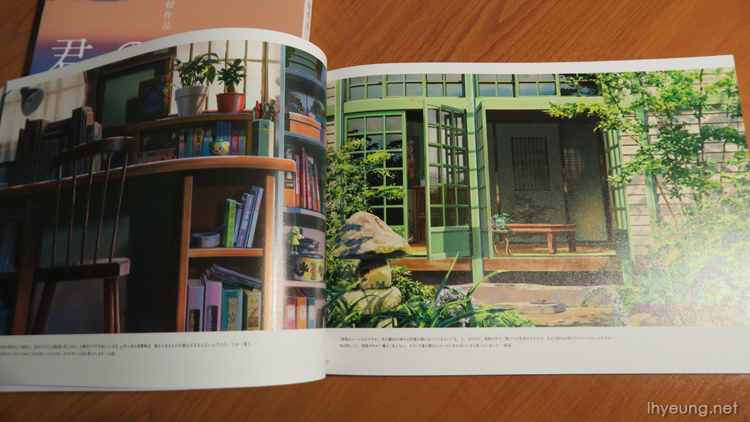 There's a lot of time lapse stills that show you the key transitions.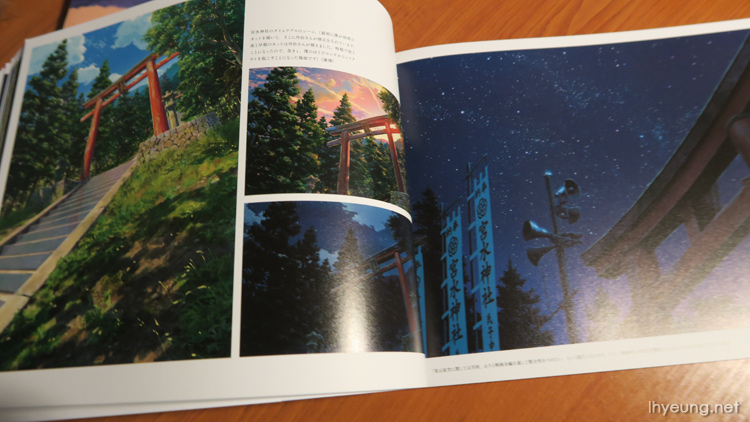 Miyamizu Shrine/Shintai, 30 Pages
This particular area was animated in 3D by panning a camera around so a lot of the objects had to be modelled.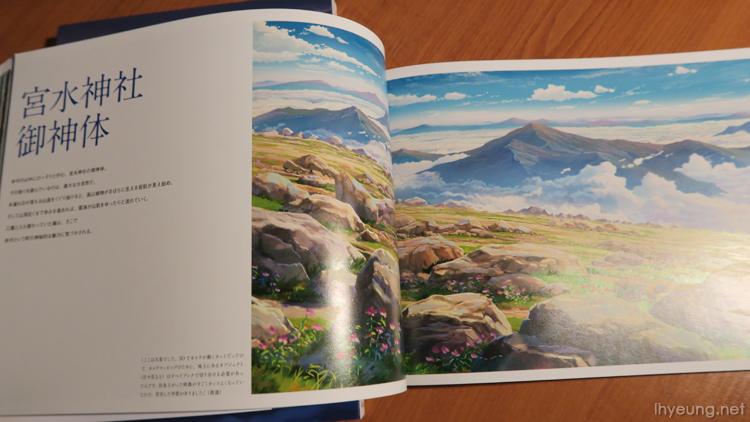 Some nice autumn art.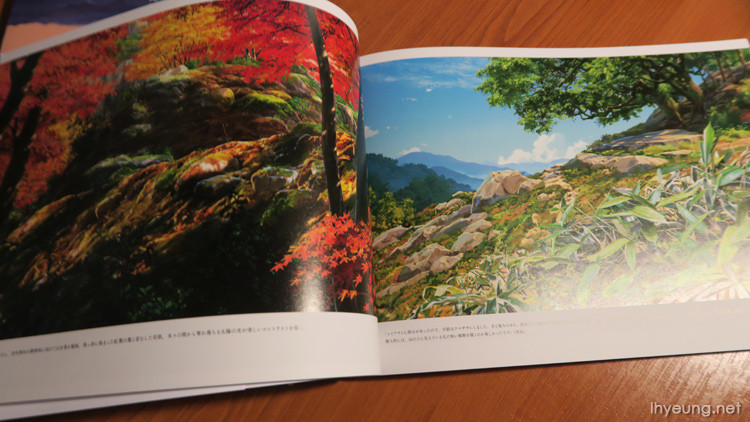 Shinkai was very particular about this shot of the Itomori Lake when Taki's switched into Mitsuha's body. He wanted the scene to be rendered breathtakingly beautiful so that viewers could feel how Taki felt when he saw this view.
I guess this makes the scene when Itomori gets hit by the meteor more tragic.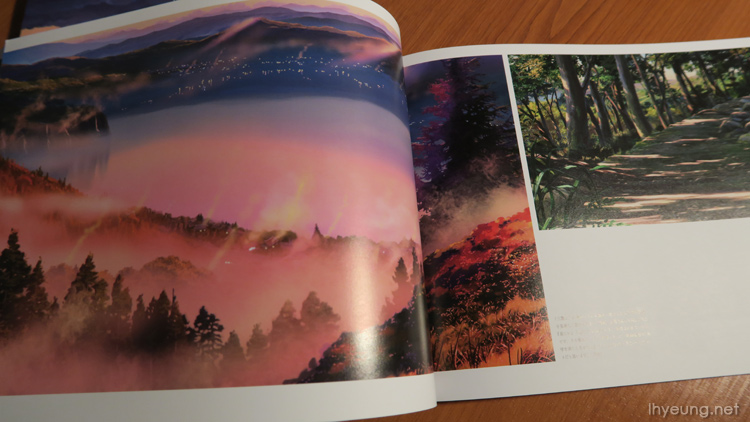 The crater was fairly much drawn with the same inspiration from Children Who Chase Lost Voices.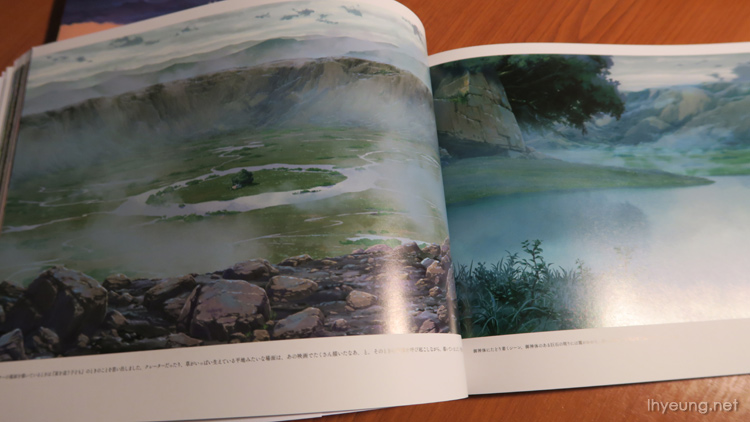 Kataware Toki, 10 Pages
Kataware was designed to have 3 stages - start, in-progress and end. Lots of sky scenery in this section of the artbook.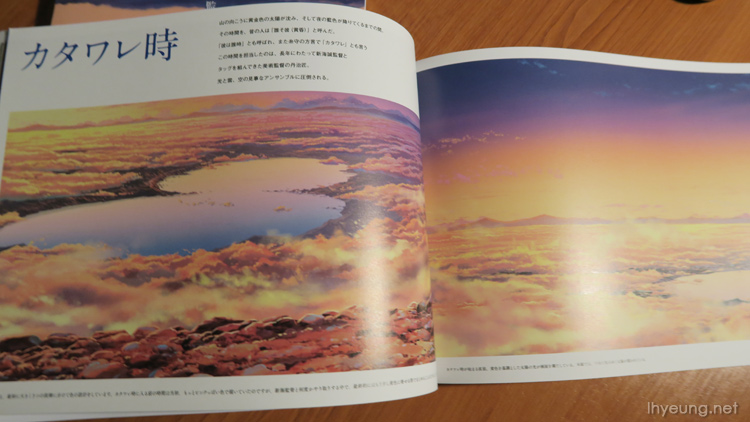 Tokyo, 42 Pages
Can't miss out Tokyo since it was featured in a lot of Shinkai's previous works.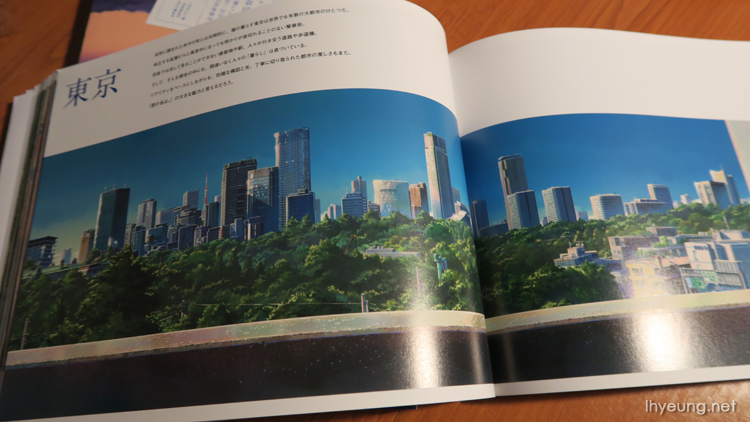 This was a shot of Shinjuku East. Other than the renowned brands, anyone from Hong Kong might also recognise the Yoshinoya fast food chain stores in the bottom left corner near the subway exit from this scene.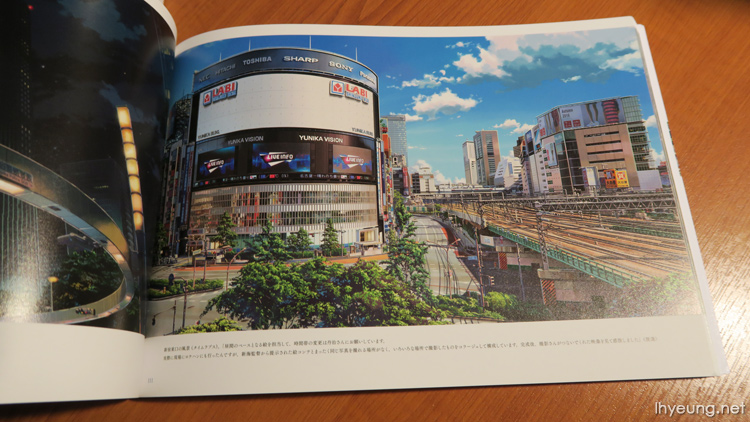 It's presented with the various stages of the time lapse too.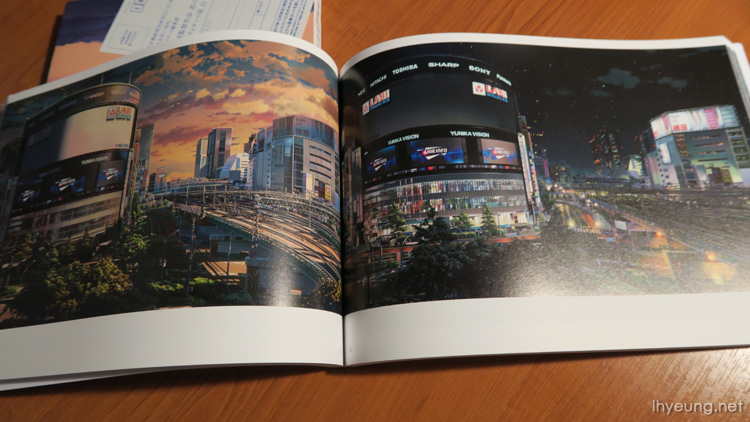 A complete clean shot of Shinjuku Station, South Exit.
Originally this side of the station wasn't supposed to be in the movie but Marteusz requested it so it was added in by Tasuku Watanabe (Art Director). There were also a lot of roadworks in the reference photos they shot but obviously these aren't reproduced in the final render to keep everything looking pretty.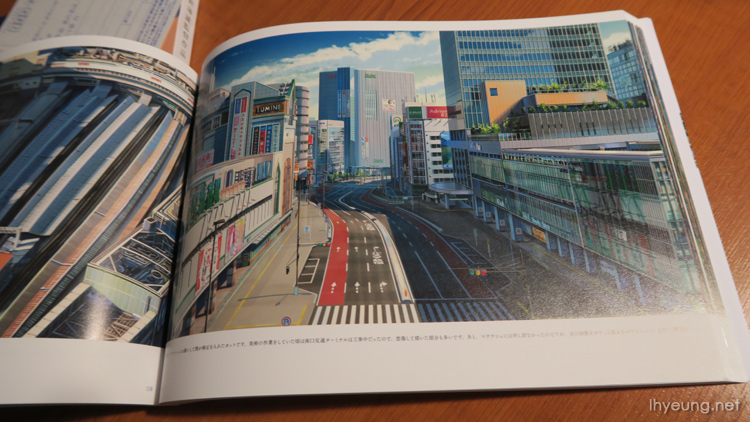 Another scene drawn from past experience working on 5cm.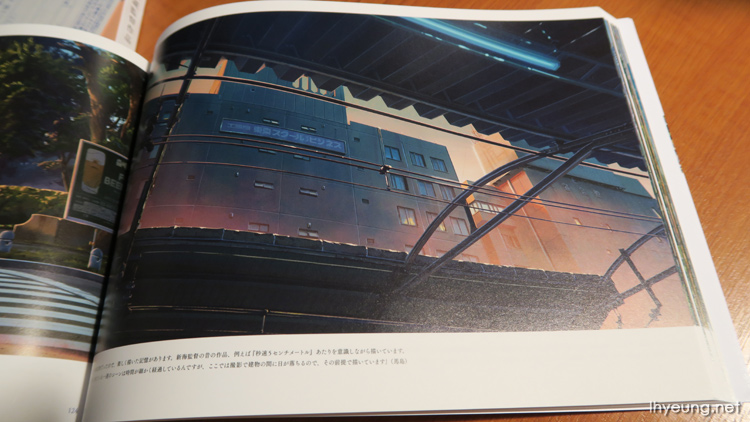 Shiny bullet trains.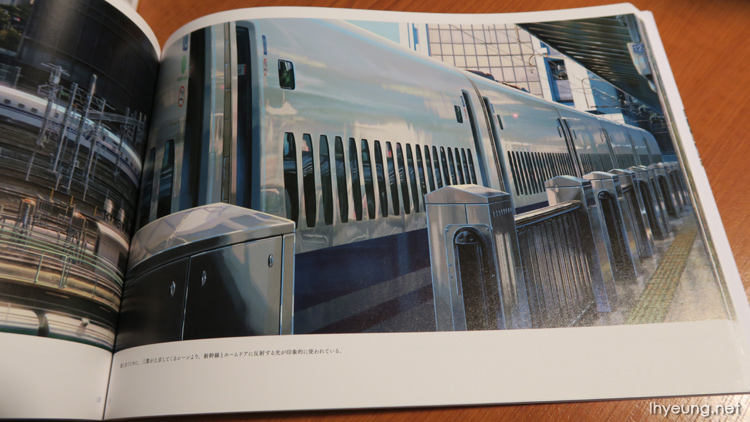 The school was done with a 3D model and was designed with a stylish, polished image in mind.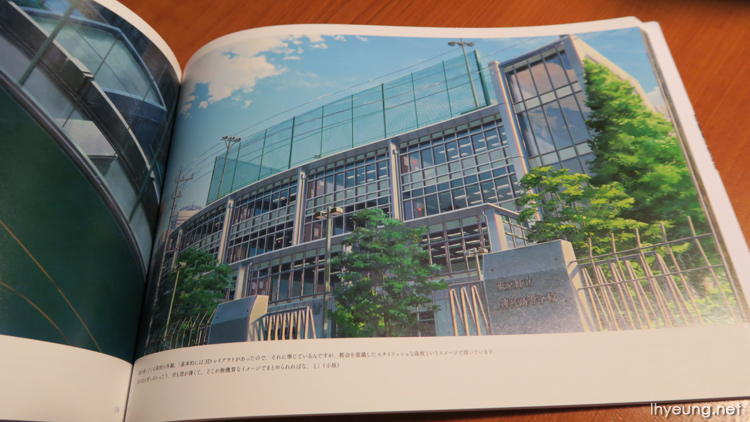 The cafe Taki and his friends visit was drawn by an Italian artist "Leonard" who also took part in the production of Garden of Words. Techniques that were used in that movie were also used for the greenery and lighting you see through the windows.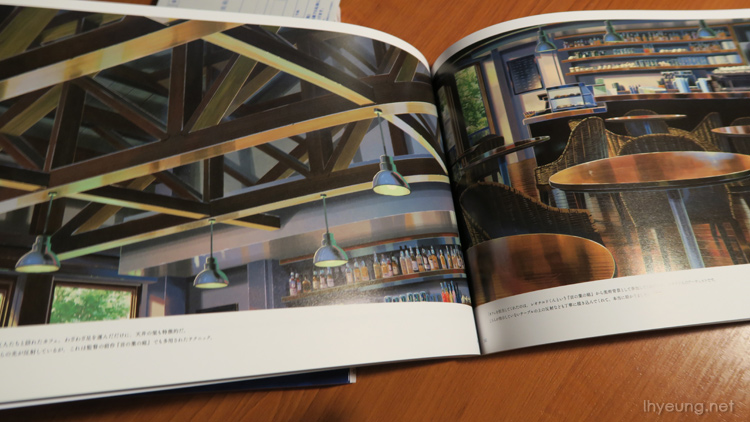 A national art gallery in Roppongi was chosen for Miki and Taki's date because of its distinct round area used as a cafe.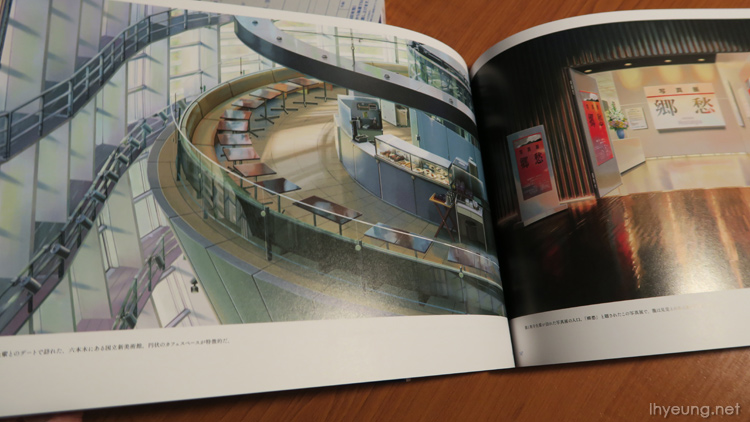 "Roppongi Hills"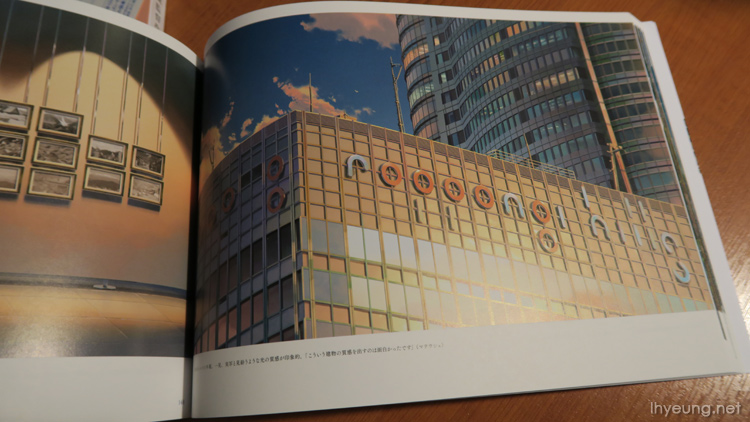 This shot might look impressive in the final movie with so much detail in the urban landscape but at one point, Shinkai had to stress to Watanabe about adding in more detail before it reached this stage.
If you look at the left image, there isn't a lot of illumination and red aircraft warning lights are missing from the skyscrapers in the distance. Things are much livelier after more detail was added.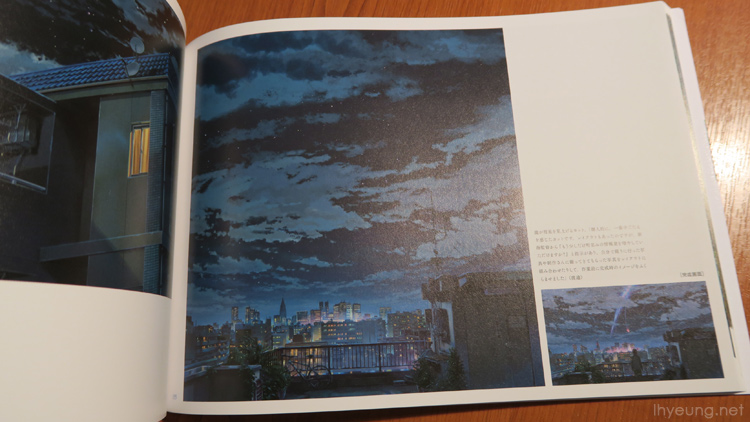 Tachibana Residence, 4 Pages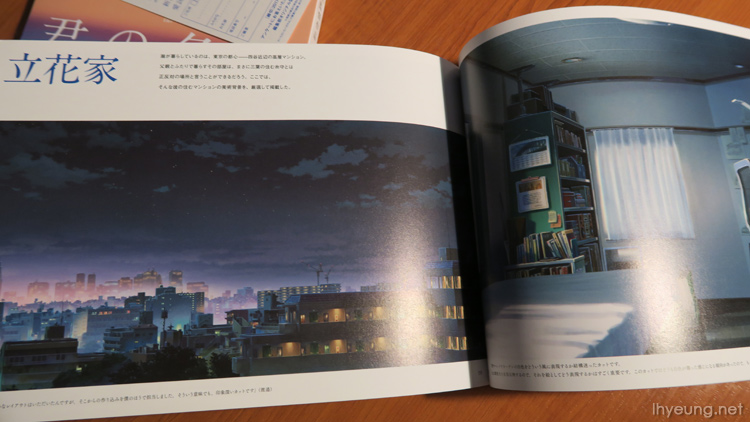 Journey to Hida, 10 Pages
As mentioned before, a lot of the locations in Hida are real including the "Hida Wide View Express" train you see here. It's boarded exactly from platform 11 too.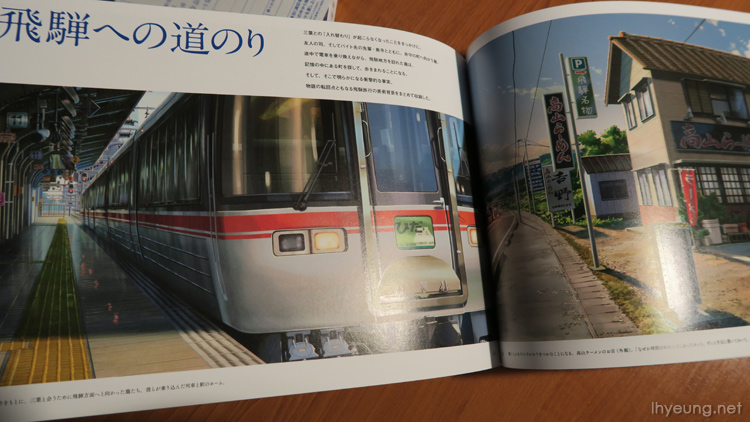 Epilogue, 28 Pages
And finally some art from the epiloque when Taki and Mitsuha finally meet each other 8 years after they last met at the crater during Kataware.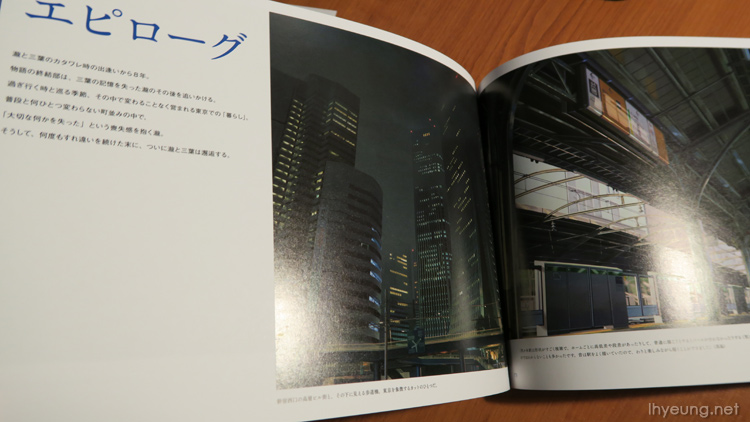 Most of the locations are from Shinjuku West and Yotsuya Station.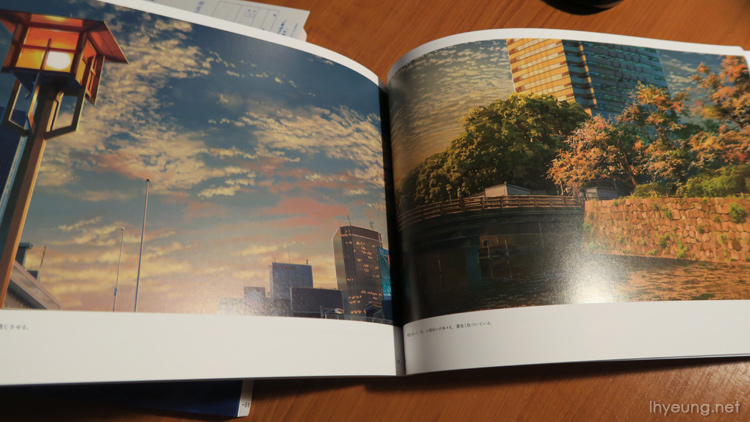 This time lapse of the Tokyo skyline took the longest and I think we know why. Look at the detail!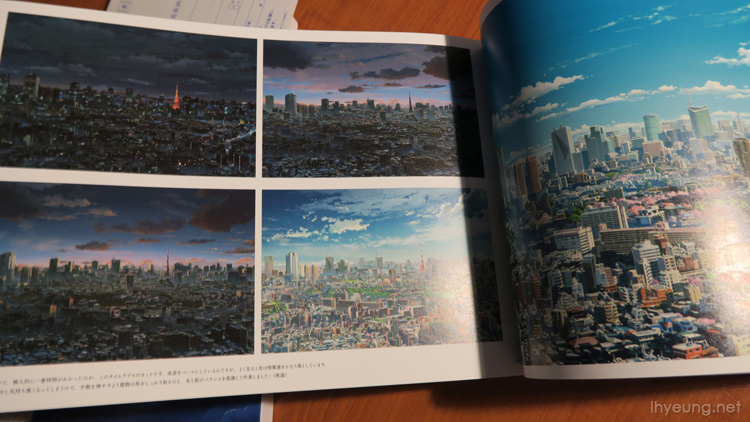 And the final part of the movie kind of flows like 5cm as Taki and Mitsuha pass by each other without knowing the walkway. Then we have a flash of still images.
These images were rendered so that everything is illuminated as if the rain just stopped and the sunlight is creating a beautiful diffused lighting effect from reflecting off the rain water.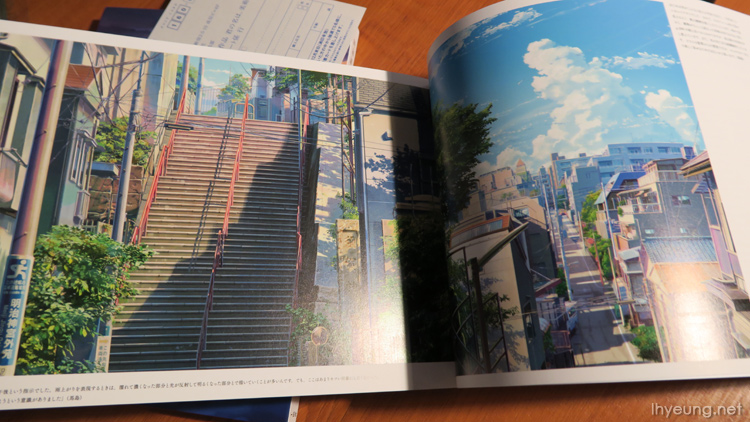 Last but not least, we have an interview with Shinkai and his team that took part in this artbook's commentary.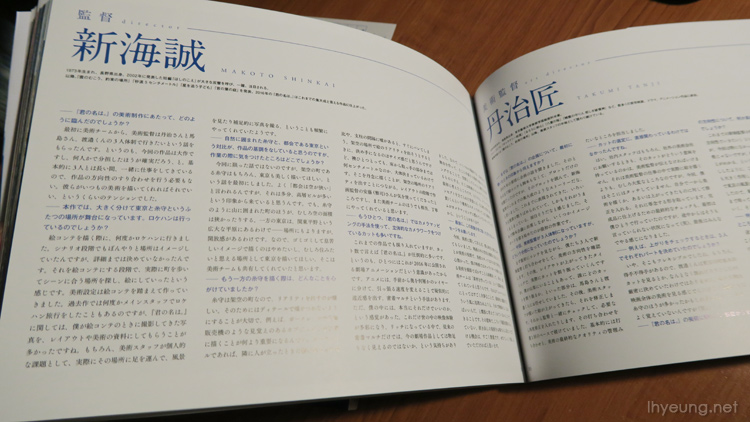 It's a great book to look at if you enjoy the background art in Shinkai's movies. There's so much detail you could spend time just picking little things out.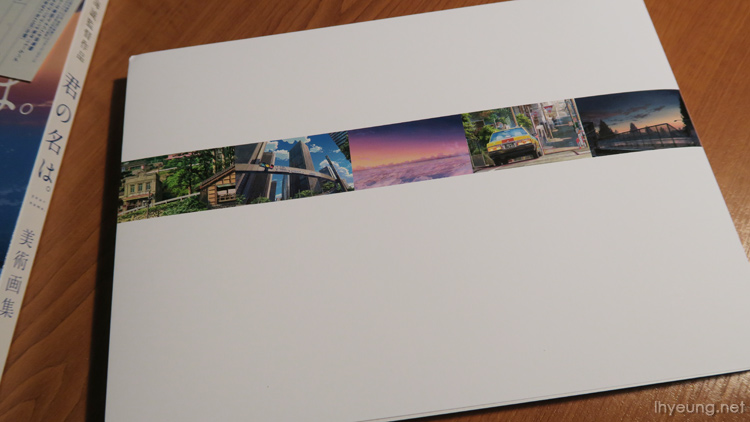 Book is available on Amazon Japan but unfortunately, they still pre-charge customs despite books being exempt in the UK... So, you might want to actually send it via Tenso and order something else together with it.