Muv-Luv Alternative Total Eclipse, Yui Takamura 1/7 Scale Figure Review
I really liked the kimono and paper parasol on this figure. Wasn't impressed with the paint work on the bootleg 1/6 Shiki figure's kimono so I decided to go for the authentic figure since it wasn't that much more expensive than a new PS4 game. Going to be my first authentic figure too after having a look at a whole series of bootleg ones.
The character is from Muv-Luv Alternative Total Eclipse which actually started off as a light novel before it got its own Anime show and in turn, one of those dating sim visual novel games. Anime isn't too bad although the plot will probably sound too far fetched. Humans encounter hostile aliens on Mars and suddenly Earth is under attack. Yui here was one of the trainee pilots who survived one of the invasions and after losing all her friends, she is determined to aid Japan create a weapon that will let them turn the tides.
So, let's have a look at XELFLEX's 1/7 Scale Yui Takamura "Gekka" figure first made available back in 2012 March for 8640 Yen (£58). It's aimed at 15+ age group and I'd probably consider this NSFW with the kimono drooping off her shoulder and most of her rear showing.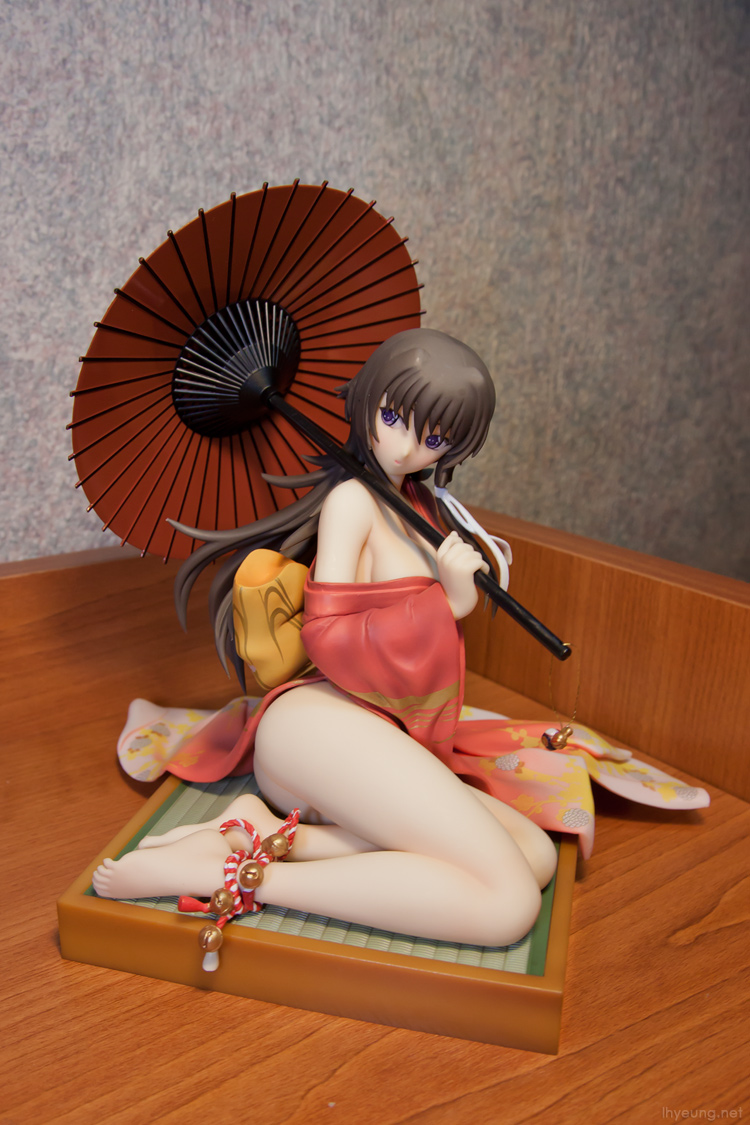 From afar, this authentic figure actually doesn't look too different from a bootleg figure even though it's made in China ironically. Granted, it's not one of the more detailed and also more expensive figures but up close, you can still see the paintwork's obviously a lot better with no signs of paint chipping off.
There aren't many parts to this figure.
Figure
Parasol top and cane.
Tatami mat.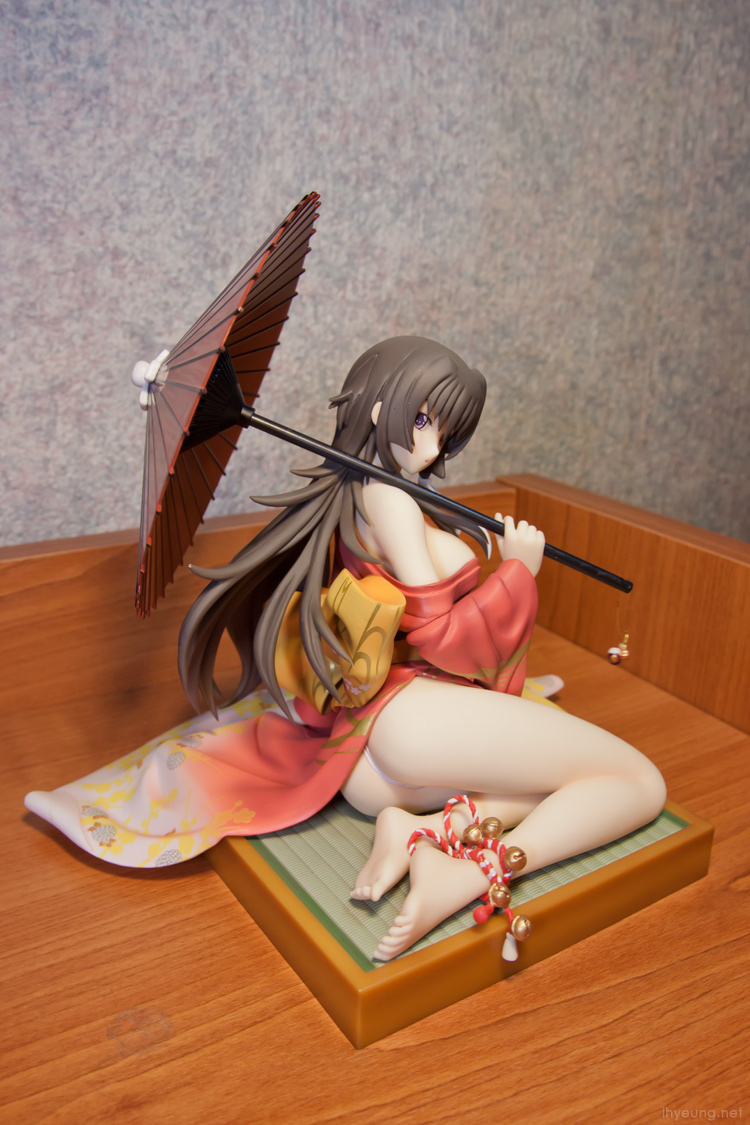 Bow at the back of the obi belt looks OK. If it had something more complex it would detract from the rest of the main kimono.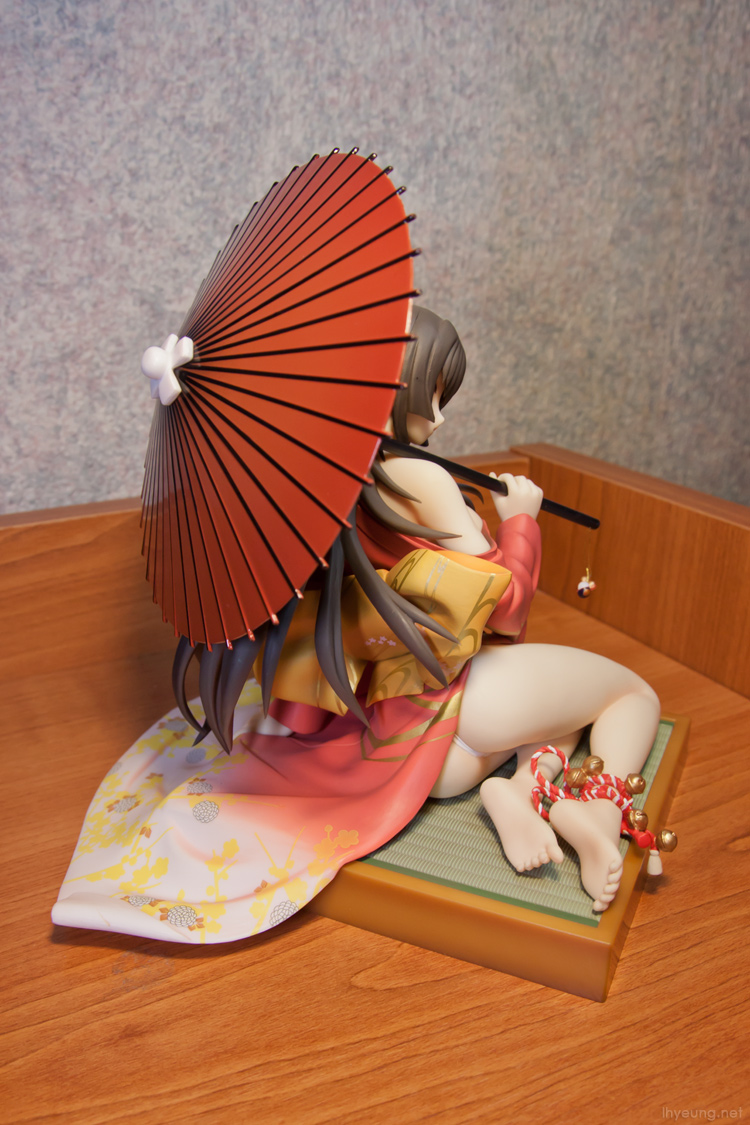 Parasol isn't actually made of paper like the T2 Tomoe figure is but still looks great because it's actually finished properly unlike some bootleg figures like the Yukino figure.
Figure looks smaller than T2 Tomoe because she isn't sitting on a bench. It's approx. 12cm with the tatami mat or 16cm with the parasol. Might be because the bow on ther obi belt isn't as complex but the figure's a lot cheaper than some other 1/7 scale figures that usually cost more than 10,000 Yen.
The parasol really adds the finishing touch to that traditional Japanese attire.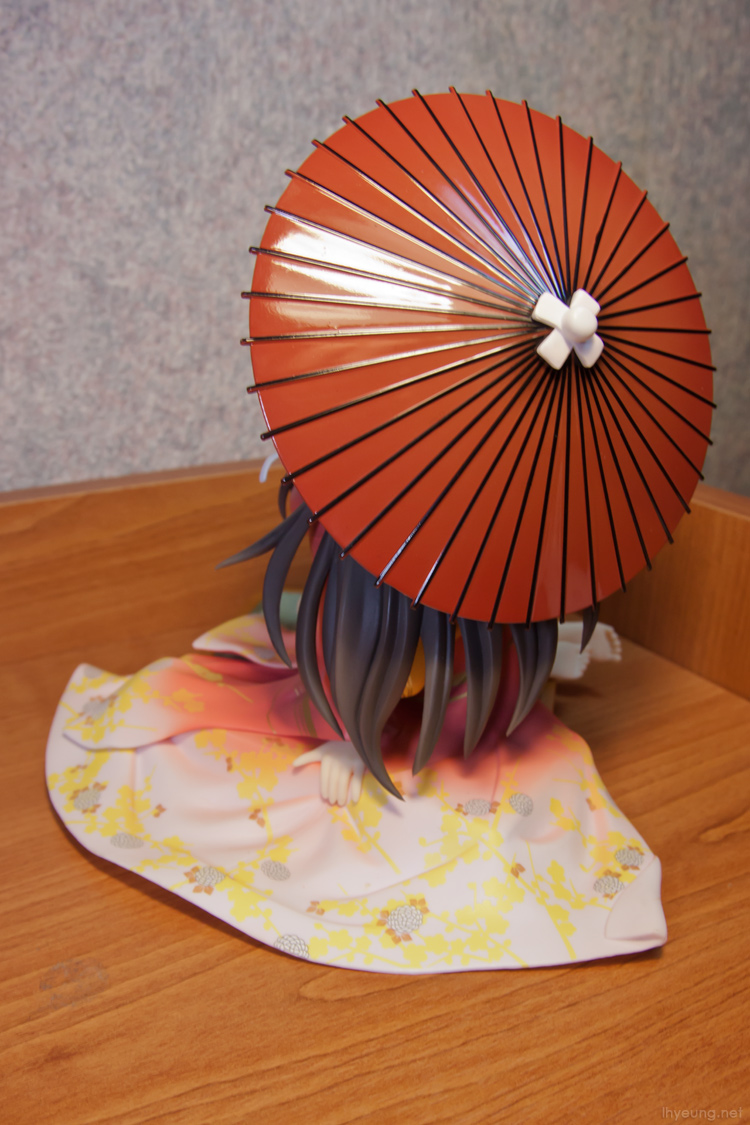 The hair isn't as dynamic as some other scale figures such as Yuko from Triage X, nor is there much variation in the colour gradient used.
Then again "gekka" here means "moon beauty" if I'm correct which means she's bathing in the moonlight so there probably isn't supposed to be any wind to make her hair more dynamicly spread out.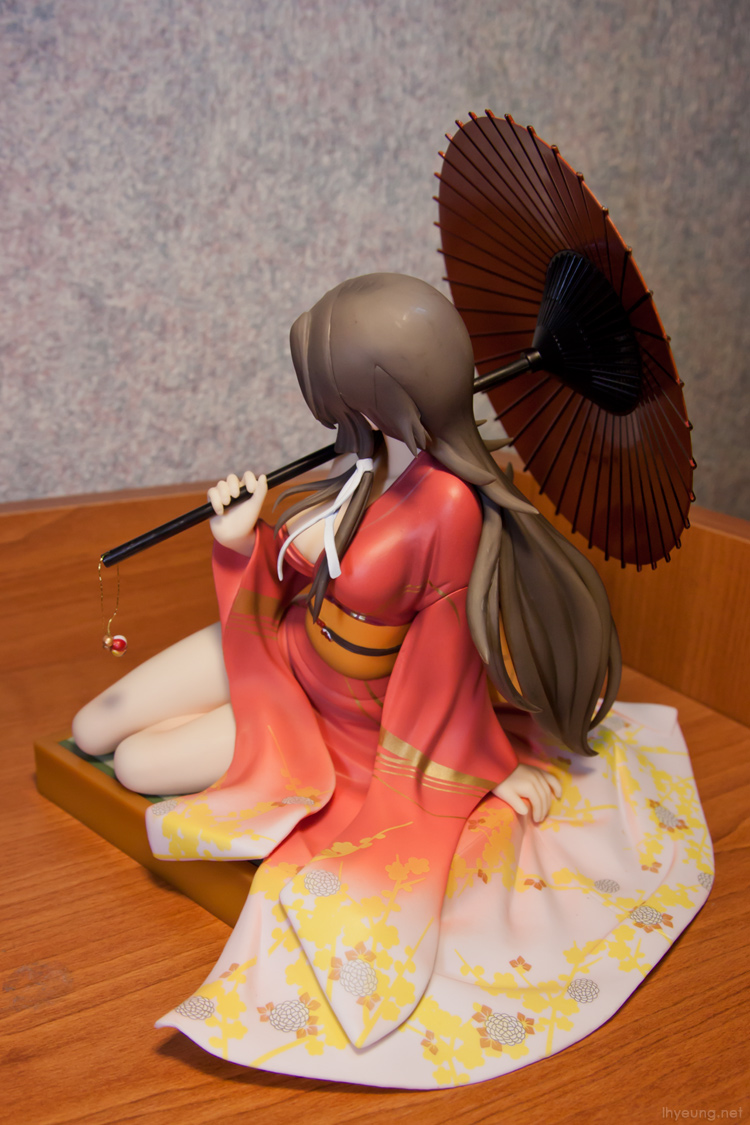 There's actually a flat square indent underneath the figure so that you position it correctly on the tatami mat.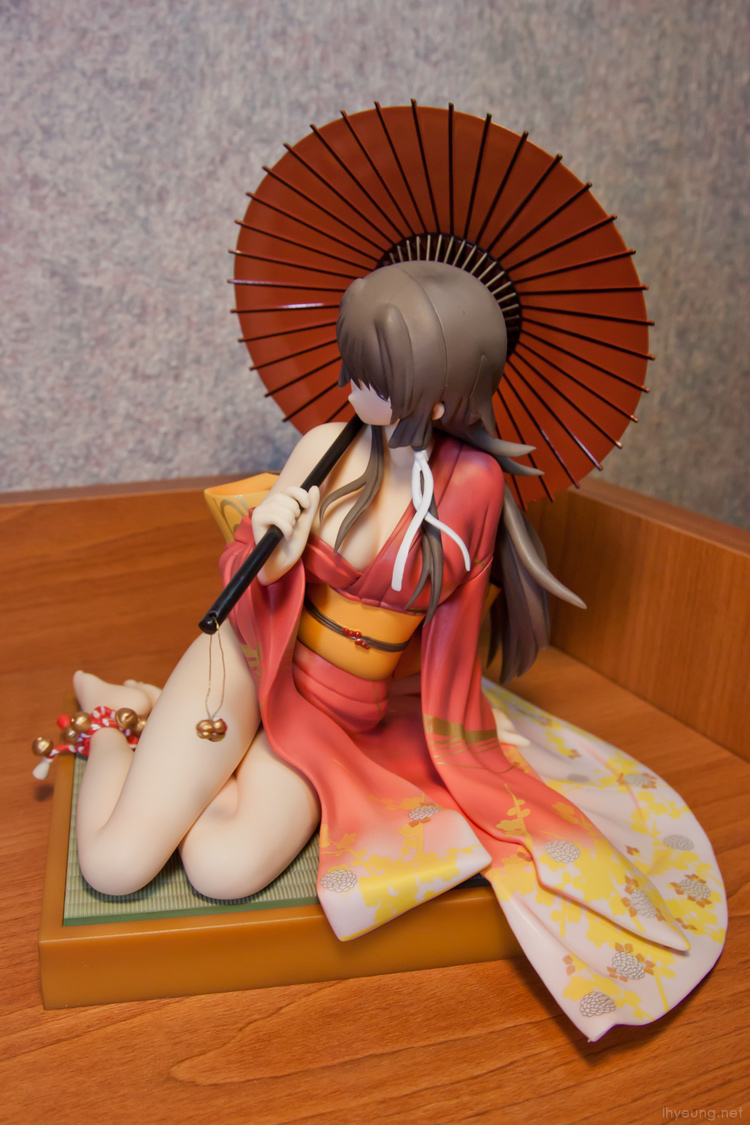 I don't think the expression's one of the best I've seen and her face looks different from the Anime. Maybe it's closer to the visual novel version of her. At least she even has the signature white ribbons on her hair. You don't actually see her like this in a kimono in the show so it's probably an original pose for her or it's from the game.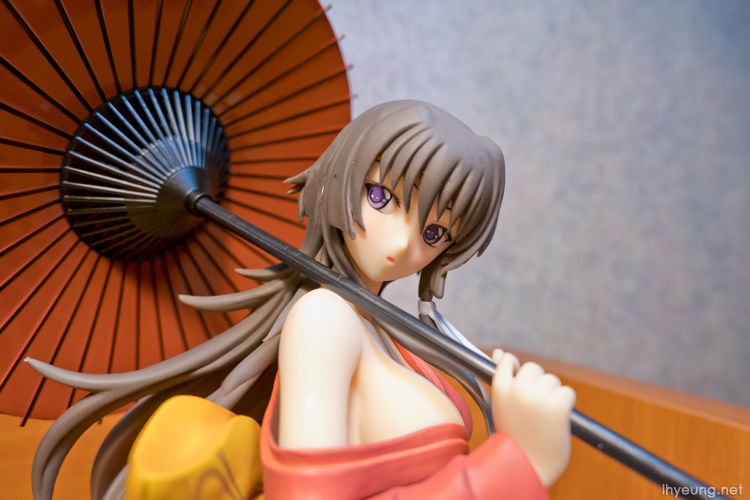 Look at this tiny little bell at the end of the cane!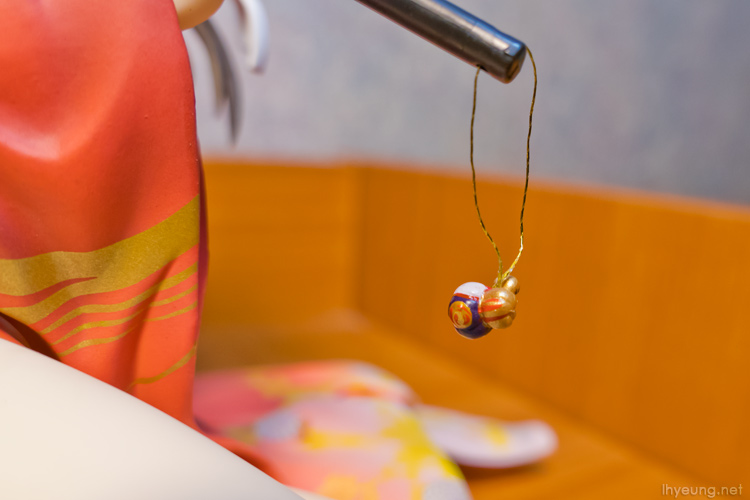 And also this trinket on her foot. It's not actually rope but part of the cast plastic. If it was rope it would have looked even better but also add to the figure's price.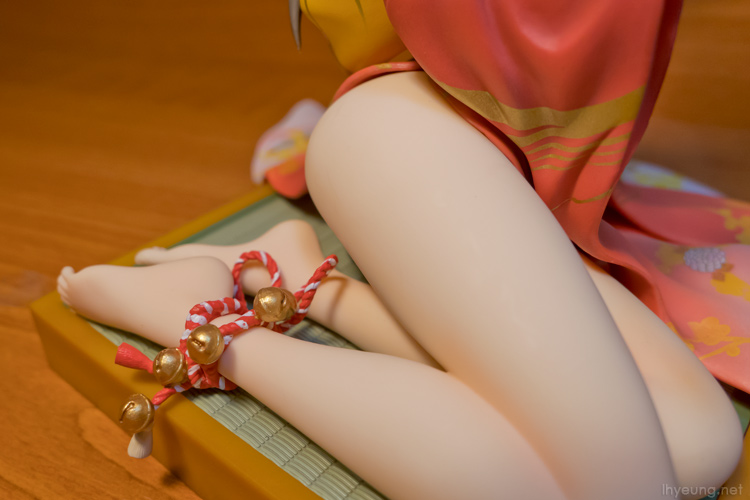 The highlight however must be the pattern and how the way the kimono just drapes onto the floor.
Apparently there's quite a lot of different kiminos. Not sure which type this is but there are some beads on the obi-jime.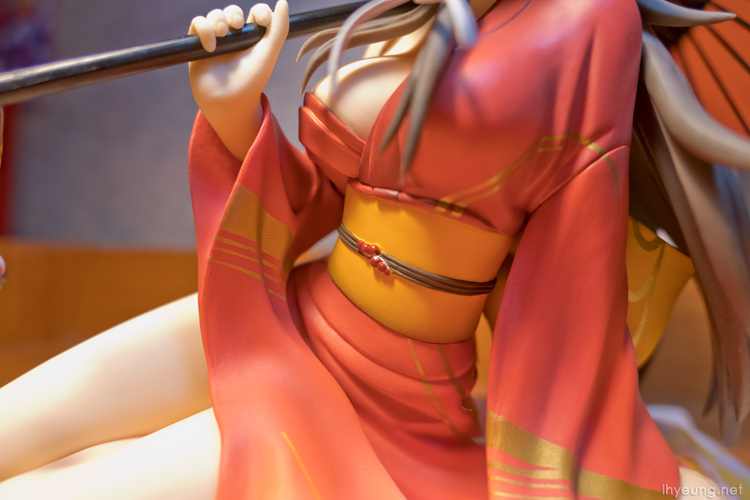 The front of the kimono has a very simple wave pattern and doesn't really shine until the edge of the kimono. It might be a furisode because of those long trailing sleeves and of the longest version too.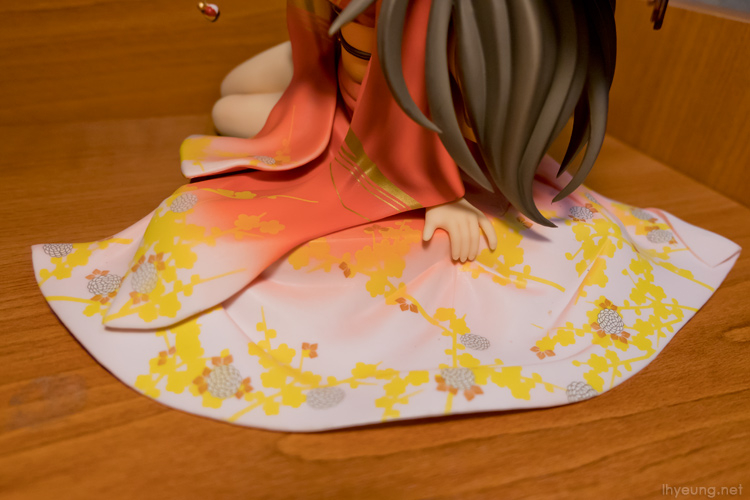 No instructions in English for attaching the parasol so marketing was planning to appeal to the English audience then like some figures.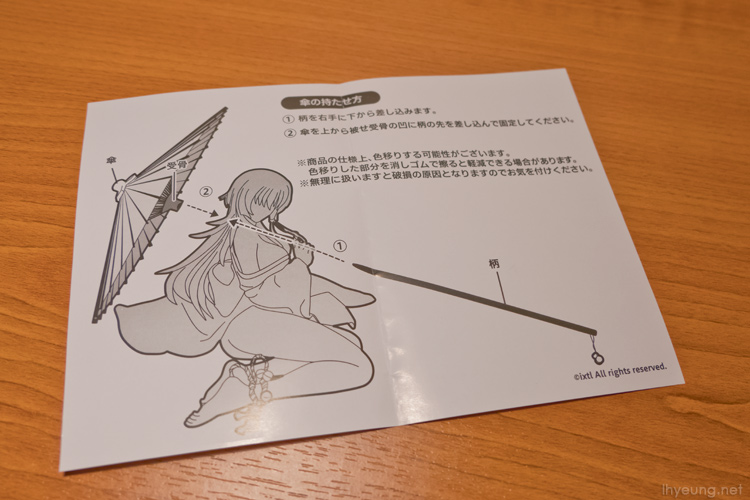 As for the packaging, it features the Muv-Luv Alternative logo in the top-right and also Xelflex's holographic sticker of approval in the top-left.
Also features a illustration of Yui from Anime I think.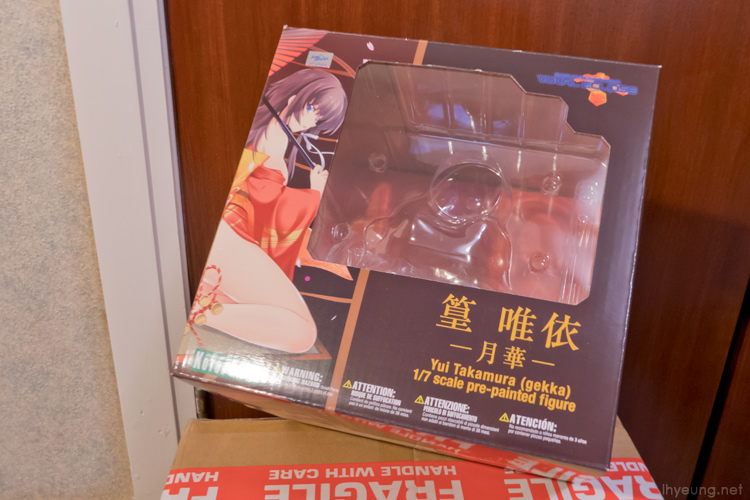 And again on the back with Kotobukiya's familiar green logo.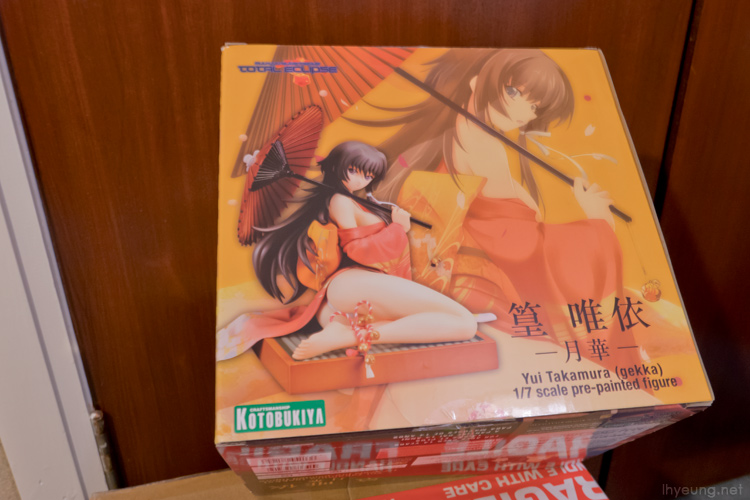 Overall, I think it's a nice figure to have if you don't mind the revealing pose and like kimonos.