One Piece: "Flag Diamond Ship" Boa Hancock Figure, CN Version Review
The girls from One Piece seem to get cast in a variety of themed clothing for the arcades. And as usual, there are bootleg versions floating around.
Here is Boa Hancock from the "Flag Diamond Ship" series sporting a more stereotype pirate costume you'd probably see ladies wearing during Halloween - made available as an crane game prize back in September 2017.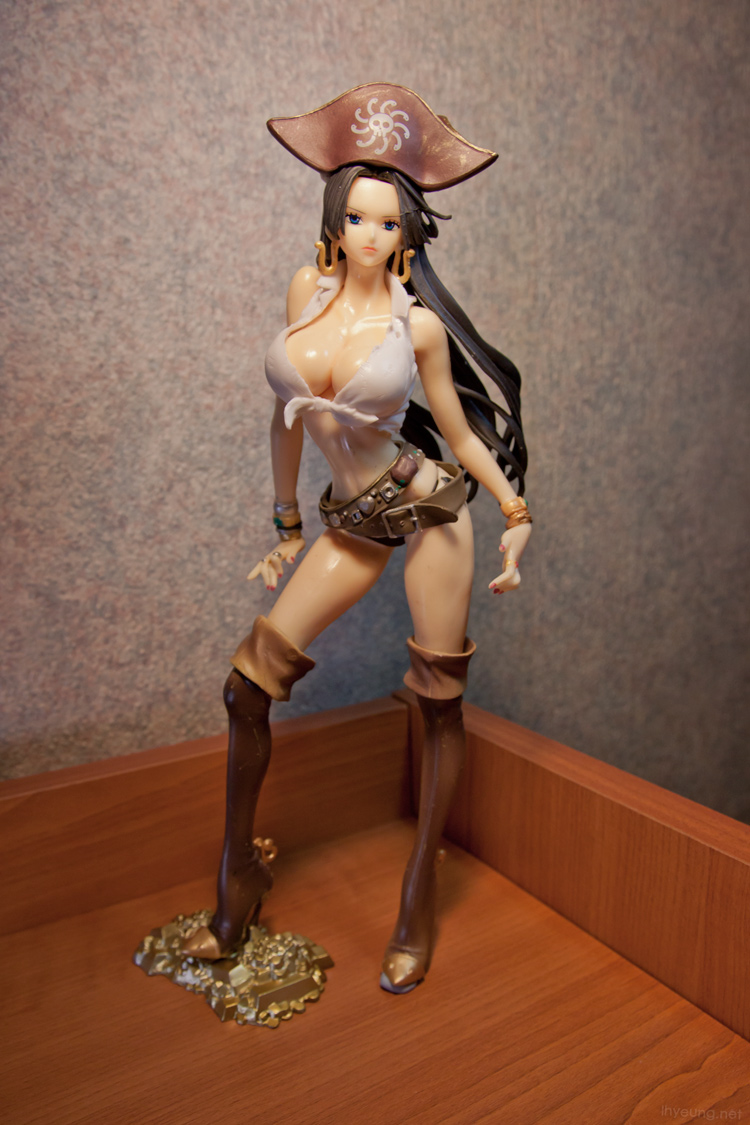 The Flag Diamond Ship series aims to capture the "amazing hourglass figure, ideal body curves and proportional balance" of the girls.
I don't think there's that many women in One Piece that doesn't match that description really.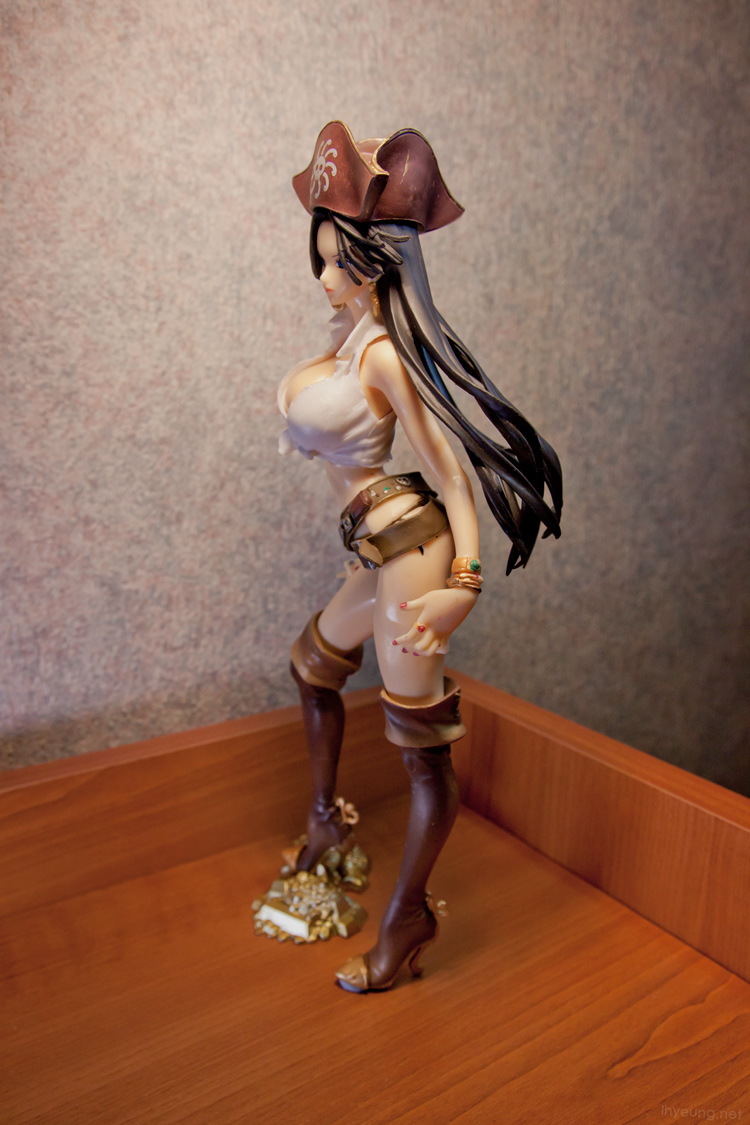 I imagine drawing hair so that it looks natural in whatever scene characters appear in must be hard enough, never mind sculpt it in 3D.
Well, maybe CGI helps a bit since you can let the computer simulate the physics these days.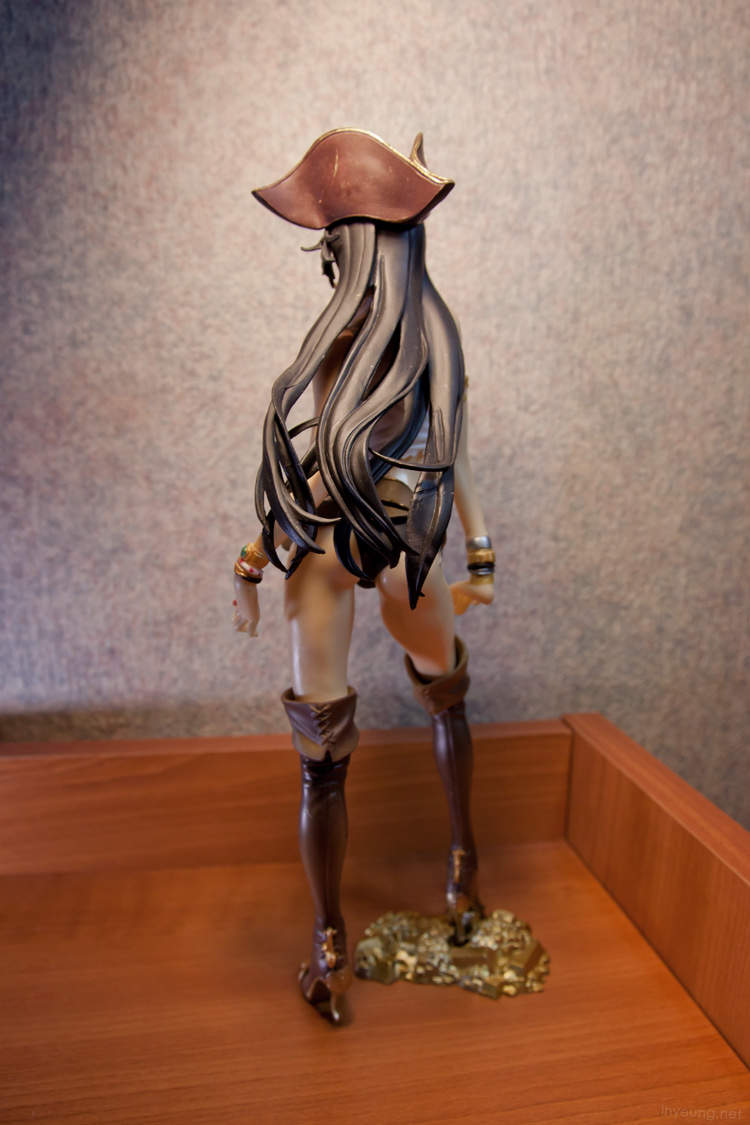 The bootleg prize comes in 3 parts:
Main figure.
Right leg
Stack of gold.
Head comes detached in the authentic figure although you can detach it here too.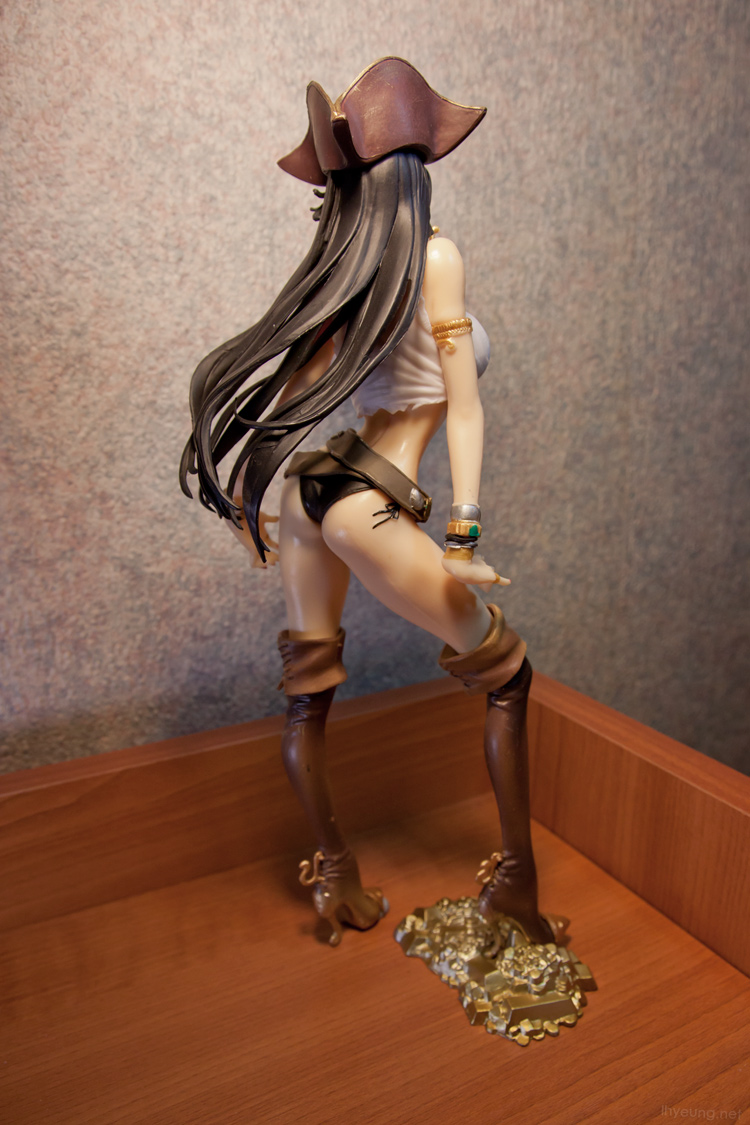 This figure came boxed and it was replicated better than the Glitters & Glamour Vivi bootleg with the Japanese blurbs of text and warnings on the base.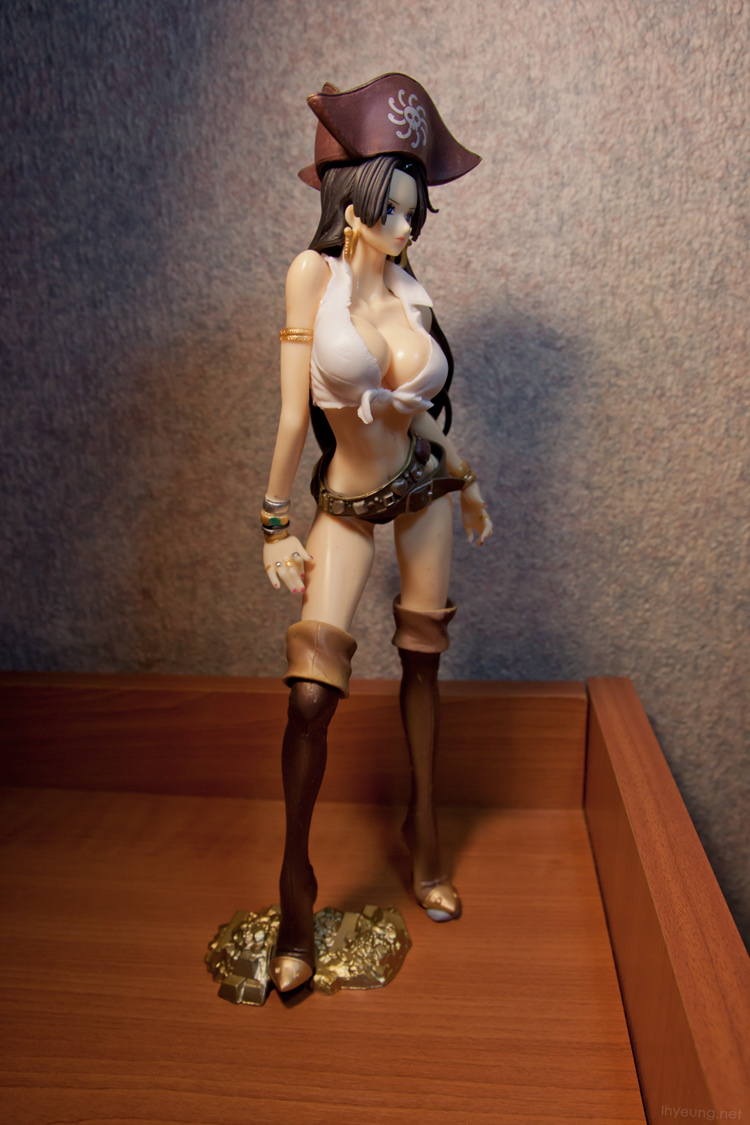 But once again, we're missing the CraneKing and Banpresto logos. Even the holographic Toei Animation approval sticker placeholder in the corner of the package top is visible.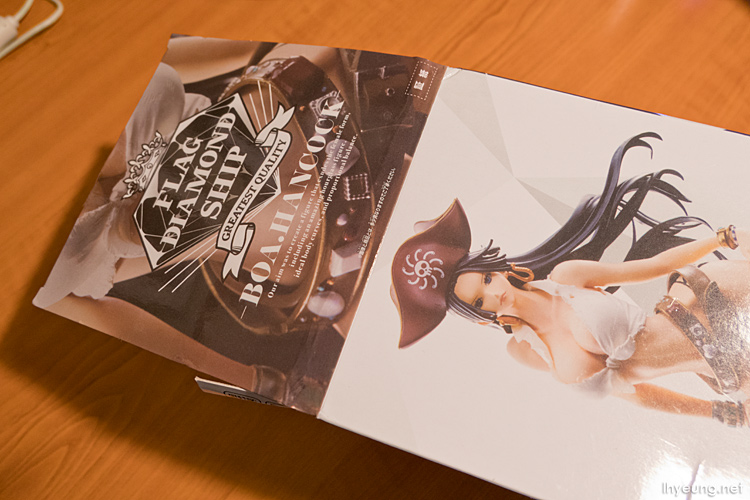 Facial expression isn't off so guess that's good although her lips have more volume on the authentic figure. Hat is also missing battle scars deliberately added along the bottom brim. Paint work is clearly bad with smudges of gold paint over it.
As usual with bootlegs, there was lots of specs of dirt on the figure. Probably more than the others really.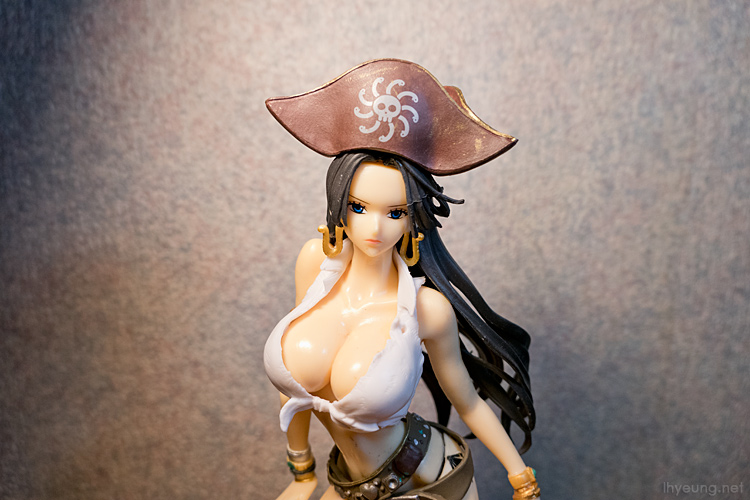 The belt seems to match the genuine figure but less cleanly sculpted. I think they could have used translucent plastic for the jewels and it would have looked nicer really.
Also, I think the body's supposed to have a matte finish for the skin rather than the shiny glossy paint finish we see here.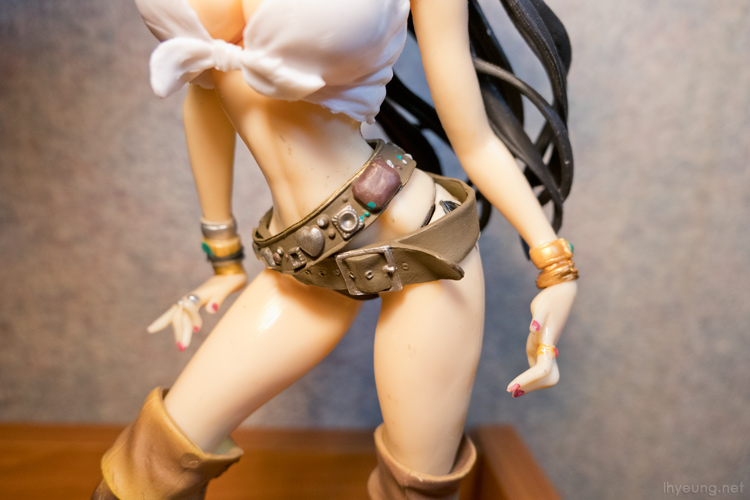 Detail on the boots look great at least but again, you can see the crude paintwork and missing gradients of colour.
That said, the bad paintwork kind of works here like worn clothes on an adventurous pirate.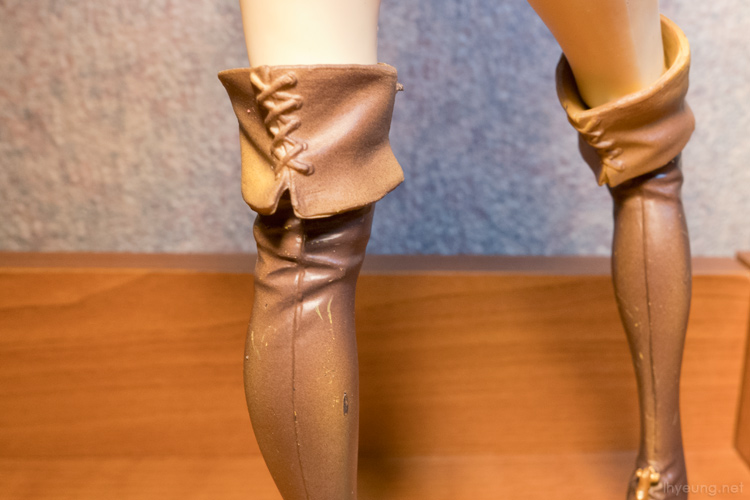 Her right heel's supposed to fit into the stack of gold but as usual with bootlegs, it doesn't so the figure doesn't stand up properly.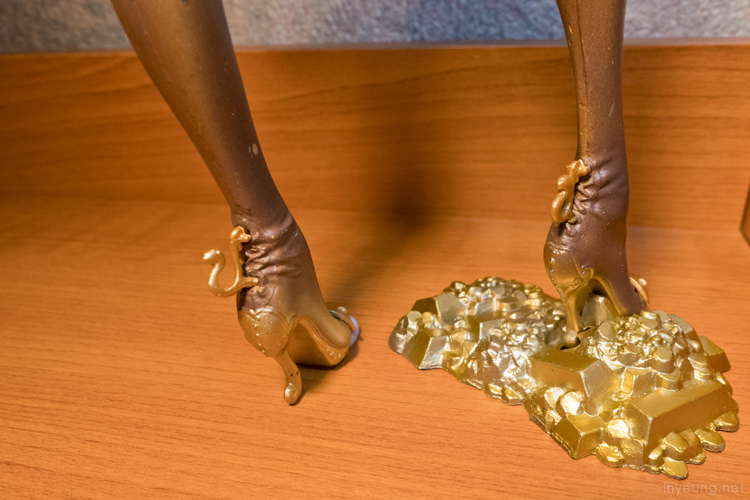 Had to use some Blu Tack again to put under her left heel before she stayed up.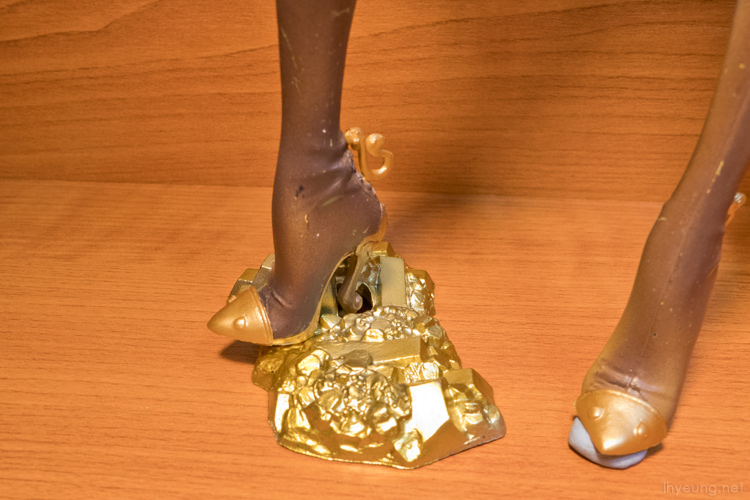 She's taller than Glitters & Glamours Vivi at 25.5cm x 9cm. Both figures aren't to scale of course like all crane game prizes but if they were, they'd probably be 1/7 figures at this size.
I don't think Boa and Vivi has actually met in the series. At least not that I remember from watching up to Cake Island at the time of writing this post.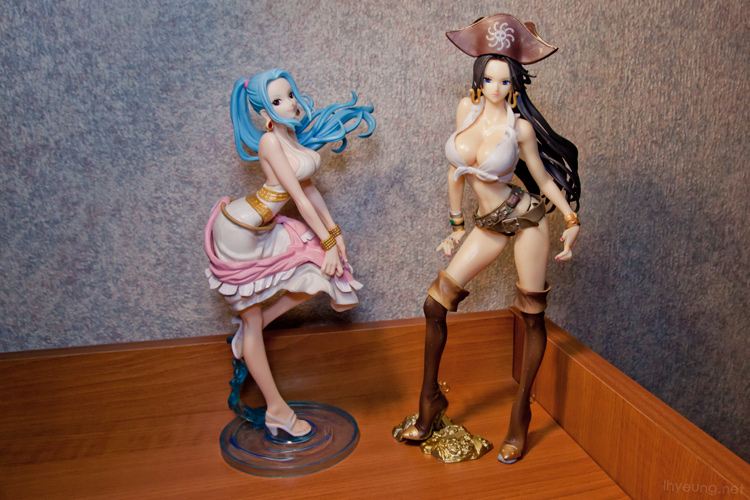 Photos of the authentic crane game prize figure can be viewed on Asuka's Figure Blog and Hayate's Room Prize Figure Blog.
Bootleg Checklist
They will actually label the figure "China version".
Right foot doesn't fit into the treasure base so doesn't stand on its own.
Little specks of dirt all over the figure.
Poor paint work, visible blotches of gold paint here and there.
No gradient colours on hair or boots.
Crude sculpting i.e. lines and clothing creasings aren't as cleanly defined.
Hat missing battle scars deliberately sculpted along the bottom brim.
If you have the box, CraneKing and Banpresto's figures are missing from the corners.
Missing Toei Animation holographic sticker of approval on top of box.