What Did I Do To Deserve This, My Lord!? 3D Review
"What Did I Do To Deserve This, My Lord" doesn't seem to be getting much attention in the West and I doubt its name change after finding it clashed with an old Batman TV show helps at all. In any case, Japan gets their third title in the series otherwise known as Those Cheeky Heroes 3D (Yuusha no Kuse ni Konamaiki da 3D). A message arrives on the Demon King's phone telling him to press a switch but when he does, he finds the world has grown bigger. Time to take over the overworld again.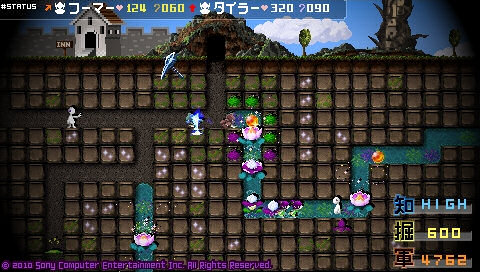 Gameplay
In case you're wondering, the "3D" doesn't stand for the late 3D glasses trend - It stands for 3 dungeons to beat instead. Slightly more areas to beat than before. The main mechanics hasn't changed much. You dig away underground to build up a good eco system, fertilising blocks and create monsters from them to help fend your dungeon from a set number of heroes, keeping the Demon King safe. Each level only lasts about half an hour. I think the highlight of this third title is that you'll now find some "magical water" blocks inside your underground dungeon and by digging a certain way, you can control where it goes and spawn new water type monsters. Instead of slimes, you have lotus flowers which grow and once they've grown to a certain stage, you can rip them open to create different kind of monsters which prove to be much more powerful than their land counterparts.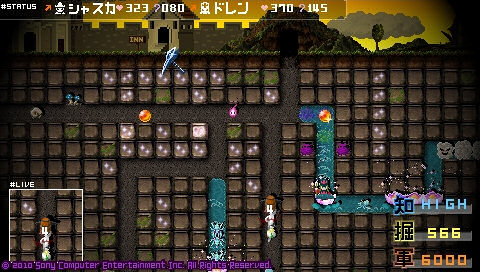 The learning curve can be pretty steep as you learn how to balance this new feature and it's kind of frustrating how the new water creatures decide to wander off the water and suffocate themselves to death and you can't do anything but kill them off quickly sometimes. Otherwise the over all difficulty seems to be higher. It looks as if you can no longer can you rely on building up a huge army of lizard men to fend your dungeon now.you don't survive for long because it feels as if the heroes arrive a lot quicker and with a new high moral rating, they can rush through your dungeon in no time.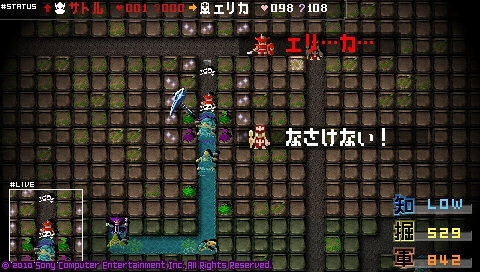 Of course, this can be a good thing for those like myself who found even nightmare mode a little too easy to beat in the prequels. And if that's not enough, sometimes if you meet certain conditions you get an extra hero trying to invade which knocks up the difficulty even higher. There is also the addition of "intelligence" to the evolution system where by having fully grown water lilies, your monsters can become even more powerful and there are now different pickaxes to obtain to grant you different powers. They really have thrown in quite a lot of ideas this time. Perhaps what I found helpful was that on the upgrade screen, you now have a better idea of the kind of stats your monsters have in the form of a hexagonal chart and you can undo upgrades.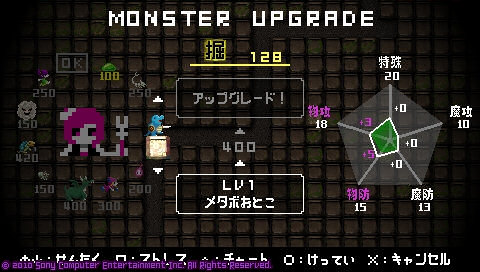 Presentation Right away you're greeted with the familiar pixelised sprites and theme tune but there's a little more 3D this time on the map screen. However, despite the new introduction of water, the newer monsters don't look much different than before. In fact, some of them look exactly like their land counterparts although there are a few new ones that appear from portals.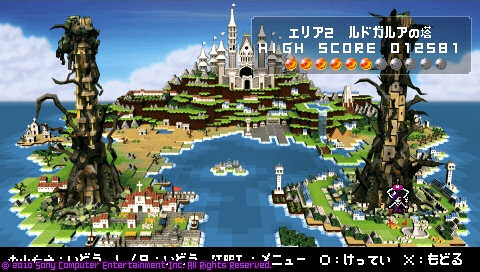 Summary Those of you who found the first two game too easy even in nightmare mode will probably be happy to find the new water mechanic proves to be very challenging to master along with the much stronger heroes in What Did I Do To Deserve This, My Lord 3D. Once again, a great pick up and play game for short breaks with plenty of replayability.
Time Played 8 hours Good
Quick engaging gameplay from the prequels.
New water mechanic increases challenge.
Have a better idea of what upgrades can do and undo them.
Record gameplay sessions and screenshots.
Bad
New water monsters like to suffocate themselves.
Feels a little too challenging at times.