First Images for Makoto Shinkai's Fourth Movie
It's just pass Christmas Eve and Makoto Shinkai has decided to reveal some art from an early image board of his fourth feature length movie. What great news before the New Year, eh?
The name of the movie is currently undecided and Shinkai isn't permitted to reveal what it's about. What he can say is that it will be centred around a young girl filled with action, adventure and love. There will be a number of themes but one of the main ideas is similar to his past works such as Voices of a Distant Star, The Place Promised in Our Early Days and 5 Centimetres per Second - Focusing on loss and how one should live on.
Well, until the official site is up there will probably be no more details about this new movie so lets have fun guessing or speculating what these images may mean!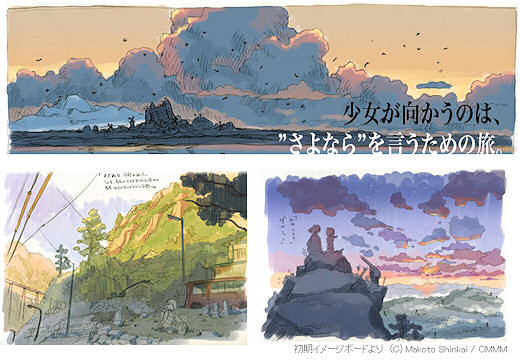 Looking at the banner itself, the line seems to say "The girl heads off in a journey to say farewell." Unfortunately, I can't make out the scribbles on the storyboard images but, it looks like it won't be set in a Western country after all despite his stay in London. Still, it will be interesting to see if his stay has changed his direction in any way. Also, judging by the announcement's URL, I'm guessing the final movie name will have the word "Sayounara (Farewell)" in it.