Advanced MP3 Player's Surprise Santa Sack ::
Was browsing around looking for a new DAP because my current one's built-in battery is wearing down to only 2 hours. Then I found this - A "Santa Sack" filled with random goodies from Advanced MP3 Players' shop for £5 ( £7 including P&P).
It's kind of like paying for a raffle ticket really and in this case, you have a chance to win a DAP, pair of speakers and earphones if you're lucky enough. I thought I buy one just for fun since it's Christmas and see what's inside...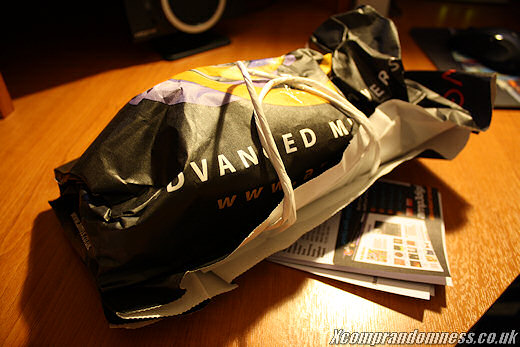 I was thinking it would come inside a real red and white festive bag but, it's a carrier bag! The big bulky package certainly looked promising but would they really send the prize in a simple jiffy bag? Also I read from other reviews sweets seemed to be very common so it could also just be a box of sweets inside.
And it turns out my bag had nothing edible inside but there were a few items I might be able to make use of.
There's a zip-up bag just big enough for today's DAPs to protect them from scratches, a pair of average "iAudio" branded earphones and a Monolith armband for carrying DAPs during exercise.
Obviously the earphones sound terribly flat and muffled compared to the pair of Sony MDR-EX500LP I use.
Then the other two items were accessories for the iPod Nano (which I don't have) - A third party charging dock and presumably a video out which is probably for use with the new iPod Nano that can record video.
Maybe I'll just give these away.

So, yeah... Mostly junk in the "sack" I got I'm afraid but at least waiting to find out what was inside was fun ^^;