無中文版
There might be no limited edition for the latest version of Persona 3 but, there are other versions available.
For those of you who read the Famitsu magazine articles a few days ago, you may have already noticed Ebten is offering a Persona 3 Portable Deluxe Pack in Japan which contains the following extras for roughly another 2000 Yen (US$30).
A blue t-shirt featuring Elizabeth's motif (front) and Theodore's motif (back).
12 x PSP sized posters you can use to decorate your handheld.
2010 desktop monthly calendar.
Some slightly larger images of the goods are available on Famitsu.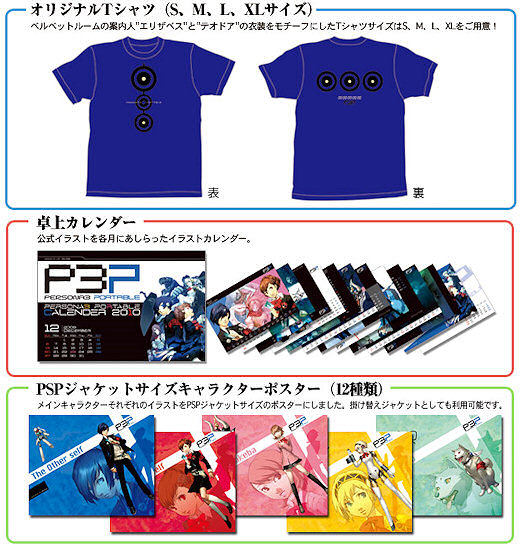 Wonder if the US version will get any free goodies this time, eh? Personally I'd prefer it if Atlus didn't keep re-using the same illustrations for practically all their goods.
On another note, I wish I was at the Persona Live Music 2009 concert that just finished about an hour ago. According to the Twitter feeds it was so crowded the queue hardly moved. Towards the end of the concert, they sung the pharmacy theme song (they didn't say which version) from the first Persona game.
Must have been fun, orz.