Case of Yuffie Translation Completed, Site Revamp and Thoughts
In "Case of Yuffie", Yuffie makes her way back to Wutai after separating with the others and was very excited about the welcoming party she was expecting to receive. However, things don't quite turn out that way as she learns the damage the Lifestream has caused around her home and is warned to keep what she has been involved in a secret for her own good...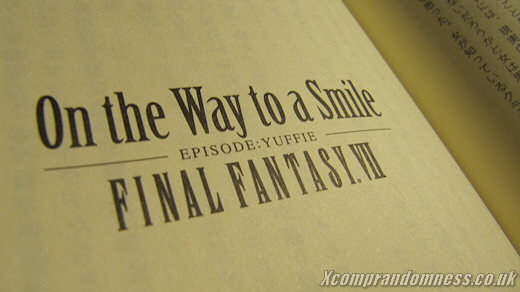 As with last time, please follow the guidelines if you wish to make a correction or point out any areas requiring clarification in my translation.
The story was pretty much as fun as I had expected when I read the first few pages of it. I don't know if I should laugh or be annoyed at her for bullying Nanaki for his phone. That's some way to make someone remember you... I did feel sorry that she had to be treated the way she was after returning home. It was interesting to learn the world never thought of Cloud and the others as heroes and that it wasn't really a happy ending. I thought the part where the black water chased after her and Yuri was interesting. Must have been gruesome.
Now we know why Cloud ended up with Geostigma too and how materia works. At first I thought it was his link with Sephiroth but, I guess it's more about his weak will to live and his pessimism.
I think the moral of this story is - Always be optimistic in life.
Now look at the imprint the bookmark left on the page! Yes, that piece of white fabric in the middle did it (what's the proper name for it anyway?) It's... It's ruined! (I joke).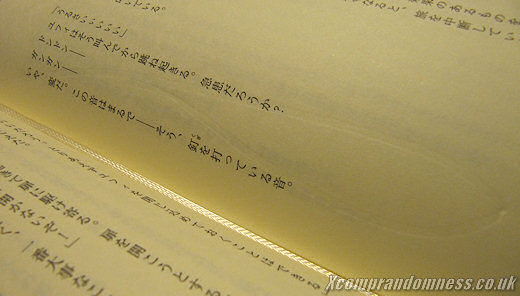 I actually had Case of Yuffie translated over two week ago but as all webmasters know, it's best to pace out the updates. That and I felt it was time to give my 4 year old FFVII Web Novels site a revamp. The old site made use of old technologies namely simple HTML and frames...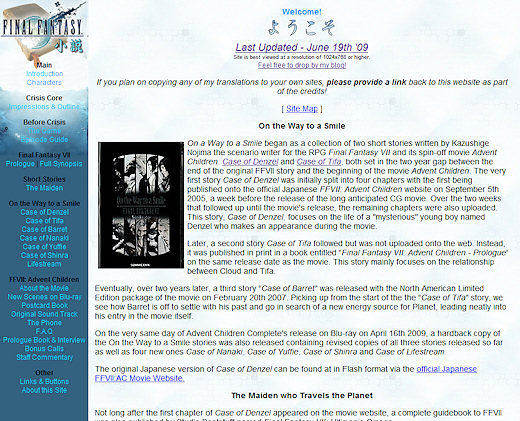 The content very much remains the same as you'll find out but, I've now modernised it (or attempted to) by making use of CSS3, PHP and XHTML 1.0 coding from scratch with a bit of Javascript thrown in so those of you using the NoScript add-on for Firefox, take note.
I'm kind of having trouble getting the menu to hide after you leave it even if you don't click on something...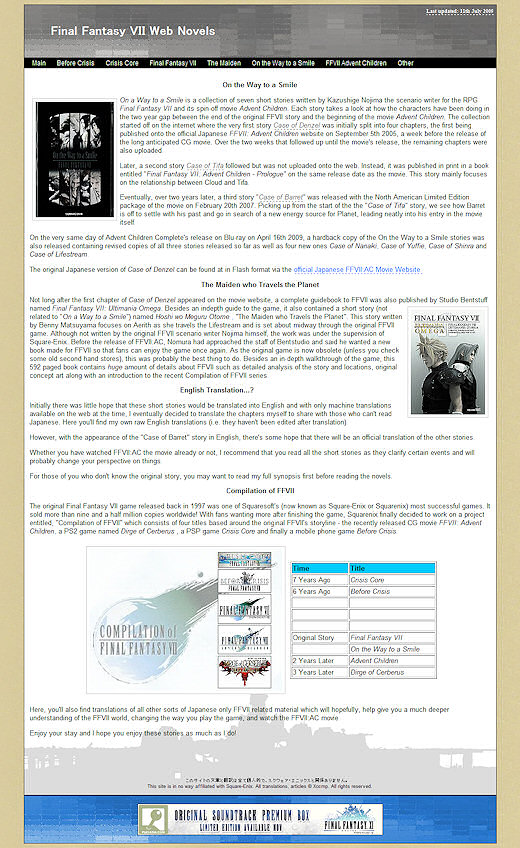 At the moment, the site still isn't very dynamic but in the future I'm hoping to implement the following:
Allow readers to rate stories and leave a comment.
Highlight areas for correction/clarification and submit their suggestions easily.
Remember the page the visitor was reading so they can resume from that page in the novel next time.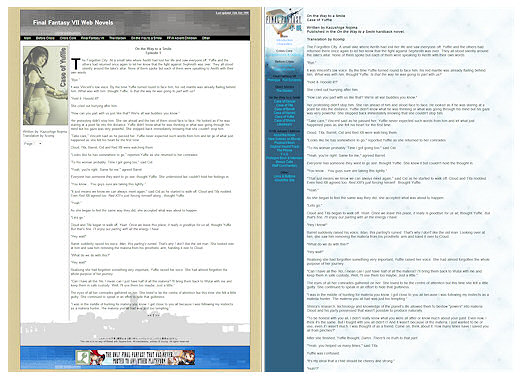 Now that I'm on the last story in the book... Case of Shinra, I notice that the total number of "cases" finishes at seven (excluding the mini Lifestream ones). A fitting number to end at no?