Thanks to reader, Elly for this. Missed this because Atlus has yet to confirm it themselves on their Atlus-D online store.
It seems Aniplex will soon be publishing a recording of the Persona Music Live concert onto DVD soon on September 16th, an event that over 1400 people attended in Akasaka Blitz a few months ago! The slightly more expensive first press edition will cost 4410 Yen (US$46) and will include a CD filled with 24 live recordings of Persona music (extracted and converted from the DVD) complete with a sleeve.
According to the Sony Music Shop, the DVD will be 120 mins long, 16:9 aspect ratio and have Linear PCM audio which means it will most likely be 2.0 stereo sound but, I'm sure my sound card can do something about that so I can enjoy surround sound.
The DVD is already available for ordering from Play-Asia.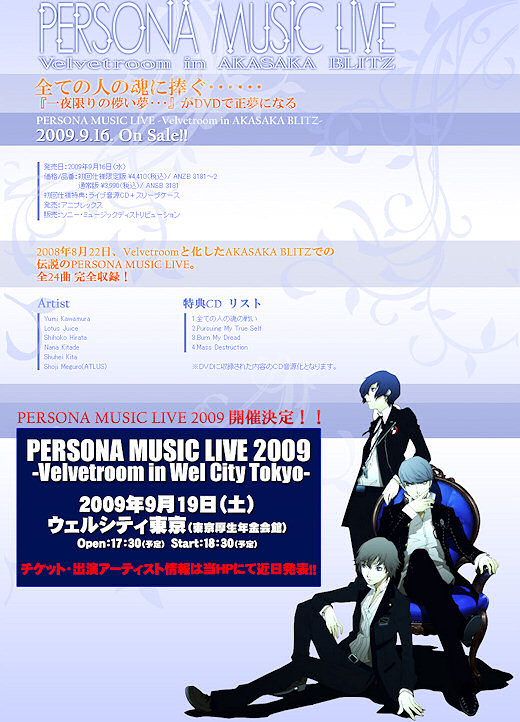 And just a few days later after the release, there will yet be another Persona Music Live Concert taking place in Wel City, Tokyo at the Welfare Pension Hall. Details are scarce but I'm pretty sure Yumi Kawamura and Meguro will be there to perform the recent music from Persona PSP.
Wish I could attend in person! 参戦したいんだが、無理です・・・