Persona Revelations Gets A Remake for PSP
And Atlus finally reveals what their Persona PSP title is. It's going to be a remake of the first Persona, "Revelations" that was developed for the PSX 13 years ago in 1996. This remake due on April 29th will be directed by Shoji Meguro who will also be responsible for renewing the soundtrack. He was responsible for the Velvet Room theme song, "A Poem for Everyone's Soul" in the original game. Pre-orders will be able to get a hold of it for free as a bonus.
Kazuma Kaneko will of course, be the one responsible for the art direction.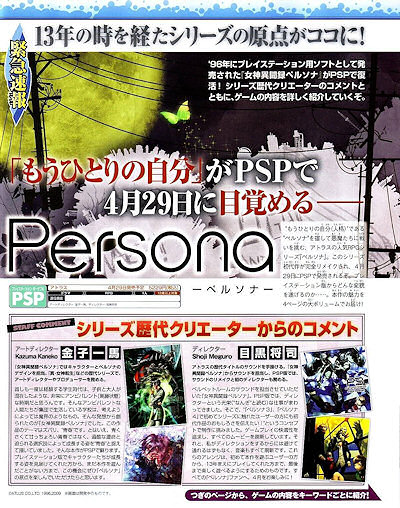 The story tells of a nameless male student from St. Hermelin High School who one day, performs a "Persona" ceremony with his friends and finds various changes occurring all over the city. There is a strike of lightning and "Devils" appear to attack humans. Finding their powers to summon Personas had awoken, they decide to fight.
New cutscenes produced by Kamikaze Douga (Final Fantasy Tactics, Hotel Dusk, Castlevania Portrait of Ruin, Fragile) will also be added to assist the story telling. Wondering what the butterfly symbolises? The Persona Club P3 Book says it's based on a Chinese philosopher's story of the "Butterfly Dream".
To make the game more convenient on the portable console the gameplay will be rebalanced, more save points are added and players can choose from three game difficulties. Battles occur SRPG style when players encounter enemies while exploring dungeons.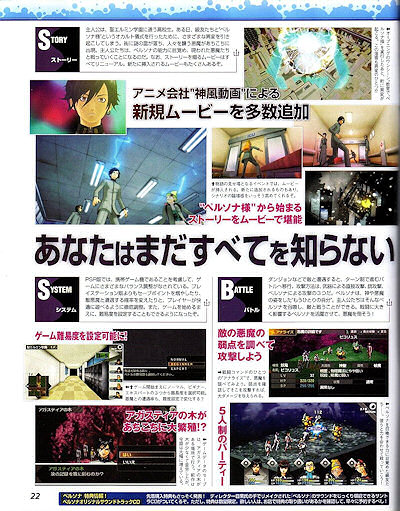 And of course, the trademark Personas and Fusion system will be present.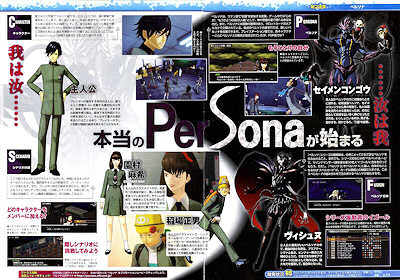 I was hoping for a brand new original title but, oh well. I've never played this one anyway. Actually after playing through Devil Survivor, I'm pretty bored playing as a highschool student. Would like to see a new MegaTen game instead now so that they go back to the adult cast.