Atlus' New MegaTen DS - Devil Survivor
Atlus has finally revealed the game they setup a teaser site for and it's the "New MegaTen" game they had announced at the same time as the Nintendo DS four years ago. It's not just a port either!
Note the title is "女神異聞録 Devil Survivor", Megami Ibunroku to show that it's a spin-off from the original MegaTen series which means, it uses a lighter set of impression making character but, the story remains dark - Just like the Persona series such as P3, P4 and PTS.
The story begins when three high school friends gather together at Shibuya 901 when they felt something was wrong. Suddenly Devils appear to attack them and they find the city has been quarantined. All forms of communications with the outside world have been cut off as the situation worsens and people are killed by the increasing number of Devils. There is only 7 days before Tokyo is destroyed and it's up to you to survive and make the right decisions.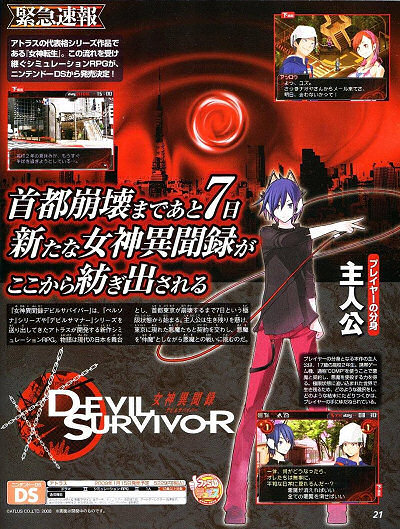 You the main character (MC) play as a 17 year old boy who one day receives a handheld console nicknamed "Comp" from your cousin during your summer vacation. Upon powering it on, Devils appear and you just barely manage to defeat it. A power cut occurrs in your area. The next day while heading to Yamate Station, you find the city has been quarantined.
Joining you is gadget otaku "Atsurou Kihara" also 17 years old and since he was in primary school, he loves to use message boards, online chat and strangely shaped USB pen drives. He thinks logically and has a sense of duty, striving to become a programmer.
Then there is your childhood friend, Yuzu Tanikawa who is also 17 years old. She is a fan of an indies band named D-VA and enjoys going to the live houses to watch bands play. As bewildered as she is about the whole situation, she uses the Comp to survive. She actually has a bit of affection for the MC.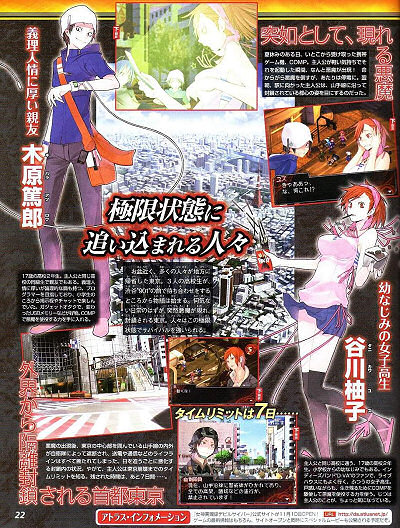 Takada comments how he was responsible mainly for the game system and has designed it so that players will enjoy the growth system. Battles are speedy and there are multi-branching scenarios. He seems to hint there are bad endings so be aware if the right decisions aren't made.
Kotou on the other hand, talks about how they walked around Yamate, Tokyo to recreate the environment so that players may recognise that they've actually been to the locations in the game.
Game is due January 15th 2009 and is 90% complete.
Supervisor and "Devil" Designer
Kazuma Kaneko (MegaTen, Devil Summoner and Persona series)
Director
Shinjirou Takada (Grow Lanser, Langrisser series)
Art Director
Akiko Kotou (Shin Megami Tensei III Nocturne, Devil Summoner Kuzunoha Raidou)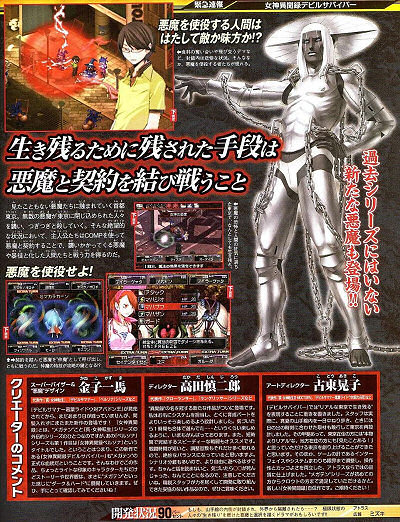 Thoughts
The time limit and Shibuya reminds me of SE's The World Ends with You but apart from that, it sounds like your typical story.
Like the sound of the speedy battle system because I really just don't like grinding too much for experience points in RPGs unless the battles have a lot of variety. The "Rush Mode" and the weaknesses in the Persona games have been very handy to speed battles up. I like the multi-branching scenarios too for the personalised experience.
Somehow the character designs looks a lot lighter than the Persona games. They're cute but, I prefer the Persona styles. Why does the MC have kitty ears...? And Yuzu must have a real sweet tooth with those Pocky and bag of chocolates in her hands.
Wonder who will be doing the music and what will it be like? Think it'll be Shoji Meguro again? Or maybe it'll be Kenichi Tsuchiya.
We just have to wait to see what the PSP "Persona" game is now. Please be an original Persona game!