Rumours Proved True, Here Comes The Nintendo DSi
That article in the Nikkei newspaper wasn't just rumours after all. At their autumn conference today, Nintendo has revealed the third revision of the DS, the "Nintendo DSi" which will be available in Japan next month, November 1st at 18.900 yen (US$180). An additional cost of 2100 yen (US$20) for all the new features listed below.
Famitsu has put together a nice comparison. First you'll notice the screens are slightly bigger at 3.25 inch instead of 3.00.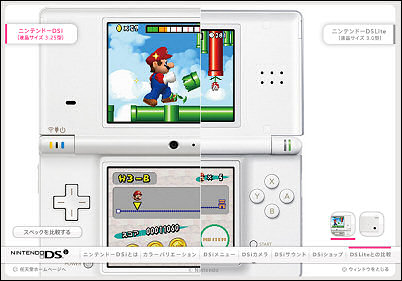 There's a single 3MP camera outside and a lower resolution one inside. Maybe it's possible Nintendo wants to try video conferencing in the future.
Shots can be taken using the L button as if it was the shutter button on a real camera.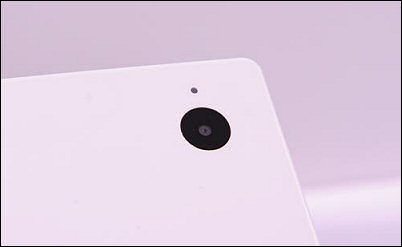 There are then 11 distortion effects that can be applied and there are fun little games such as "Look Alike" that can be played. These two look 24% alike supposedly... I'd like to see it matching twins!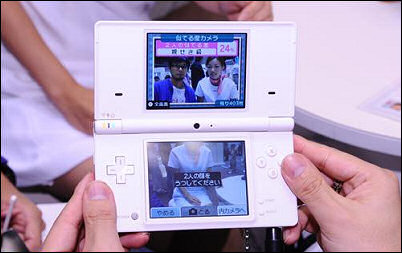 Done away with the Gameboy Advance slot to help make the DS seem slightly smaller and ligther by 4g but of course, no more backwards compatibility now.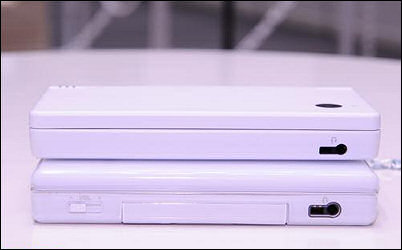 An improved +/- volume switch.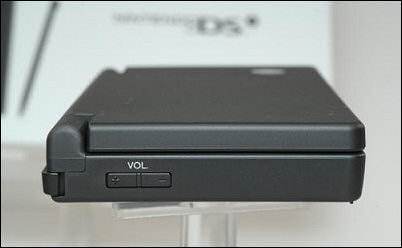 SD memory card slot for photos, music and other downloadable content. Doesn't say if it supports SDHC cards.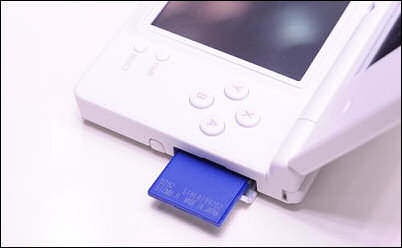 Buttons are more easier to press now and maybe back to the original DS style so that they're more responsive. Also notice the power button is back to its original push button style too although it's been repositioned to the bottom-left.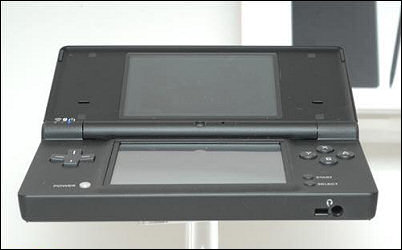 Three LED lights now - one for power, one for charging and one for wireless network.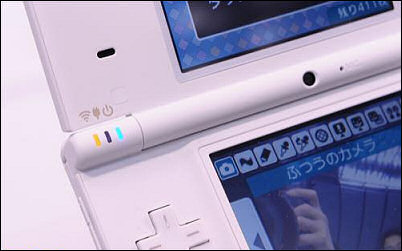 Level 5 brightness is now available. Battery only takes two and a half hours to charge instead of three but only lasts a maximum possible time of 14 hours instead of 19 hours.
Whole new selection of built-in applications including DSi Camera, DSi Sound, DSi Browser, DSi Shop and of course, Pictochat.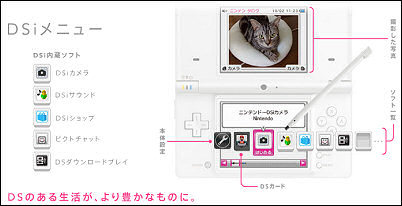 As you'll probably have guessed, DSi Sound will allow you to play music from your SD card but only those that are in AAC format I'm afraid. You can also make 10 second recordings too. Once you have a file playing back, you can play about with various effects or even enable one of the visualisers.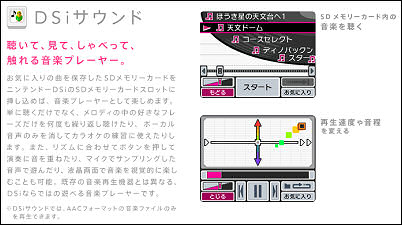 Last but not least, there is the DS Shop feature will allow users to download "DS Ware" similar to the Nintendo Wii's "Wii Ware". Users will be able to download the DS Browser that's currently on sale for free as well as a memo pad program.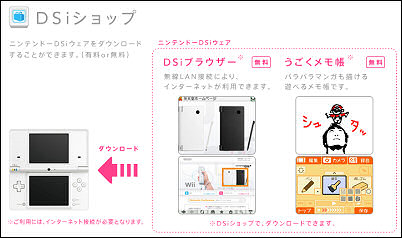 No price for the West yet although we Europeans should see this in stores in Spring 2009 while America, will be seeing it much later next year.
Thoughts
I wonder if they got the "DSi" name from Apple's "iPhone"... It's said they're making these changes to compete with other mobile devices after all.
I'm not really impressed with the new design to be honest. Having actually paid for the Nintendo DS Browser some time ago, I'm just a little sad it's going to be given away free now although I think it would be great that one won't have to carry around that memory cart anymore. I wonder if it'll operate faster now that it won't be using one?
And seriously... Who was expecting widescreen 16:9 screens...? As I said before, the hardware just can't pump out anything that justifies such a hardware update.
This 8% screen size increase doesn't feel like much, does it? Somehow it still manages to make the original size feel inferior.
What I do like is that they seem to have finally redesigned the volume switch. It's so difficult to adjust the volume with the current slider, it's either quiet or loud. Also good to see the DS Lite buttons seemed to have gone back to the original DS' style. They are very hard to use to perform power slides in Mario Kart so the changes are really welcome.
As for the camera... One can pretty much sneak pictures without being suspected because of the way it's placed. I'll still be bringing my 8MP Canon PowerShot along on trips.
I'm really not sure I would want to replace my current DS Lite with this.