Big Rumours on the Third Version of the Nintendo DS
Rumours continue about the third version of the DS only this time, ones that Nintendo had to step forward and dismiss.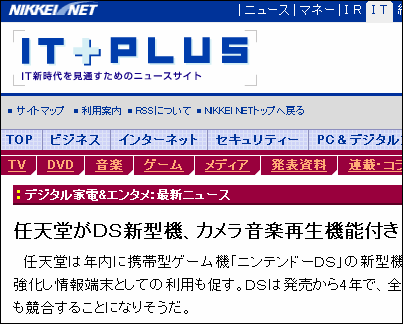 Japanese newspaper Nikkei claims they are working on a new Nintendo DS that will have the following new features:
Built-in digital camera allowing a new additional way of playing games.
Music player with the possibility of encoding tracks from CDs.
Bigger screens.
Better wireless support (WPA?)
SD slot for memory cards.
And all this due before the end of this year too at 16,800 yen (US$160).
All I'm really interested in is WPA support because it's annoying switching to WEP all the time just to game online with the DS. If true though, this takes away one of the selling points for their recently released Wi-Fi Network Adaptor that can run in duo mode...
So, anyone thinks these will really be the new features of the third DS? I say it's possible besides the memory cards and bigger screens because the resolution of the DS games are too small for anything bigger than the current ones. Even if they bump up the resolution, it means developers will have less space to fit other content on the game cartridges and, I don't think the DS' hardware can't handle any higher quality graphics than the current offerings to be honest.