Chrono Trigger DS, The New Material Includes Pokemon?
The new content for the Chrono Trigger DS remake is slowly being revealed, three of them being in the latest issue of Shonen Jump magazine.
First, there's good news for players who have played the classic SNES RPG before. There will be a new original dungeon, "Distortional Dimension" that changes every time you go in to explore and if you don't manage to reach a the appointed place of the dungeon, you won't be able to get out. If you manage to clear all three of these dungeons that appear, you'll end up changing End of Time.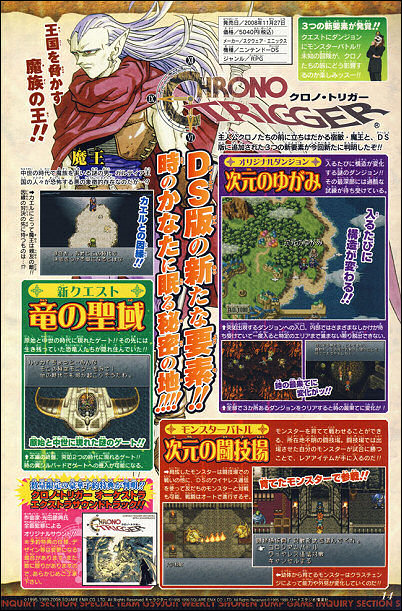 Secondly, there's a new quest involving with the "Dragon's Sanctuary" where a portal opens between the pre-historic and middle age, leading to a place where the last survivors of a dragon tribe hide themselves.
Last to be revealed is the "Arena Dimension" which will probably remind you of Pokemon. Apparently, players will be able to raise their own monster, changing its class as they nurture it and then be allowed to send it into a battle arena to battle other monsters. Winning will earn some rare items and battles can be fought with friends via wireless link.
More reasons to get the game now even if it isn't getting a complete makeover like the Final Fantasy games.