Phantasy Star Zero, A Complete New Title
The Nintendo DS is getting its own Phantasy Star RPG title and it's not just a port but a complete new title in Sega's series with online play support, Phantasy Star Zero.
You will be able to create your character using many races from previous titles RAcast, RAmar, HUmar, HUmarl, HUcaseal, FOnewearl, FOmar. HAnewm being one of the newer races which is the female carrying the blue sword.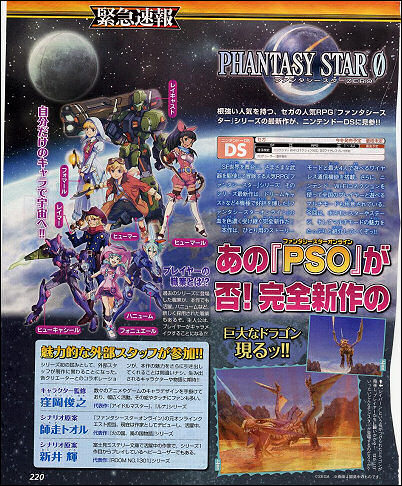 It will allow up to four players to play together via wireless and also connect with other players via WFC over the internet. What makes it even better is that you can chat using its "visual chat" system, allowing players to sketch or draw on the touch screen to exchange messages.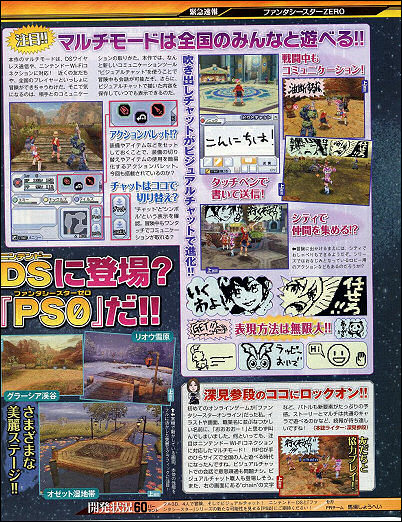 Game is due sometime this winter and is over sixty percent complete. The following staff are working on it:
Character Designer :
Toshiyuki Kubooka (IdolM@ster, "Lunar" Series)
Scenario Writers:
Tohru Shiwasu ("The Story of the Country of Fire and Country of Wind" Fantasy Light Novel Series)
Scenario Writer: Teru Arai ("Room No. 1301" Mystery Light Novel Series)
The first Phantasy Star I played was on the PC which was free and I was being constantly killed and resurrected by one of the high levels there literally on the spot so, I gave that up. Then I tried playing the more recent PSP Phantasy Star Portable but, its mechanics, story and visuals are a bit too plain for me so I've stopped playing that too.
This version looks kind of fun, though. It definitely looks good visually for the DS.