Persona Trinity Soul OST Due in July
Well, another eleven more episodes until Persona Trinity Soul ends which will be around the end of June so I guess July is a good time for the OST.
The official site reports the soundtrack will be due on July 2nd at 3675 Yen (US$36), composed by Taku Iwasaki. There isn't a track listing at the moment but, I'm presuming the ones with Lotus Juice and Yumi Kawamura's vocals will be part of it. The first CD recording of Kawamura's "Found Me", the second ending song, will also be on it.
And of course, we can't forget about the obligatory first press goodies you'll get for ordering it early; a deluxe poster, fold-out box and an alternative cover. Note the image below is from the limited edition of the first DVD and is not the soundtrack.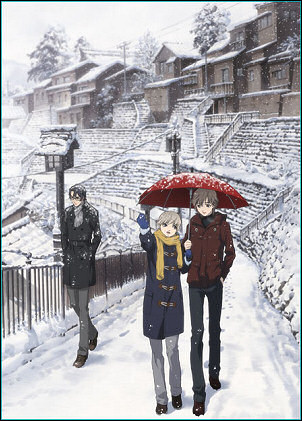 Two of the tracks will probably be "Somewhere" and "Der Mond zeigt mir meine eigne Gestalt ~From Heine's "Doppelganger"~" which can already be found on Iwasaki's other release, "SelfConsciousness". The "Doppelganger" track sounds like it's the mystery girl's theme song because the words match up with the poem it's based on. Watch episode four again and skip to the part where Jun is wandering the streets at night to have a listen yourself. Interesting choice of words.
And I never knew Iwasaki composed for one of the "Rurounin Kenshin" OVAs and the "Read or Die" TV series!
While I do like some of Iwasaki's compositions here, I really don't think he's managed to put Lotus Juice and Kawamura's talents to good use in the show. Shoji Meguro done a better job using the P3 soundtracks.
On the other hand, I'm also looking forward to the full version of the new opening "Word of the Voice" too. I hope it isn't changed too much. Quite a number of full version songs end up changing for the worst.