A Classic Anime Based on a French Novel, Fifteen Boys Stranded at Sea
Just came across this classic movie while I was going through my old collection of VHS tapes full of recorded Anime. They were all recorded during the days when only 56Kbps connections were affordable and you had to pay by the minute to surf online. You can imagine the bills that one could knock up. These days it's much more convenient of course with cheap affordable 8Mbps broadband or faster.
So anyway, 十五少年漂流記 (Juugo Shounen Hyouryuuki) is a movie that of fifteen boys aged between eight and thirteen who were about to set sail on a long vacation one day. However later that night, they suddenly find themselves adrift at sea without any of the crew on board. To make matters worst, they are caught up in the middle of a storm and soon find themselves marooned on a deserted island. The boys have no choice but to fight for survival through the seasons until rescue comes.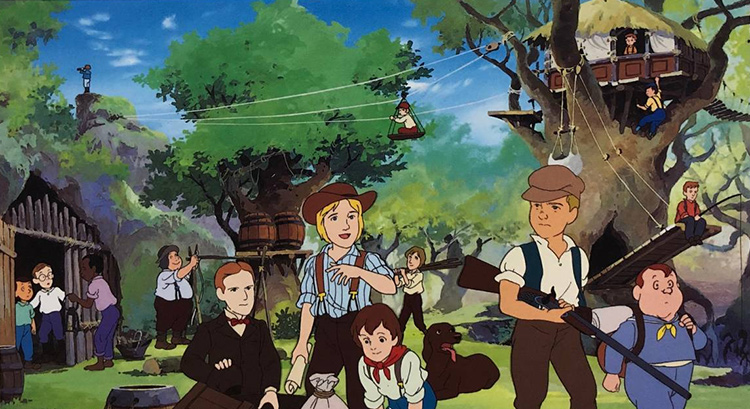 It's a very good movie even though it's aimed at young children. The story is very well told as we watch the characters go through various hardships. After watching it again, I couldn't help look up more information about it because some of the artwork and the storyline itself felt so Western and it turns out I was right. The show was produced by Nippon Animation back in 1987 and is based on Jules Verne's French novel "Deux Ans de Vacances (Two Years Vacation)". The Japanese title should translate to "Fifteen Boys Stranded at Sea" but the official English title is "The Story of Fifteen Boys".
What really caught my attention however, was actually the catchy theme song "Hitomi no Naka no Shounen (In the Boy's Eyes)" sung by Tomoko Tane. You may have heard some of her more recent songs such as "Broken Wings" which was the ending theme for Trinity Blood.
I tried looking for a downloadable copy of the movie's theme song but unfortunately, I couldn't find anything besides a sample from Tomoko's album "Golden Best 11 Year's Work (Disc 1, Track 6)" so instead, I decided to rip the song from the video. Quality's not great obviously since it's VHS tape but it's tolerable. Buying the album for just that one song wouldn't be very practical.
If you're interested, here are the lyrics to the song.
瞳のなかの少年
種ともこ
海の向うを横切る風音 混じってる やさしい響き
聴いてるのね
読みかけのまま とじた絵本から こぼれでた
おとぎ話が呼ぶ声よ
ダイヤ細工の夢を 探して駆けるあなたの 瞳にいつから宿るの
まぶしい少年
きらめく光が私の宝物 どうぞ失くさないで
ホントの冒険 出会う時までに
舟を出す勇気を 貯金しておいて
カシオペア座は 星空への ステイション
そこまでは お見送りにいかせてね
地図のない旅 胸に 刻んで帰ったら 見えるわ
あなたの瞳につばさを ひろげる少年
白い羽ばたきが 私の憧れよ
星座 駆け抜けてね
きらめく光が私の宝物 どうぞ失くさないで
Hitomi no Naka no Shounen
Tomoko Tane
umi no mukou wo yokogiru kaze oto majitteru yasashii hibiki
kiiteru no ne
yomikake no mama tojita ehon kara koboredeta
otogibanashi ga yobu koe yo
daiya saiku no yume wo sagashite kakeru anata no hitomi ni itsu kara yadoru no
mabushii shounen
kirameku hikari ga watashi no takara mono douzo nakusanaide
honto no bouken deau toki made ni
fune wo dasu yuuki wo chokin shite oite
cassiopeia za wa hoshizora he no station
soko made wa o-miokuri ni ikasete ne
chizu no nai tabi mune ni kizande kaettara mieru wa
anata no hitomi ni tsubasa wo hirogeru shounen
shiroi habataki ga watashi no akogare yo
seiza kakenukete ne
kirameku hikari ga watashi no takara mono douzo nakusanaide