An announcement has been made that there will be a Manga version of Makoto Shinkai's most recent movie, "5 Centimetres per Second". Yukiko Seike will be artist behind the coloured Manga and the serialisation will start in July's issue of Afternoon which will be on sale from tomorrow, May 23rd.
On the other hand, Mizu Sahara was the artist behind the Manga adaptations of Voices of a Distant Star and The Place Promised in Our Early Days for this very same magazine.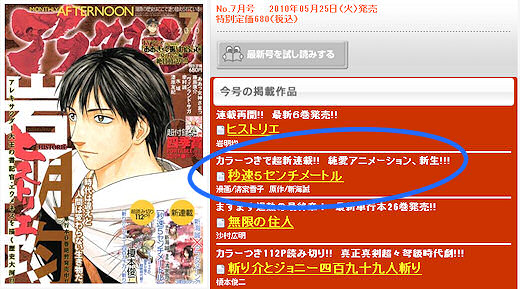 Somehow I don't think the Manga will look as good as the movie's beautifully rendered backgrounds and readers will miss out on Tenmon's great compositions too but... I guess this will be a good marketing medium to reach out to more fans.
Shinkai has also put up a photo featuring a storyboard of his fourth movie. He reports that his production team has finished several hundred shots of the movie but still has several hundred more to complete. They're not quite at the stage where they're ready to open an official site yet.
He's working at his desk everyday wanting to let his movie see the day of light soon.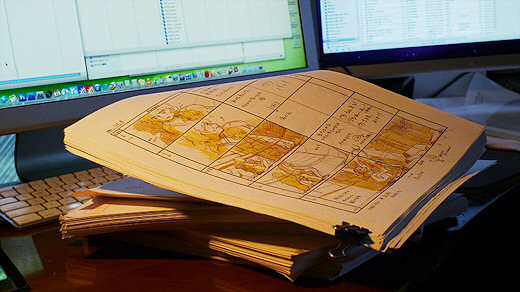 Other than that we still don't know too much about the story yet other than the phrase "The girl heads off in a journey to say farewell" from his last update about the movie.
Shinkai also comments how early summer is the time of season when one can smell the strong scent of trees whenever it rains... I don't disagree but when you're in the UK, you can also get wasps flying everywhere like inside the house and building nests!