New DSi is Dubbed Nintendo DSi LL But Another May Come
A date has now been set for the new DSi which features bigger screens at 4.2" instead of 3.25" as Nikkei had leaked out to investors not long ago. It will be called the "Nintendo DSi LL" and will be available in Japan on November 21st for 20,000 Yen (US$220) - 1,100 Yen (US$12) more than the original.
It comes packaged with two styluses (one big, one small) and will initially be available in three colours - Dark Brown, Wine Red and Natural White.
The bigger screens makes reading and inputting text such as complex Kanji easier but, doesn't change the overall graphics power of the DS so games will still look the same.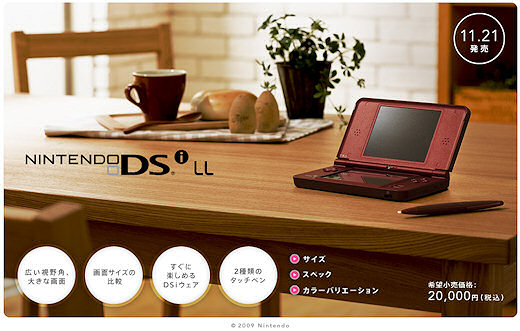 Thoughts
If it wasn't for this, I never would have known "LL" stands for "XL (Extra Large)" in Japanese clothing...
Anyway, just wait until they release a "DSi Plus" or whatever they decide to name it. BSN had reported some time ago that Nvidia (a PC graphics card maker) maybe using their mobile Tegra SoC chip for a new DS some time late 2010.
Developers will probably not be able to increase the looks of their games because they'll miss out on the market with older DSes - that and the fact the cartridges are too small to fit enough higher quality textures but, I think the chip could mean adding in some anti-aliasing (no jagged edges) at least or maybe some optional interpolation to increase the resolution.