P3P Heroine Visits P4's Town Inaba
So, I was partly right that Yuko and Miyamoto were indeed meeting outside a room during their school trip but not in Kyoto - It's in Inaba!
By choosing to play as the Heroine, you will visit Inaba two years before Persona 4 and meet Yukiko who is still just a junior high student. This happens late summer during August instead of November and, you and your classmates spend a night at Yukiko's family Amagiya Ryokan.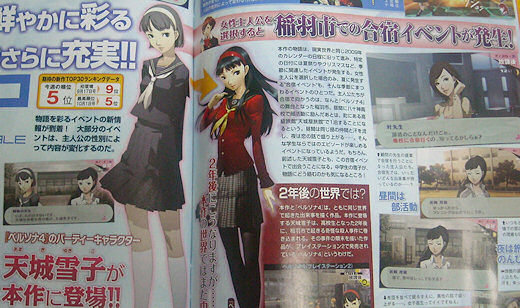 Another "feature" from Persona 4, eh?
Screenshots fairly much confirm the mandatory fan service which makes me wonder... If some of the video cutscenes are removed, maybe Atlus should throw in some nice event only illustrations that are common with visual novels - Like they did with Trauma Centre: Under the Knife 2.
I think it would be cool to have some new original illustrations for once instead of recyling the same character pose images.
カットインムービーが何か切られたらしいだけれど、アドベンチャーゲームや「救急救命 カドゥケウス2」のように
新しいイラストをお加い頂けたらいかがでしょうか。