Famitsu Discovers Some P3P In-game Dating Events at TGS2009
Kawashima from Famitsu has a short report about the things he spotted while trying out P3P at this year's Tokyo Game Show 2009. Most of the info we know already if you've been keeping track of all P3P related news but, there are one or two pieces of information regarding the in-game life sim events.
Stop reading on now if you don't like spoilers.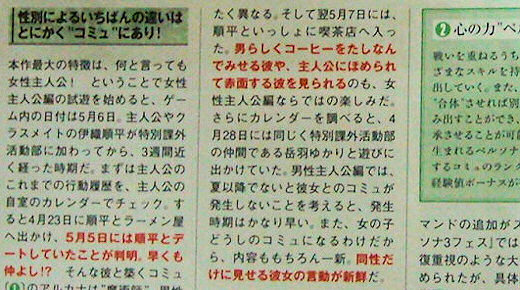 A Date with Junpei
Yes, ladies. You can now date Junpei as the Heroine.
On April 23rd, you can hang out with him at the Ramen place. Then on May 5th, there appears to be a date with him. Not long after that, on May 7th he visits the cafe with the Heroine, trying to drink coffee like a grown up man and ends up blushing when the Heroine praises him.
Girls Talk
On April 28th, you can hang out with Yukari. By going out with her later, you can hear some girl's talk such as brands of lipsticks as we've seen from screenshots earlier.