Panasonic Lumix DMC-TZ7 Review, Wide Angle Compact
Been using the Canon Powershot SX200 for a while now and I was beginning to get bothered about the soft photos it was producing so, I decided to try out the Panasonic Lumix DMC-TZ7 to see if I was missing out on anything.
So here, you'll see a bit of comparison between the two cameras - SX200 v TZ7.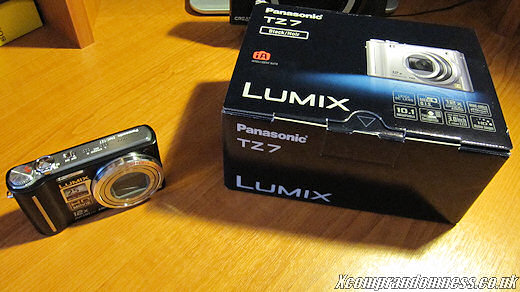 Packaging
Inside the box you get...
The Panasonic Lumix DMC-TZ7 (ZS3 in Asia) camera.
Printed manual.
Software disc.
895mAh Li-Ion battery with proprietary charger.
AV output and mini USB cable.
Strap.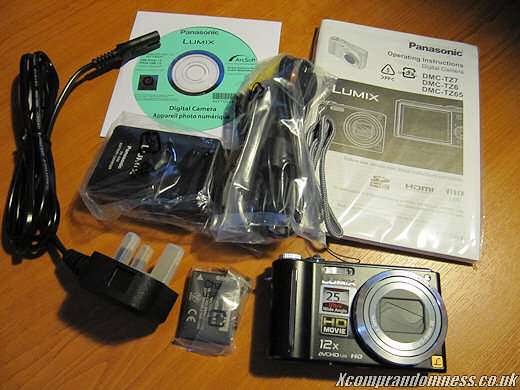 Design
Taking the TZ7 out of the box, I noticed it was smaller and lighter than Canon's SX200. Even though both are 12x "super zoom" compact cameras, the lens on the TZ7 is significantly smaller too. Just look at the difference!
Unlike the SX200, the TZ7 only has a single dial for selecting shooting modes and instead of a depressible button to turn the camera on, it has a switch.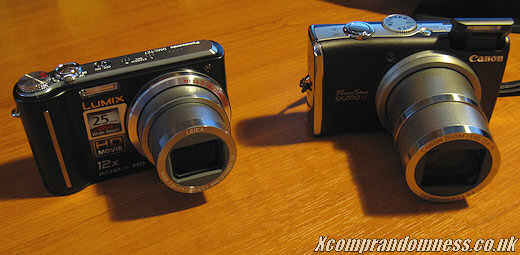 The dial's situated at an odd position where the shutter button is usually placed. It might take some getting used to as you start out placing your finger on the dial instead of the shutter button for shooting! Also, instead of filling the dial with different shooting modes such as landscape and portrait, there are simply two "My Scene Modes" which you can set yourself, choosing from 27 different modes.
Performance
Just like the SX200, you must set the date and time when powering it on for the first time. Again, you can easily switch between time zones for anyone that likes to travel around the world.
All cameras by default make sounds when you turn them on and there's no exception in this case. However, the ones that come with the TZ7 sound like something out of those old NES games. Fortunately, there are two other sound effects you can choose or just mute it altogether.
The first thing I always like to do when I get new electronics is run through their settings and it's good to see the TZ7 is set to take photos at their best quality whereas I had to set it myself on for the SX200. However just like the SX200, it only has two settings for quality although because the manual doesn't state the JPEG compression ratio, I can't really make a comparison about how much detail is lost. There is no RAW image support for either camera.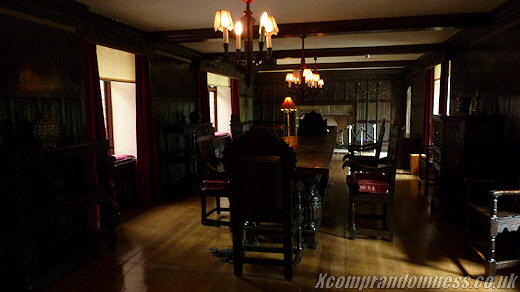 Originally, I had avoided the TZ7 due to the lack of manual controls which means you won't be able to take those streaking lights of traffic with long exposure times in the evenings or adjust the settings when auto mode fails. In actual use, it did turn out this way - Sometimes failing to focus on the correct subject or choosing exposure times too short for low lit rooms. To be fair however, you can work round this as decribed in the manual by focusing it on something else first before pointing the camera back to the actual subject.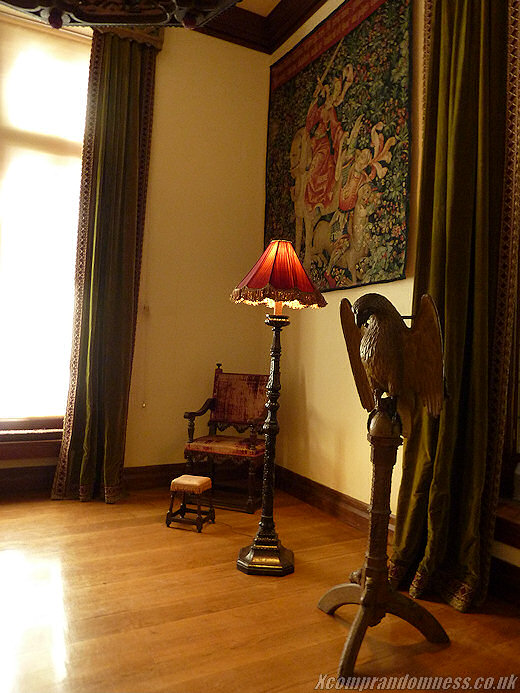 Another point is it doesn't completely lack manual controls. You can actually limit the minimal ISO and shutter times except you're very limited in terms of range. You only have a maximum exposure time of 1 second before you must resort back to auto mode for anything up to 60 seconds in "Starry Night" mode whereas the SX200 offers smaller increments up to 15 seconds for more creativity.
The best thing for beginners I think is that it has auto ISO set to off unlike the SX200 which likes to shoot at ISO 800 a lot, producing a lot of noise.
As for the lens itself, you can see the 3mm difference in the wide angle lens is quite significant, squeezing in more scenery at Glasgow Cathedral than the SX200.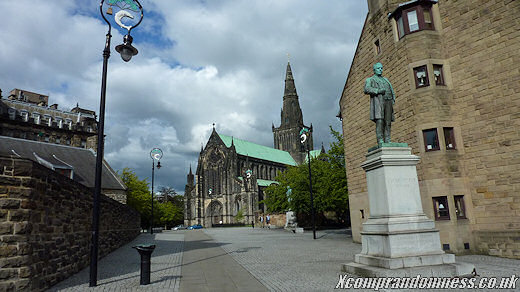 Zoom is actually pretty slow in comparison to the SX200 and there are no stops to make it easier for you to speed up or slow down the zooming. An eye catching feature advertised is the "Extra Zoom" which is actually more of a gimmick I think. When you're taking photos on a digital camera, the screen doesn't show the full size of a photo obviously. By lowering the resolution of the photos to show more onscreen without blowing up the pixels gives the illusion the camera is zooming in further.
On the other hand, what gives the TZ7 a great advantage is that you can adjust zoom while recording video and not only that, the lens can adjust as you move the camera to focus on other subjects too. With the SX200, you have to set the zoom before recording and it doesn't adjust its focus when pointing the camera around.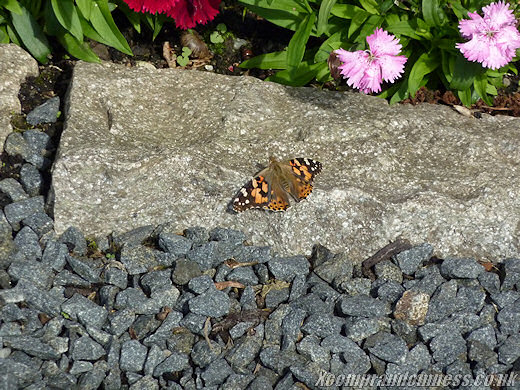 The TZ7 also features stereo sound recording and a wind filter which you can toggle on or off. The filter works fairly well when there's just a light breeze.
At first, I didn't notice the difference with the extra sound channel and thought maybe it had something to do with the two mics being too close together. So, I decided to do a little test in a quiet room and playing music from my mobile's speaker, I moved it around the camera at different angles and distances. When I played back the video, I could hear the variation from the left and right speaker so it does work!
Oddly enough, you're limited to 15 minute movies instead of the free space on your memory card but it's enough for Youtube movies. If you switch from the default AVCHD format to the older MJPEG, you end up with a 10 minute limit even.
HD video wise, it looks just as blurred as the SX200 on a computer screen but passable on an HD TV. It does tend to focus quickly when adjusting the zoom during videos. It even managed to adjust focus on rain drops but that's the problem - With no manual controls available, you'll just have to hope auto focus works for you.
To watch this short clip recorded in AVCHD format, you will need the appropriate codecs installed on your computer. Installing the Combined Codecs Pack and using its Media Player Classic Player seems to open the files just fine.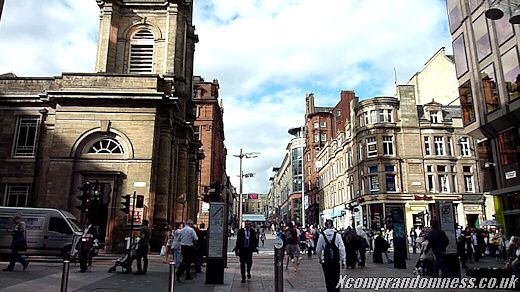 Download 62 second sample clip (112MB)
Password is 'xcomprandomness.co.uk'
Now what about the actual image quality?
As you can see here, the textures turn out sharper where there is lots of detail and colours are evidently more vivid in the TZ7's photos when viewing them at full size. And no, there was no blurring from the wind.
The interesting thing is that both of these photos were shot in auto mode and both cameras ended up selecting the same ISO, aperture and exposure time.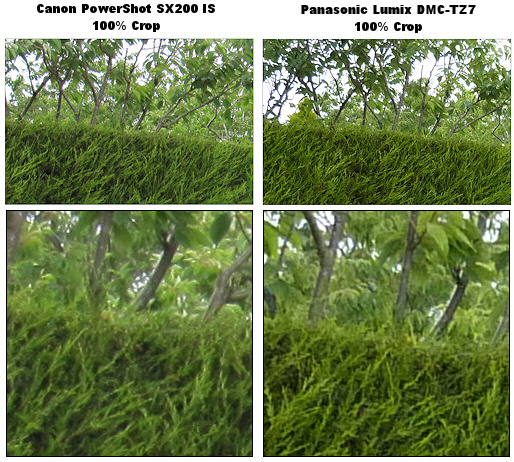 Another interesting point is while the photos look great during the day, dim lighting conditions end up with blurred photos as it tends to favour long exposure times and use set the aperture midway only.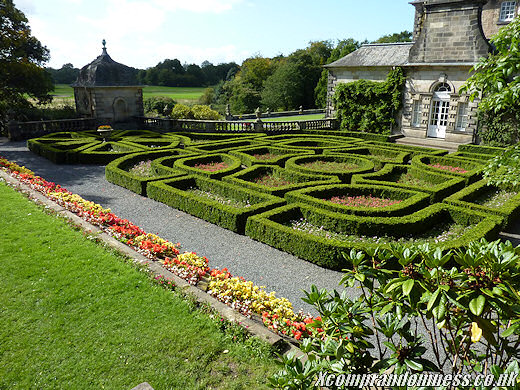 While both the TZ7 and SX200 have a 3.0" LCD, the TZ7 only allows you to preview up to 30 photos at once instead of 100, making it slower to browse through photos if you didn't have a computer at hand. Interesting enough however, it also lets you browse photos by navigating a calendar.
Despite having a battery that's less than half the capacity of the Canon SX200's, the TZ7 seemed to last longer managing 136 shots and almost triple the length of HD video at 30 minutes.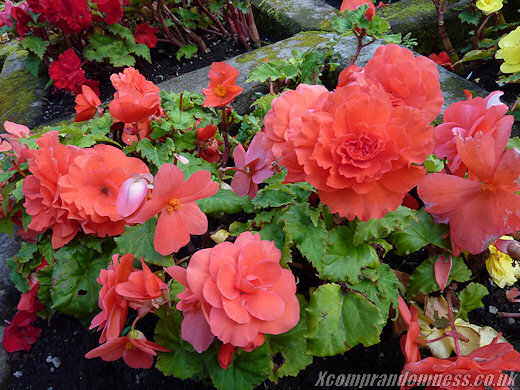 Summary
In the end, just like other reviews claim, the Panasonic DMC-TZ7 does indeed offer better features and picture quality than the Canon Powershot SX200 - The main advantage allowing you to zoom while recording HD stereo video and constantly adjusting its focus if desired.
However, it comes in at a little more in terms of cost. Also, once the lights are down the TZ7 doesn't quite perform quite up to scratch, often choosing some "non-optimal" settings and taking a long time to post-process photos. It doesn't help that it focuses on the wrong subjects sometimes and there is no manual focus option to correct it.
I think I might just stick with the SX200 after all or wait for other HD compacts to be released.
Good
Small, light build.
Can limit some of the settings auto mode uses.
Can zoom and adjust focus while recording video.
Stereo sound movies with optional wind filtering option.
Secure but also easy to open panels.
Thread at centre of camera, easy to balance on mini tripods.
Decent battery life.
Bad
Zoom is kind of slow.
Only 15 minute long movies.
No full manual mode for focusing, exposure time etc.
Long post processing time for dim lighting conditions.
Doesn't really choose the "best" settings for dim lighting conditions.