New Beginnings at P3P's Gekkoukan High
It's Monday and that means Atlus updates their Persona 3 Portable site.
Added to the System part of the site are two video clips showing off how the first day at Gekkoukan High is for the Hero and Heroine respectively.
There doesn't seem to be much difference so far but it's too early to tell how much the script has changed of course!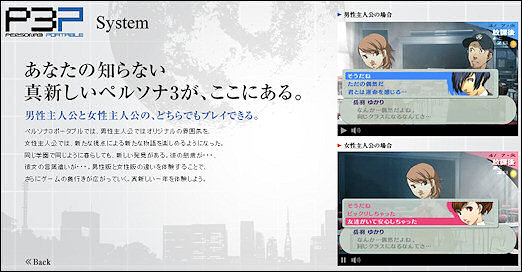 Both sides start out with Junpei being friendly and Yukari mistakening him for causing trouble. She then smiles remarking what a coincidence it was that they're all in the same class...
Hero
Yeah. *
Yup, just a coincidence.
It's our destiny...
When the hero simply agrees that it's quite a coincidence they're in the same class, Yukari's troubled about the rumours going about the school already about her and the new male transfer student.
Heroine
Yeah.
I was surprised too.
I'm glad I've got friends here. *
Yukari is a bit surprised that she's considered a friend already but seems to be happy. She tells Junpei to keep to himself before leaving for the archery club. She doesn't mind being the centre of rumours since she's used to it but, doesn't want the Heroine to be troubled by them too since she just arrived.