Shin Megami Tensei Strange Journey Officially Revealed
It's not for the PS3 as I was expecting from the "leak" last time but maybe that's good news since I'll be able to play it! I guess the DS could be considered "new hardware" since it has received a proper SMT game yet.
Shin Megami Tensei Strange Journey will be for the DS on October 8th. Taking place in the early 21st century, a portal to another dimension in the South Pole, dubbed "Schwarzbirth" by the United Nations, has appeared and is threatening mankind's existence. In order not to spread panic it is kept a secret but as the portal grows in size, a Schwarzbirth Investigation Unit is formed to find out what's inside.
The RPG will feature...
An upgradable "Demonica Suit" using software applications.
Conversation system to convince demons to join you.
Over 300 demons at your fusion disposal.
And the staff are...
Producer/Character and Devil Design: Kazuma Kaneko
Director: Eiji Ishida (SMT3/Raidou/Raidou2)
Scenario: Shogo Isogai (SMT3/Raidou/Trauma Centre series)
Composer: Shoji Meguro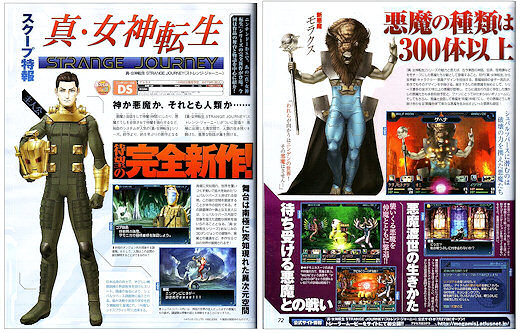 The official site will be open next Monday together with a trailer.