Canon Powershot SX200 IS Review, Wide Angle Compact
Decided to upgrade to a better compact after browsing around during my trip to HK and wanted a model that could record HD video. Originally I had considered the high end Panasonic Lumix LX3 that Danny Choo's using for its large 1/1.6" sensor (most compacts have a 1/2.3") which gives better dynamic range in photos closer to that of DSLRs but, it only featured 2.5x zoom so I decided against it. It was either the Canon Powershot SX200 IS or the Panasonic Lumix TZ7 (ZS3 in Asia) super zoom cameras.
I was really edging towards the TZ7 because of its stereo sound recording, ability to adjust zoom while recording videos and have a wider 25mm wide angle lens but in the end, I went for the SX200 because it has manual controls which is best for capturing action or night shots.
First off the box seems to be noticeably smaller than the A720 IS. Nice efficient packaging.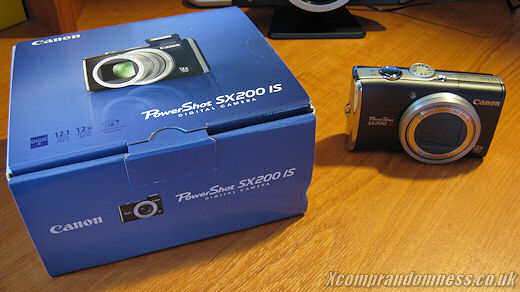 Inside you've got...
The camera itself.
Software discs and manual.
Charger with both two and three pronged plugs.
A 1120mAh Lion rechargeable battery.
Mini USB and AV cable.
Out of the box, the battery took just under 2 hours to charge. Powering up the camera for the first time means setting the date and time as usual but the handy thing is you can adjust it for countries easily if you travel a lot thanks to its world time offset feature.
Design
Taking the camera out of the box, you'll most likely immediately notice the big 3.0" LCD screen which also has a layer of anti-glare paint on it.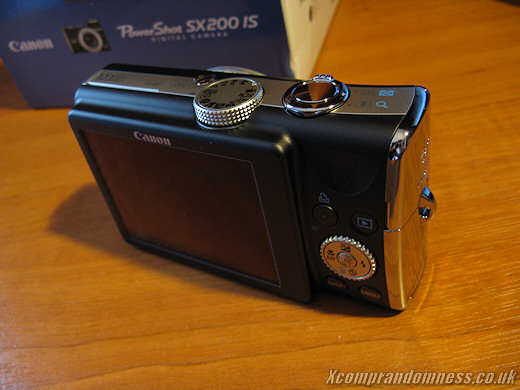 The plastic body feels just about as sturdy as the A720 but the shiny edge where the mini USB, mini HDMI and AV outputs are makes it look a bit classier together with the slimmer body.
It's actually quite hard to open compared to the rubber cover the A720 had. Fortunately the bottom cover where the card slot and battery is isn't as difficult to slide open.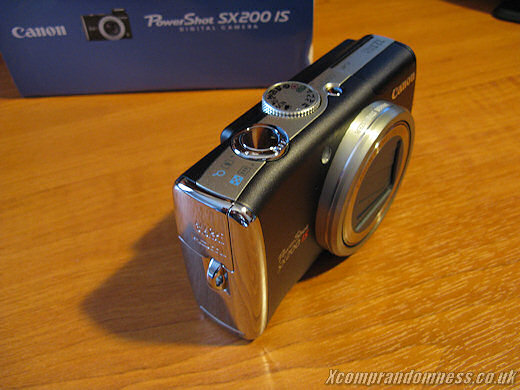 However, this is let down by the very thin flash light that slides out and feels flimsy enough to snap off easily. It takes some getting used to holding the camera so that your fingers don't end up pushing the flash down or when you're powering it off, doesn't get in the way for the flash to slide back in. It might prove awkward if you have large hands.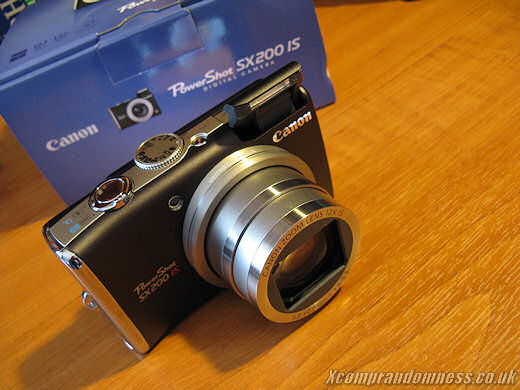 Performance
HDMI output works great but you're going to need to buy a separate cable if you want to use it on your HDTV. Otherwise you will just have to make do with the blurred analogue output with the provided AV cable.
Videos can be recorded at 1280x720 16:9 HD resolution, MOV format giving you around an hour's of recording time on an 8GB memory card. Smaller resolutions such as the older 640x480 is also available in MJPEG. Unfortunately, sound is only in single channel mono format and you can't adjust the zoom while you're recording but you can set it before you start recording.
You can take a look at this sample clip at took in Buchanan Street if you don't mind the camera shake. The quality isn't too bad when viewed via the HDMI output although details are slightly blurred.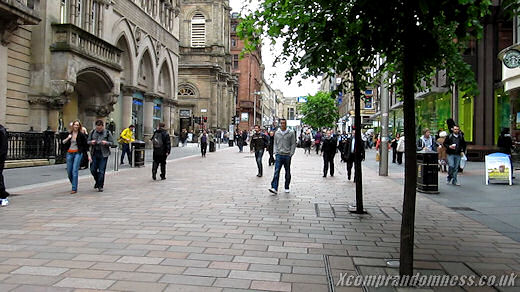 Download 20 second sample clip
Password is 'xcomprandomness.co.uk'
The menu's been revamped and there's a dial added in but, it isn't very well made use of because you still need a number of button presses to adjust between exposure time and aperture. The extra dial seems to just act as a alternative method of adjusting values.
"Auto" mode really means auto now because as you point the SX200 at whatever you want to shoot, it will automatically switch between the different modes including macro. This speeds up focusing but be warned that as part of its Image Stabilisation system to reduce camera shake, it's not afraid to knock up the ISO to 800 which means fairly noisy (grainy) images.
With the A720, I found it slightly bothersome that "Auto" mode would never remember if I disabled flash or not because I tend to shoot with it off. Other cameras have an "Auto Without Flash" mode to remedy this so it's good to see the SX200 actually remembers the setting now.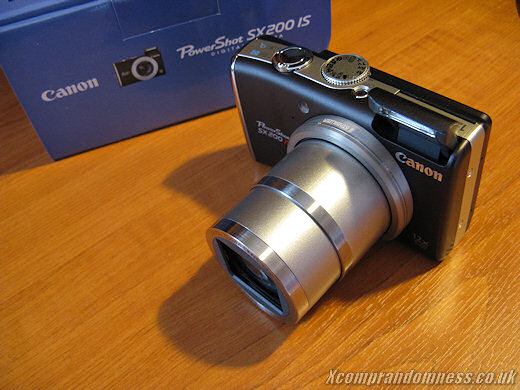 Compact cameras are now starting to come with wide angle lens and the advantage of them is that they make what you see through the camera seem further away so that you can capture more at a shorter distance. With the 28mm 3.4-8.0f wide angle lens on the SX200 (which isn't quite as great as the Panasonic's TZ7 25mm), it notably captures more than the A720's 35mm 2.8-8.0f lens as you can see here at the Glasgow Cathedral.
Both pictures were taken at the same spot but with the different lens. Quite a difference eh?
The downside with shooting at wide angle focal length is that tall objects tend to bend inwards when shooting in portrait orientation although in this case, it's not quite as noticeable than at 18mm with a DSLR.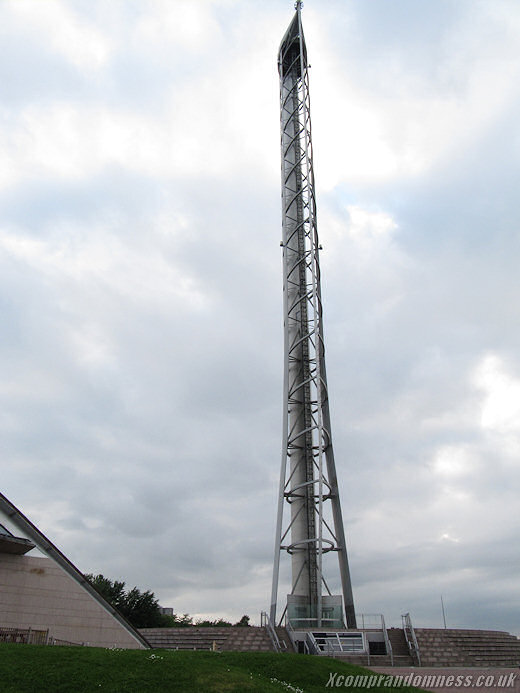 A comparison of the SX200's 12x "super zoom" capabilities on the Bells South Bridge at the River Clyde, which is double the zoom that of the A720 but the same as the Panasonic TZ7. Great for taking shots of animals or when you're at those events where you aren't at the front of the crowd like the Chinese Channel Happy Family Gala.
The dial has two stops which allows you to zoom in slowly or quickly which is very handy.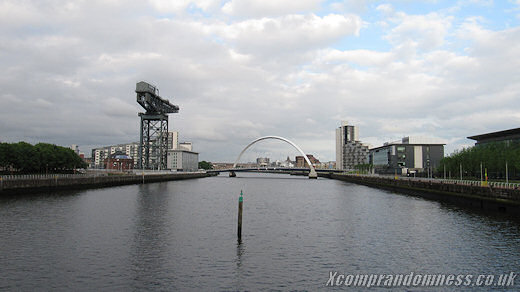 The camera seems to be constantly focusing too instead of waiting for you to hold the shutter button half way down allowing quicker shots.
Somehow the photos seem to be softer when viewing them at 100% in comparison to the A720 and I'm presuming this is down to the added noise reduction feature which the A720 lacked. Unfortunately, there's no way to confirm this because the NR can't be disabled. Either that, or it may have something to do with the fact that there is no "Super Fine" quality for photos now, just "Fine" although 12MP means you can shrink the photos to 10MP size.
It would really be helpful if the manufacturers actually included a table to show what compression level each of these settings mean.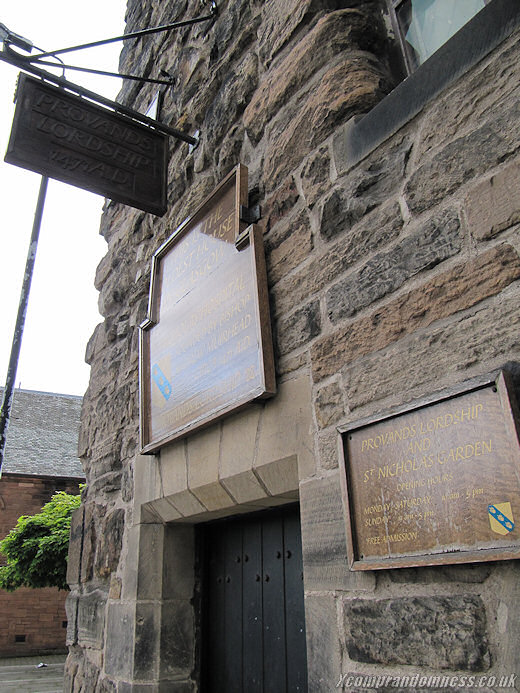 The next difference from the A720 is that there is the inclusion of a "noise reduction" algorithm which is pretty much standard with DSLRs for reducing the graininess in photos. Unfortunately, this usually means softened images and there is no way to turn it off or adjust the strength level here.
On the other hand, it does have a feature called "i-Contrast" which tries to give your photos more dynamic range (the difference between light and dark areas) to compensate for its small sensor. It seems to work fairly well but still can't compete with that of a DSLR camera. By default, the feature is turned off and you can even run it manually on photos later if you want.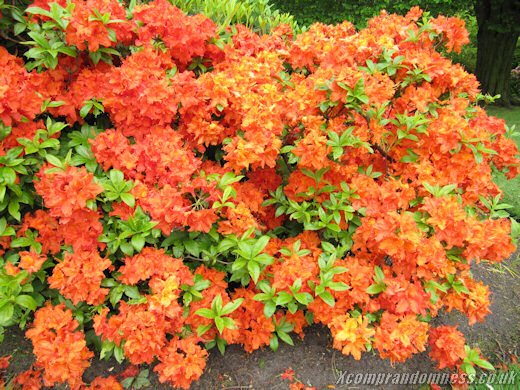 Previewing photos is also easier as you can zoom out to allow a large grid of over 100 photos onscreen at once. Gone is the switch to toggle between playback mode which is now replaced by a single button to switch. Pressing the shutter button immediately allows you to take photos again.
The worrying thing is that you may end up hitting the playback button while the camera is in your bag and it will turn on. Then you may end up having wasting away the battery without knowing it and its battery life is already short as it is. There's only enough juice for 154 shots without flash and 9 minutes of 720p HD video whereas the A720 managed beyond 500 shots with a pair of 2700mAh rechargeable AA batteries and they only take an hour to charge!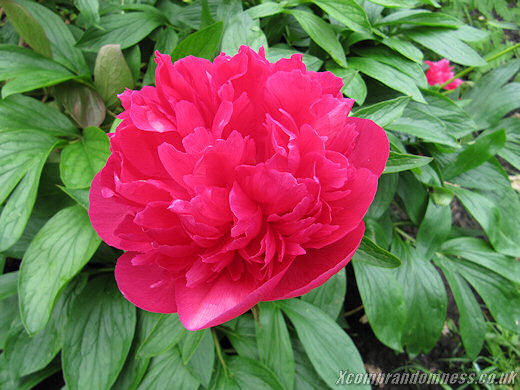 Summary
The Canon Powershot SX200 is a fairly good replacement for my older A720 because it has the same features and more. However, I think I would have went for the Panasonic TZ7 if it had full manual controls and didn't have a 15 minute movie limit because at similar prices, it certainly has better features as you'll find the reviews on Testfreaks and Amazon agree with.
In the meantime, lets hope Canon releases a new firmware that makes better use of the secondary dial, allows adjustment of the Noise Reduction feature and sorts out the popup flash annoyance.
Good
World time setting allows you to set time easily when travelling.
Wide angle 28mm to fit more scenery into landscape shots.
"Auto" adjusts lens very quickly including to macro setting.
Large 3.0" LCD screen previews up to 100 photos at once.
"i-Contrast" for slightly more dynamic range.
Fairly good 720p HD movie support.
AV and 720p HDMI TV output.
Full manual controls.
1cm "Super Macro".
Bad
The slideout flash feels flimsy and leaves less finger room to hold camera.
Photos seem to be softened with the noise reduction algorithm.
No way to disable or adjust the NR feature.
Doesn't include a mini HDMI cable.
Cover to mini USB and mini HDMI interface quite hard to open.
Thread is at the side, hard to balance on mini tripods.
Second dial isn't very well utilised.
Can't zoom during video recording and only mono sound.
Stuck with Canon's short lived Li-Ion battery pack.