A Stroll Around Hong Kong Part IV, Import Goods
An up-to-date
guide to finding niche Japanese Anime/pop culture goods in Hong Kong is now available.
Spent some time going around the stores to see if I could find some of the import goods I was planning to order online before I left for Hong Kong.
Sogo is one of them at Causeway Bay which is a Japanese department store complete with elevator ladies and all the other customs you would expect from Japan after watching all those J-dramas and Anime.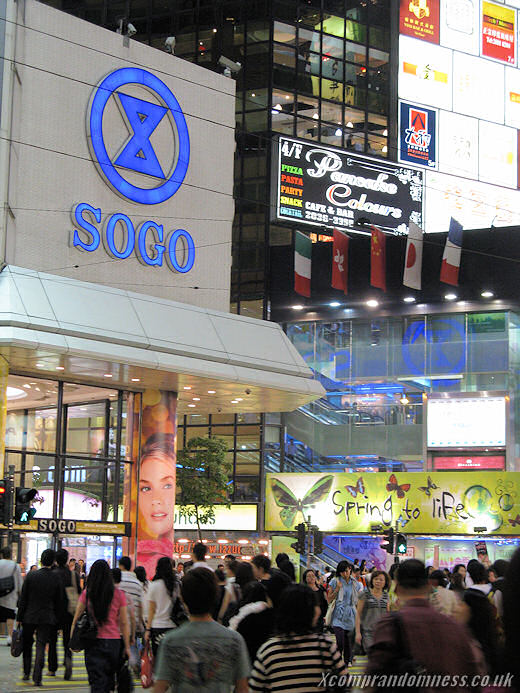 Just get off at Causeway Bay and you'll find an exit that connects to the building.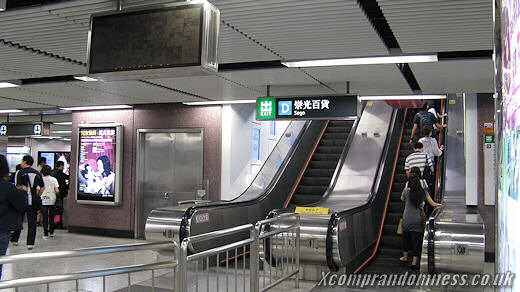 A giant walking piece of raw meat! That guy (or girl?) must be being boiled alive in there with the hot weather here!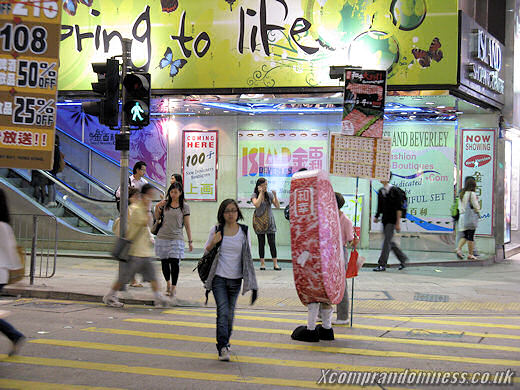 As you head up, you'll find a fair share of Gachapons too including some Code Geass R2 ones.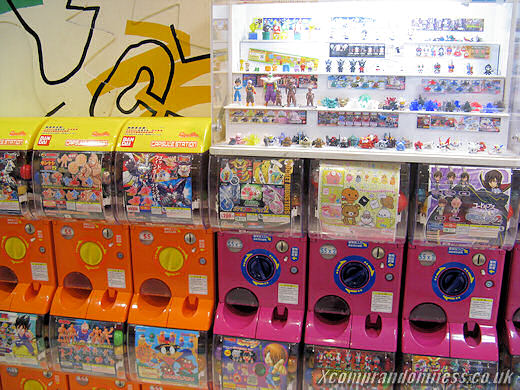 Manga can be found anywhere there's a bookstore basically but if you want them in their original Japanese, this is where I usually visit when I'm in Hong Kong. You'll find quite a lot of Japanese people visiting.
You'll find the Asahiya Bookstore at the very top level that also has the logo "Sogo Book Club". Don't worry about being a member because you can still walk in and just but whatever you like.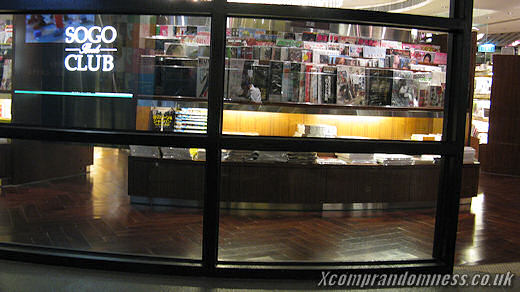 Was hoping to find the Beast Player Erin and FFVII On the Way to a Smile hardback but they didn't stock either of them. It's free to ask them to order something. Just be sure to have the Romaji and most importantly the ISBN because not all the staff understand Japanese.
In this case, it was going to take 3 weeks so that was out of the question.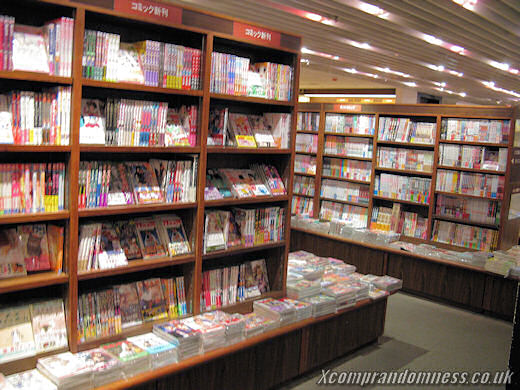 Note that all prices are in Yen and they go by their own exchange rate. They have lists up but be sure to check with the staff because they're not always up-to-date.
Ended up coming across this FFVII Advent Children Complete Postcards book which contains 24 renders of the characters. I'll cover the contents in another post but what I can say is that pretty much all of them have been published before - Especially during that exhibition.
Just hope they don't do a bigger sized version later!
The exchange charts said the rate was HK$7 to 100 Yen but ended up finding it was actually HK$12.50 to 100 Yen... So this cost me HK$150 (1200 Yen).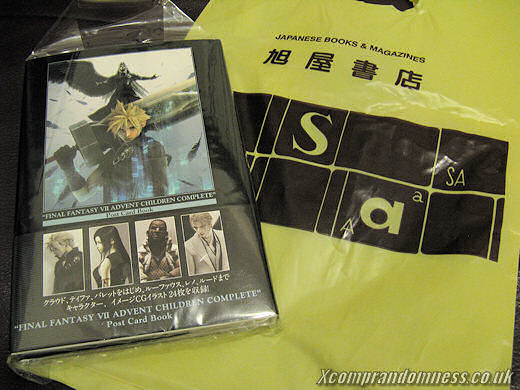 There used to be a Mitsukoshi department store nearby but it's gone out of business since March from what I heard.
Fortunately, Sogo isn't the only place for picking up import Japanese printed goods. You can also try the Apita store at Taikoo, City Plaza.
Saying that however, I still couldn't find those novels I'm looking for so it looks like I'll just have to import after all.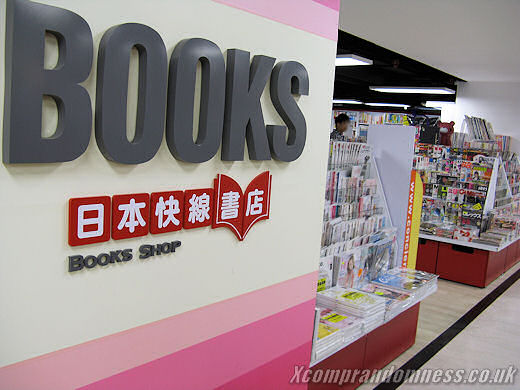 Although the big record stores have some import Asian products, you'll have to drop by Mong Kok's "Sino Centre" for a better selection of the limited edition goodies.
Mong Kok's one of the busier places with lots of people. Expect queues at the toilets.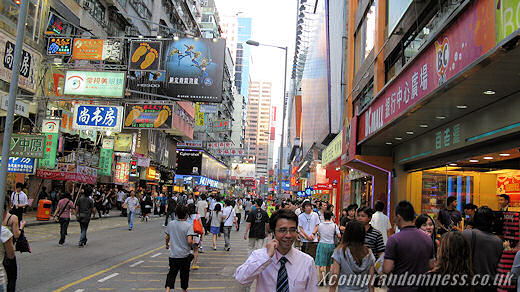 It's a very packed place as the name suggests. I don't think it's quite as packed as Tokyo in Japan but, one of my penpals who live there and travels a lot says it's probably busier here.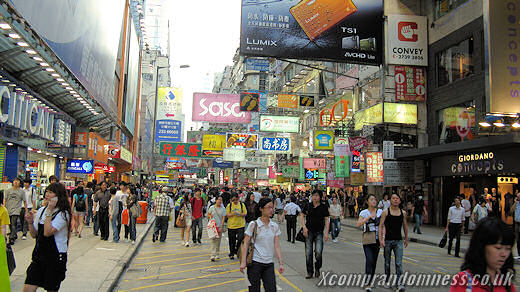 If you don't mind the odd adult video store dotted around the place, just take the MTR to the station and go to the 'E' exit. Go out E2 and turn right.
Follow Nathan Road and if you pass by Hollywood Plaza, you'll know you're going the right way.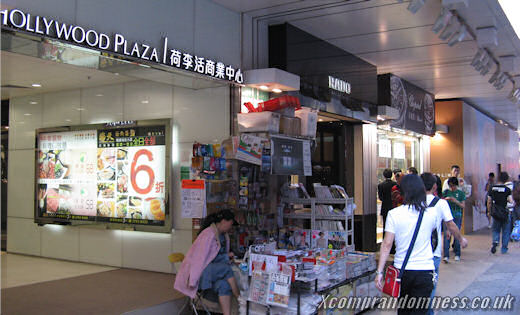 582-592 Sino Centre.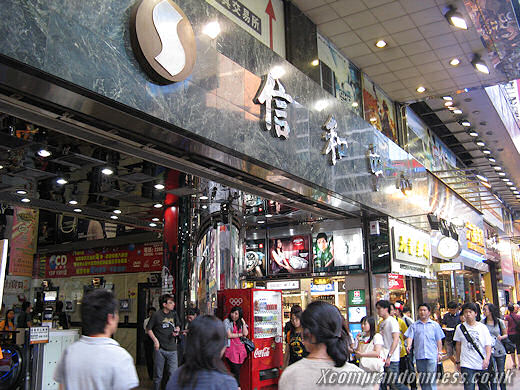 Some limited editions of Ayumi Hamasaki's latest album "Next Level" that I didn't manage to find in the bigger stores which comes with a poster and a box of tissues... Picking it up as a gift. There's also a limited edition USB flash drive version with all the songs in 320kbps MP3 format instead of CD.
Quite a collection of Anime, game related music here too such as the "Don't Say Lazy" CD, the ending song from the current popular show "K-ON". Still to watch it.
There's even some er... Interesting cushioned mousepads.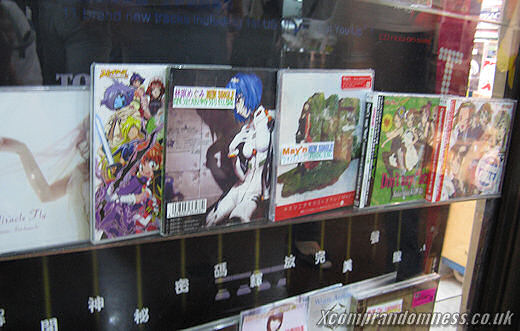 And more import magazines. No more for me since I already have a lot of them.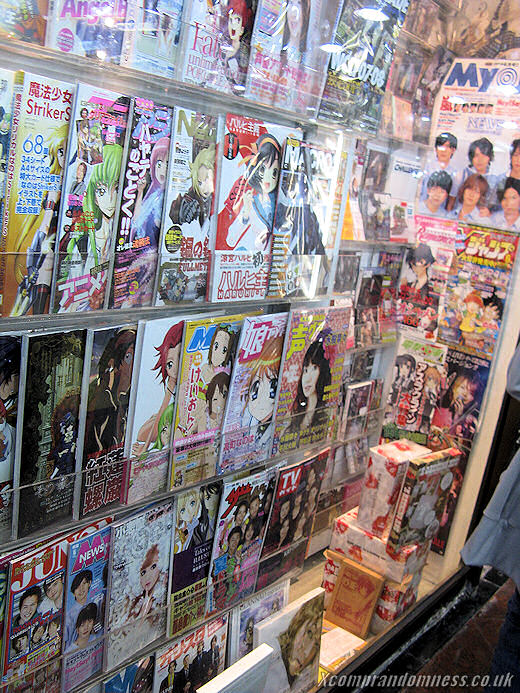 And leaving Mong Kok but not too far away is Sham Shui Po's "Golden Computer Arcade" is where you'll want to visit for cheap computer parts and import console products including mods or "magikon" flash carts for the DS.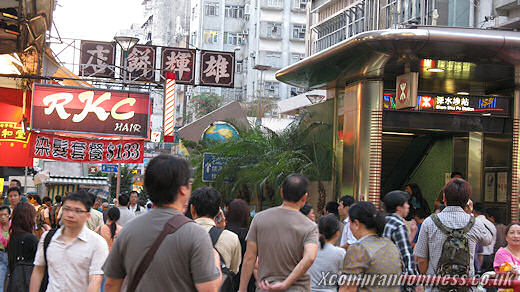 Some are bootleg games though so you'll have to be careful and once again, there's the odd adult movie store dotted here and there. I think one of the female tourists was surprised because she was expecting the whole place was just computer and game related goods.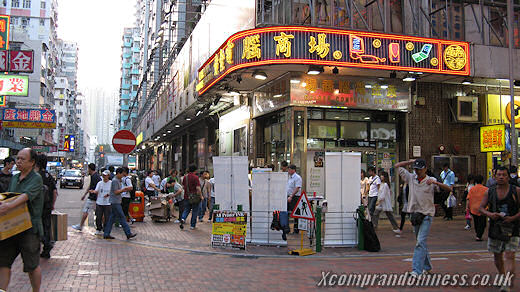 Just like Mong Kok's Sino Centre, there used to be a lot of pirate stalls here despite the police sweeping the place time and time again but with affordable broadband these days, there really is no business for the pirates any more.
Looking at the number of small stores in here reminded me of a show talking about how Akiba started out in Japan, Tokyo... Lots of little stalls cramped together selling electronic parts I think it was. Now it's considered the "Sacred Land" by Otakus today.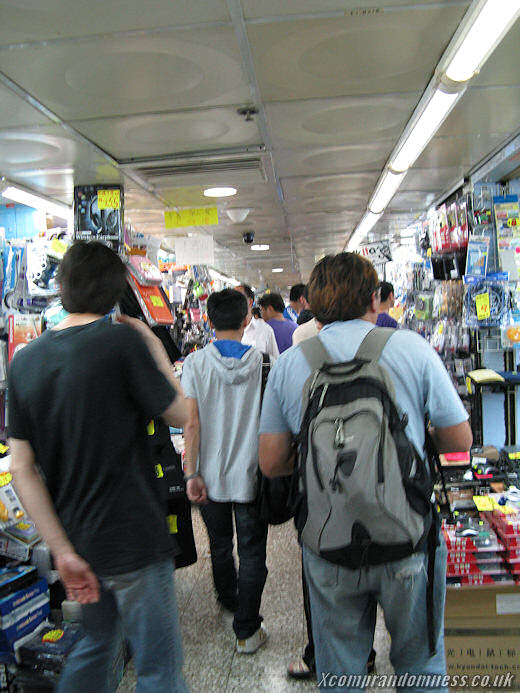 While you're visiting these areas...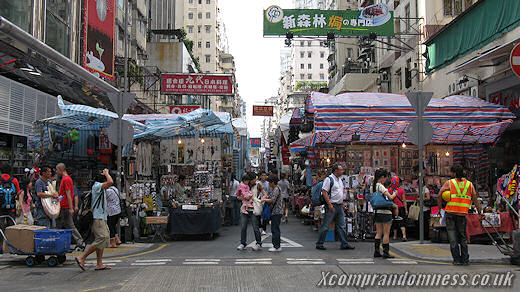 You can take a stroll through the market places for even more bootleg goods but also some cheap stuff if you feel like bartering.
Quite a number of wallscrolls with all kind of images printed on cloth available too for less than 5 pounds including Anime related illustrations.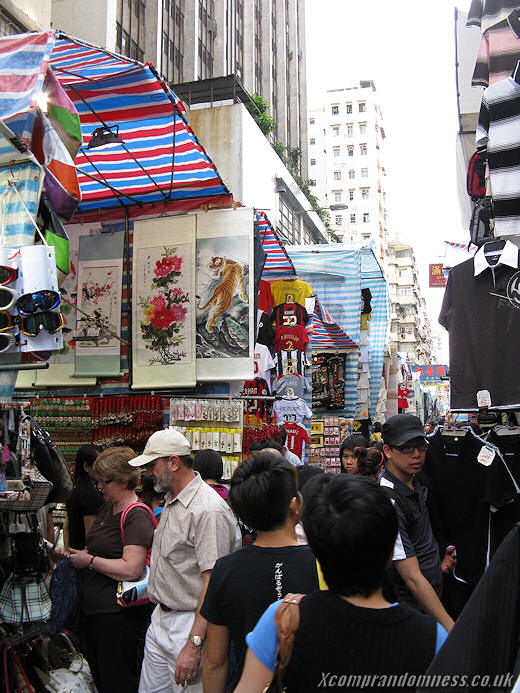 Ended the day with some bacon, ham and chicken baked rice topped with cheese. Not bad except the meat isn't cut quite as clean as the other places I've visited so far.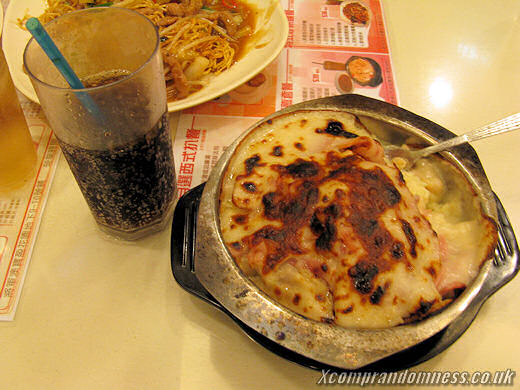 Also seems someone threw acid into the streets of Mong Kok for a second time over the weekend and the culprit still hasn't been caught yet.