The opening for Atlus' upcoming remake of Persona is up on their site now so you can hear a bit more of the theme song than what's available in the sample music section of the site. Wasn't going to post about it because I'm sure most people who are interested already check the site frequently. Lots of eyes!
I don't think they've revealed who the vocalist is yet but I'm still fairly certain it's Yumi Kawamura from P3 providing those powerful vocals. Been listening to the samples several times now so can't wait to hear the full sound track!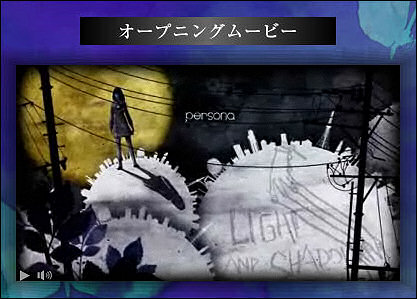 I hate to say this but... Ever since the announcement of this remake I feel the revamped music doesn't quite blend in with the out-dated graphics of the game which is partly the reason why I don't really want to pre-order this.
The other reason being that I'm not sure how good the game really is. I think Atlus must have saw a cash-in opportunity with the popularity of P3 and P4 to give one of their older games a half proper remake instead of just a port, assuming those fans unfamiliar with past titles will jump right in. I personally would have preferred a full remake and I'm hoping they will create a new original Persona game for the PSP, a modern title I can take around with me.