Evangelion Girlfriend of Steel 2nd Port for the PSP
Don't get this confused with the other PSP "Evangelion Girlfriend of Steel Special Edition" that's due out next month.
Featuring a whole new Evangelion storyline that ties up closely with episode 26 of the TV show, "Evangelion Girlfriend of Steel 2nd" will branch out depending on whether Shinji "chooses" Rei, Asuka or even Kaworu!
14 year old middle high school student Shinji Ikari is enjoying the days with his friends. The cheerful energetic, superior acting and childhood friend Asuka Langley Souryuu, the running energetic transfer student with bread in her mouth, Ayanami Rei. The handsome young man Kaworu who loves songs and is good with the Evangelion. The Touji Suzuhara who has a trademark jersey look and hates beating around the bush. The military Otaku and mecha loving Kensuke Aida.

They all appear no different than your average second year junior high student. Well, besides being pilots of the humanoid fighting machines, "Evangelion"...

Set in New Tokyo-03, Hakone and Chisekibara - Another Evangelion story is about to begin.
Due on June 11th, it will feature the same changes and improvements over the original PC version which was out in 2003 and then re-released for the PS2 in 2005. Another item to keep hungry Eva fans down until the second rebuild movie.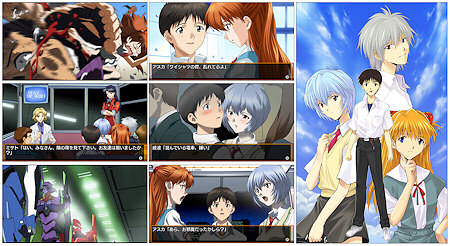 There will of course be the obligatory limited edition which will contain an original card case illustrated with Asuka and a keyring of Rei, opposite of what the prequel port will have.
And once again, shops are offering illustrated telephone cards.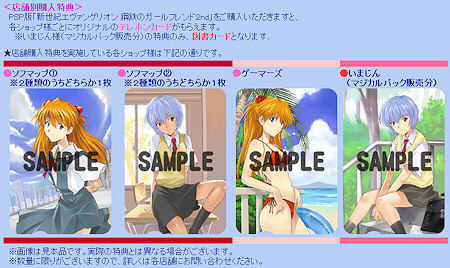 That kick in the face must be really painful for Touji! Worse than when he got the double slap aboard the cruiser. Find more screenshots over at Game Watch.