Logitech X-540 Speakers Review
I almost got the wrong parcel when I received this by City Link in the morning and it gave me quite a scare because I had already signed for it too! I was stupid enough to give the guy back the wrong parcel before he exchanged for the correct one. Luckily it was an honest guy and he came back with a much bigger box but I really need be on my toes next time!
Anyway, after using the Sony MDR-V300 headphones for some time, my pair of IBM "Infinity" branded stereo speakers began to sound very inferior so I thought it was time to replace them. They have a treble control but lack bass for lower frequency sounds and instruments aren't very vibrant. Since I was going to replace my speakers, I thought I might as well go for a set of 5.1 surround sound ones to enjoy my games and movies with too.
Unfortunately, I don't know what their specifications or components are so it was hard to see what kind of speakers would be better but, I decided to go for the Logitech X-540 after all the good reviews I read about them.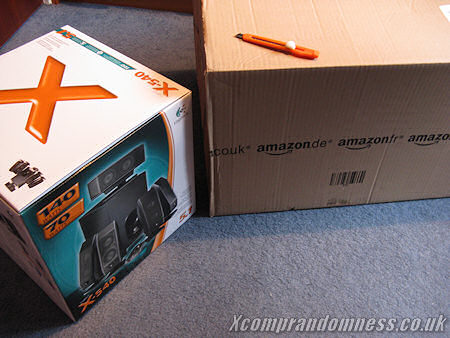 Unpacking and Setup
The sub woofer and speakers are so tightly packed I had to carefully turn the box upside down to take them out.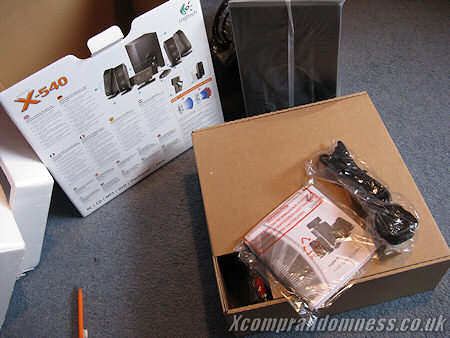 Have to spend quite some time unwrapping because each of the speakers and the wires connected to them are wrapped individually by a bag.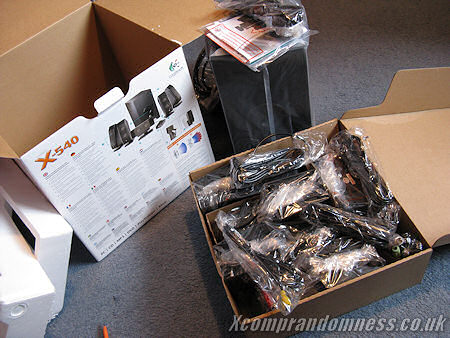 Whoever wrapped them didn't do too bad a job because the sellotape's wrapped carefully so that you can peel it off without trying to use your nails to find the ends.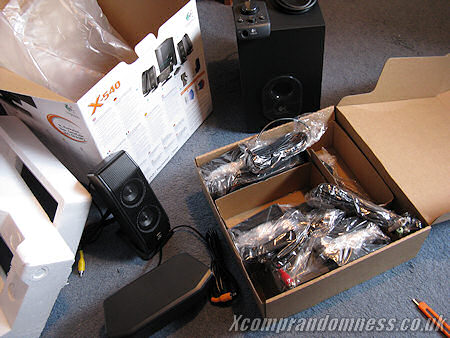 As you can see, the sub woofer's quite large at 28.6cm x 16.5cm x 24.8cm. The wired remote is attached to it but more on that later.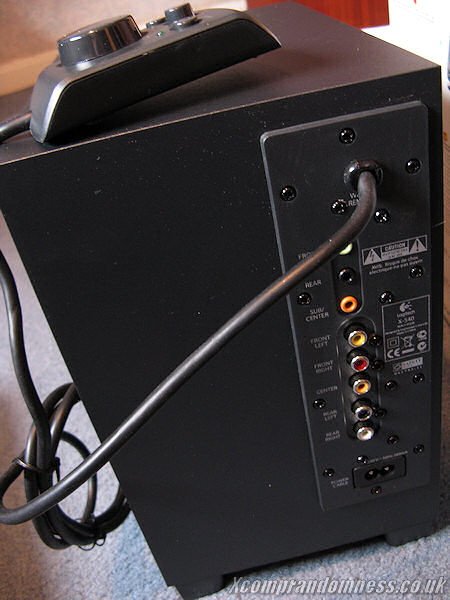 The bottom of it is where all the bass comes out from and hits the room's floor so that it can spread out for full effect. As you can see, the cone is unprotected so you're going to be have to be careful when lifting it. Fun to watch it thumping to the beat of music, though.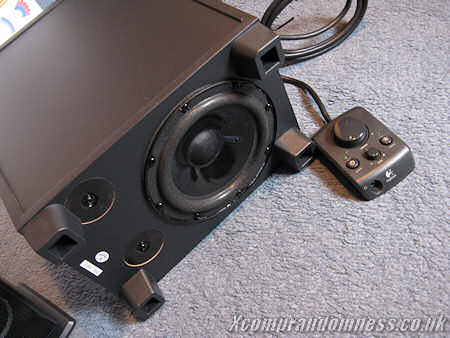 The speakers' stand can be adjusted so that you can hang them on the wall or set them on your desk.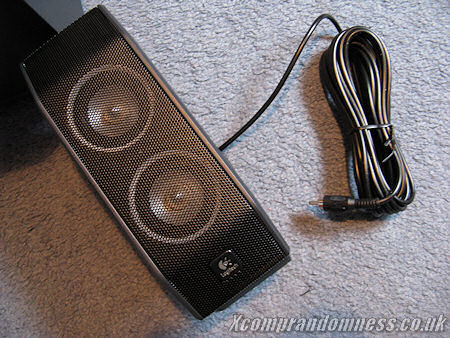 Unfortunately you can't detach them and the speakers are angled so that they are pointing upwards so if you wanted to direct them at you, you will have to set them at a low level or lay them on the sides. The central speaker can be adjusted to hang on top of your LCD monitor but I didn't try it.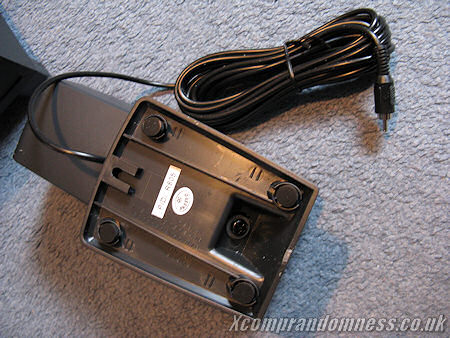 It seems the previous version of these speakers the X-530 don't have the protective grill on them but, they still aren't magnetically shielded from electrical interference such as mobile phones.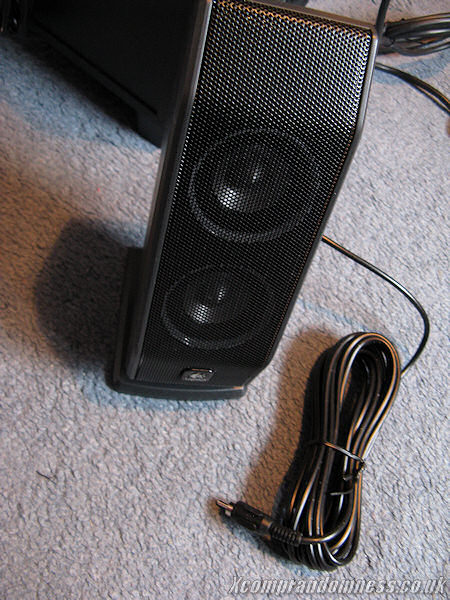 Performance
For the record, I initially had them plugged into my on board Realtek HD which has support for 5.1 surround sound and turning them on, I can't say I was impressed by the sound quality of music unfortunately. I don't know what my old speaker's specifications are but, the X-540s sound very much the same.
For a frequency response range of 40 - 20,000Hz, the sound spectrum isn't bad even though it's lower than the human hearing range of 20 - 20,000Hz. There appears to be a few more audible sounds in music than from my old pair of speakers.
However, playing my range of instrumental music such as those by Nobuo Uematsu and Joe Hisaishi, instruments such as cymbals and piano notes don't sound any different and are still very flat i.e. they don't sound like the real thing where you can feel the sound rippling through the air as each note are played - they are very synthetic and lack ambience. It sounds like a half-hearted band is performing the music and this may very well be down to the dual cone satellite speakers. Separate better sized tweeters would have been better for reproducing high frequency treble sounds. Even vocals sound a little rough around the edges.
Thinking it might have had something to do with the quality of the sound signal from my on board sound, I plugged in the headphones into the remote but I found the sound quality was still top-notch. I then decided to test the speakers on a dedicated Creative Sound Blaster Audigy 2 card yet, the sound quality of instruments remained very poor no matter how much the software settings were tweaked.
On the other hand, I now have access to some excellent low frequency bass sounds provided by the subwoofer which, does an excellent job. Just turning up a little is enough to feel the boom. One down point is that it has a low mechanical humming sound even when you have the power button set to off. It only goes away after you turn off the mains.
Loudness is also great. Half of the volume was enough to pound through the house. I didn't dare try to turn them up to full.
I couldn't find any faults with the 5.1 surround sound either. They give a good sense of immersion when watching movies and games such as Mirror's Edge sound amazing too with a great sense of depth and environment.
Then we also have the "Matrix" button on the wired remote which allows you to upmix 2 channel stereo sound sources so that they have a surround sound effect.
However, the results are a bit of a hit and miss which is why having this dedicated switch to toggle the feature on and off comes in handy. With vocal songs, the vocals are too pronounced from the central speaker, drowning out the instruments but with instrumental songs, the results are impressive as if you're the conductor surrounded by a band.
It also works fairly with with the Anime fansubs that have stereo sound sources.
While experimenting with the speaker layout, I found that if you don't have somewhere to put the rear satellite speakers behind you, you can always put them far away from you behind the front speakers instead which works fairly well too.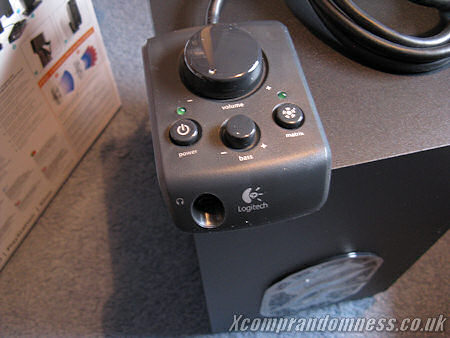 Next, lets have a look at the wired remote. There's not much to say other than it's better to use because of the big volume control compared to the tiny one my old speakers have. It's loose enough to adjust comfortably and very convenient to have within a short range.
The reviews I read claim the volume control is bypassed when earphones/headphones are plugged in but, I can control the volume just fine with the Sony MDR-V300 headphones. I thought the claim was odd when I first read those reviews because I thought, "Why would they bypass the volume control when it's plugging in through the remote?" Again, just like the Matrix button, this is a lot more convenient than using the Windows volume controls!
As for the cables, people have been complaining that they're too short but good enough for a small room. Well, the actual length of the cables are approximately 4m for the rear satellite speakers, 2m for the front and 1.5m for the sub woofer. Works fine on my corner desk.
In conclusion, I can only really recommend these speakers if you just like your music beating with the booming sound of bass and want a fairly good surround sound experience, adequate for movies and games. Other than that, if you want to hear instruments in your music at their best, try a different set of speakers.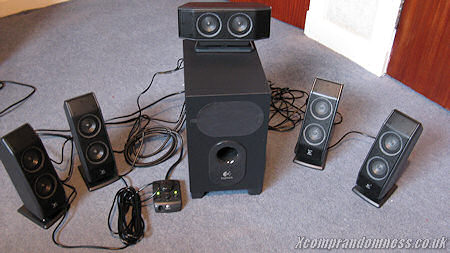 Note the piece of plastic stuck on the subwoofer just above the port isn't part of the speaker. It was covering the port and I just peeled it off and stuck it there so that I would know where it was if I ever had to pack them up again and, lucky I did.
I'm going to have to try returning these and try something else. Nice thing about Amazon is you're allowed to return purchases within 30 days as long as they are in their original condition complete with wrappings. I made a booking late night for DHL to come collect it and they came just around two today to pick it up. Whether they decide to accept the return or not is another matter though but, we'll see.
Once again, I have to say I've learned a lot about sound equipment while I've been researching about speakers. Wikipedia has a good article on it but sites such as 3Dz Audio has a good glossary of the technical terms used.
Good
Good surround sound experience for movies and games.
"Matrix" surround sound for stereo sources work well with instrumental music.
Loudness - Just half the volume is loud enough to sound through the house.
Wired remote controls headphone volume too.
Large easily accessible volume control.
Powerful bass response.
Bad
Mechanical hum from subwoofer even when it's "off".
Musical instruments sound flat with the dual cone satellites.
Vocals are a little rough around the edges.