Dot Hack Link for the PSP
The latest title in the .hack franchise, .hack//Link will be for the PSP and feature all characters from previous titles whether they appeared in an Anime show, light novel or Manga.
There isn't much detail about the system yet but, the story will be presented in Manga style and will take place in an evolved version of The World, "The World R: X". One day, Saiki Amagi takes out a mysterious black disk labelled "R:X" and when her friend Tokio Kuryuu touches it, there is a burst of light. Together they travel through space-time and reach The World.
More screens and character art can be found on Game Watch.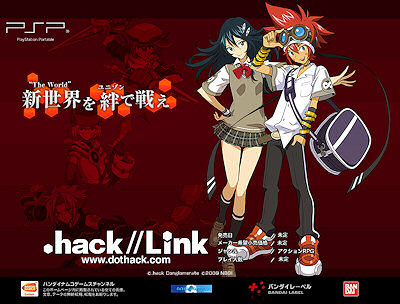 Never really played any of the PS2 games but, I enjoyed the shows .hack//Sign and .hack//Legend of the Twilight Bracelet. That was when I imported my first Anime OSTs.