Sony MDR-V300 Headphones and PC Front Panel Interference
Decided to pick up a pair of headphones so I could enjoy my media and games without disturbing other people in the house at night. Wasn't really sure which one to get since there doesn't appear to be that many good headphone review sites about. Instead of opting to order online, I went to the high street stores because I wanted to see them first. It's just a pity none of the shops let customers actually test them out.
I'm not too familiar with audio related hardware but in the end, I went for this Sony MDR-V300 because it was reasonably priced, had a greater frequency response range than others and I liked the design.
I've learned quite a bit about audio equipment after this.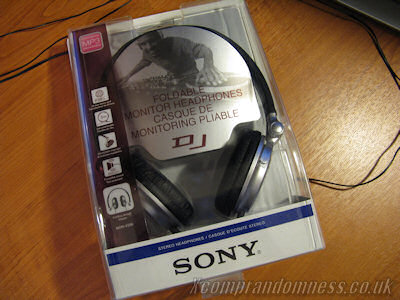 The specifications are...
Type: Closed dynamic
Driver Unit: 30mm, dome
Power Handling Capacity: 500mW
Impedance: 24 Ohms
Sensitivity: 102 dB/mW
Frequency Response: 15 - 22,000Hz
Audio Terms
I wanted to go for 44kHz because I thought that was the sound range of CDs until I realised it's actually the recording quality level - It has nothing to do with the frequency response range. You might want to read up the "Sampling" chapter of "The Compact Disc Handbook" if you want to learn more. It is related to the way analogue sources are converted to digital when recording CDs and requires quite a bit of detail to explain so I won't write up about it here.
I also found the human hearing range is actually just 20 - 20,000Hz . Anything beyond that and you can only feel the sound in your ear but not hear anything although I'm not sure if that really makes a difference to the listening experience... Perhaps it's like being a room with a piano and once a note is played, you can still feel it ringing through the air even though you can't hear anything any more.
According to discussions in some audio forums, the frequency response range doesn't really mean much. What one hears really depends on what actual components are being used in the headphone and how much power the sound output can produce. Saying that however, I notice the headphones that are close to the £100 range covers up to 80kHz and just a small 2kHz difference can knock up the price.
Practical Home Theater and Headwize have some pretty good glossary as to what all the other specs mean but, I only looked them up after I bought these headphones because I wanted to know what the other terms meant.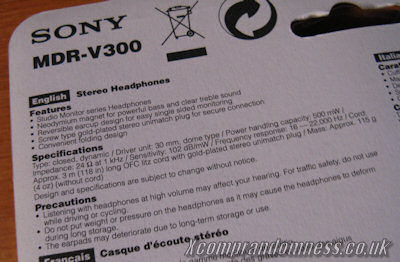 Packaging
This pair of Sony headphones came with a 6.3mm gold plated adaptor and a generous 3 metre cable. Most I saw only came with one or two metres. The long cable isn't detachable however, which means if you plan to use the headphones on the move, be prepared to have quite a bundle of wire in your pockets. The audio jack itself is very big too so it would be clumsy plugging it into a DAP such as an Ipod Nano or the Meizu Mini Player.
I heard from electrical engineers that gold connectors are nothing but a sales gimmick. They don't really improve the signals that the end user perceives (in the case of video cables) or hears.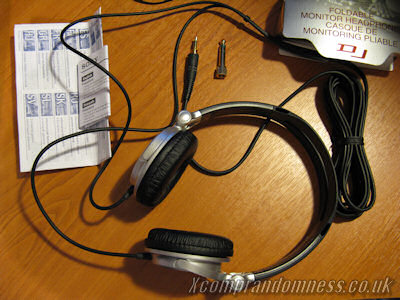 The headphones are made mainly of plastic with cushioned earpads for blocking out the noise. Works fairly well because I can barely hear my typing when I'm wearing them with nothing playing. They can also be swivelled around so that you're just listening to one of them to monitor sound like the DJ on the box.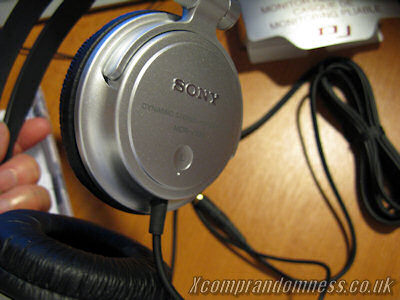 The headphones can be adjusted using these little extensions which feel kind of brittle. Reviews on Amazon say the headphones are a tight fit around the ears and I have to agree. You could find yourself with some fairly sore ears if you wear them for maybe just over an hour.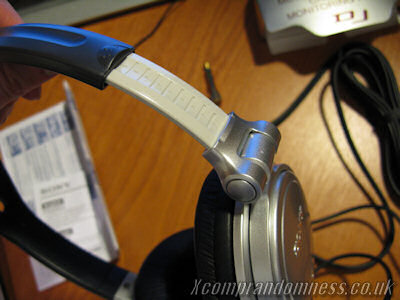 Performance
Upon plugging them in, I was impressed by the sound quality. Sound is crisp and the spectrum is excellent because I can hear a lot of the instruments and sounds in music that I usually can't hear using my two old PC speakers and other earphones.
However, as again mentioned by a few of the reviews on Amazon, I have to agree the bass is good - a bit too good. I say this because the bass sounds are so loud, they sound amplified too much and it makes the other sound frequencies such as the vocals sound a little muffled out so it feels kind of unbalanced overall.
I did get used to the bass after a few hours though and if you really can't stand it, you could always tweak the equaliser settings. Now my speakers sound very inferior in comparison but then again, they just came with my very old IBM Aptiva PC over ten years ago and only has a treble control.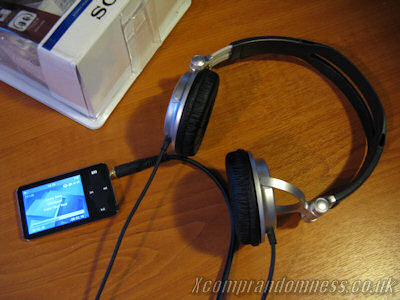 Electrical Interferences
The headphones are great but what I didn't expect to find, was some electrical interference coming from the PC's front panel. Initially I just used earphones and I never did notice any odd noises in them so I thought I could just replace them with a pair of headphones for better sound. However I found that if I plug in the headphones, I can hear a lot of buzzing and every time something happens on the PC, there is a corresponding noise. I double-checked, plugging them into the TV and my own DAP to see if it was just faulty headphones but, there was no buzzing from them.
I did a little search later and found out it was the components inside the PC affecting the unshielded wires connecting the front panel. That and probably because these headphones does a better job of amplifying low frequency bass sounds.
Browsing through the boards, it seems most people suggest getting a pair of USB headsets which don't suffer from the same problem but, I'm not sure about the sound quality. So instead of returning these headphones, I've just plugged in an extension cable directly from my sound card so that I can  just unplug the speakers and plug in the headphones whenever I need to.
In fact, I hardly even use the speakers now because the difference is so great.