Samsung NC10 Netbook Review
Been wanting to replace my full sized 15" Acer laptop a long time ago ever since seeing all the light-weight laptops people have been carrying around campus. Lugging around the 2.5kg laptop is not fun on flights or when you have big books in your bag to carry too...
So, having had a play around with the recent range of "netbook" in the high street stores, I decided to replace it with a Samsung NC10 Netbook.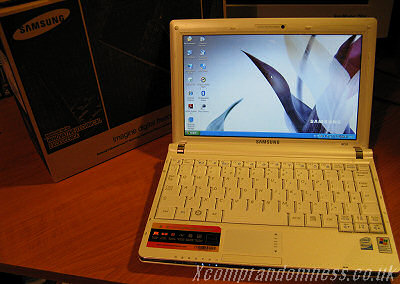 I only went for a full size laptop four years ago because lighter medium 12" sized ones were expensive with low performance and, I didn't really want a smaller screen. However, after using the Acer for some time on the move and playing less games these days, I've decided I just want something a lot more mobile that I can use to browse the net and do some work such as word processing, sort out some photos and basically work on this blog.
Netbooks aren't new and I think are only starting to grow popular with the range of models growing as more companies start releasing their own versions. Most of them are all the same specs though so it really depends on how you like the build quality for now.
I think the biggest problem is the lack of an optical drive. While trying out the netbooks in the high street stores, I remember how annoyed or disappointed the casual customer was. They were initially very impressed until I pointed out to them there's no built-in optical drive with netbooks.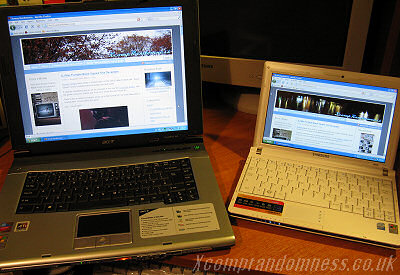 Choices
I originally had my eye on the Acer Aspire One but, decided to go for the Samsung NC10 because it has a slightly larger screen. It also appeared to have a dedicated "scroll bar" that allows one to use the touchpad like a mouse wheel but, apparently it turns out any current laptop can do that (I'll talk about it later).
Besides that, at the time of purchase, the only Aspire One available in the UK was a lower spec model that had half of everything the NC10 namely a 3 cell battery, 512MB RAM, an 80GB hard drive and 0.3MP webcam. The better 6 cell battery, 160GB version wasn't going to be out until the following month which will be selling for the same price as this NC10 anyway.
Wanted a blue version of the NC10 too but since it wasn't available yet either, I thought white will do fine too. My white DS Lite hasn't gone yellow so I'm pretty confident it won't happen to this netbook too.
Box Contents
We have the laptop itself with the obligatory manuals and adaptor. Even though netbooks don't come with optical drives, there are two recovery CDs to restore your computer if there is the need.
The adaptor has a handy velcro strap on it to keep the wire neatly tied up but, it doesn't have a LED light on the box to indicate it's powered like my Acer's one. It's interesting how after my laptop's fully charged, I find the light continues to stay on for a minute or two even after I've unplugged it from the mains. Probably still has some charge left in the transformer.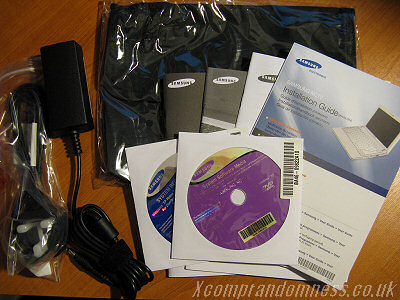 Samsung was also generous enough to pack in a black suede sleeve to cover the netbook with.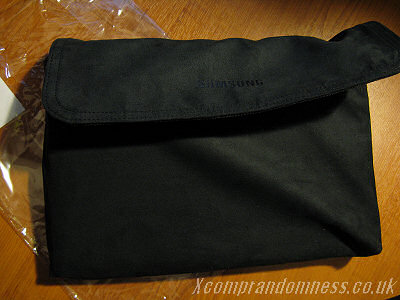 It's not cushioned so it's only good for protecting it from dirt and scratches.
Setup
Upon booting the NC10 up, it took about half an hour to get through the setup procedure.
After entering user information for Windows XP, it boots up Samsung Recovery Solution III where your Toshiba 160GB hard drive is partitioned into three - one hidden for recovery purposes, one for backup and one for Windows and programs. The last two ends up appearing as two drives and are split in half by default but, you can choose to go advance and set the sizes yourself simply by dragging a slider around.
A 3.5GB recovery image of your hard drive is then saved to the hidden partition so that should anything happen, you can quickly restore your netbook to the way it was without the need to have access to an optical drive. The downside is of course, you have a little less free hard disc space. Partly the reason why I went for a 160GB netbook.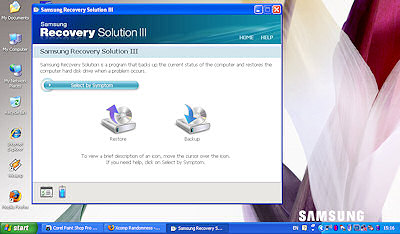 Booting up Windows XP doesn't take long at just around one minute even with antivirus and firewall software installed. It may not be as fast as the Linux powered netbooks that boot up in 15 seconds but, it's much faster than my main machine and my laptop which have more utilities running in the background.
If you really wanted to, you could just install the free Linpus or Ubuntu yourself anyway.
Software without an Optical Drive
Following the netbook's own initial setup, there's also all the mandatory Windows updates of course and the NC10 comes with pretty much no software. It may have McAfee Internet Security but as with all commercial internet security programs these days, there is an annual subscription fee to pay to keep it up-to-date. Fortunately, there are legitimately free alternatives that you could always use such as AVG, Avira, Comodo, ZoneAlarm and if you don't mind not using the "industry standard" software, you could always use Open Office for your word processing needs.
A lot of software can just be (legitimately) downloaded and installed thanks to broadband internet now so even without an optical drive, one can still get by.
As for myself, I used my main PC's DVD drive by sharing it on the network to install my copy of MS Office 2007. There are other ways to make up the lack of a optical drive, the most obvious and easiest option being purchasing yourself a separate external drive but, you could also use a drive emulation program such as Daemon Tools.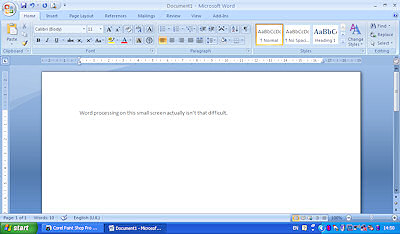 However, note that if you install Daemon Tools v4.30, you might end up with Windows stalling for a few seconds when it's starting up and shutting down. The startup screen will be stuttering as it appears. To resolve this problem you will just have to go back to version three.
Once everything's installed, I don't think you really need access to an optical drive again unless you like watching DVDs but, even those you can create an image of them beforehand with tools such as ISO Buster and then emulate with Daemon.
Hardware
The Intel Atom processor is rated at the same speed as my old Centrino laptop at 1.6GHz and seems to play some of my 1280x720 Anime raw videos just fine even on Maximum Battery mode when CPU usage is set to a "minimum" speed of 800MHz.
However, this only works if the videos are encoded in Divx or Xvid. Videos encoded in the higher quality H264 format starts to lag a bit even at the maximum 1.6Ghz speed. I haven't tried any games yet but, I imagine the Mobile Intel 945 Express chipset can handle something an old classic like Starcraft or Warcraft III. I've read someone even got Sim City 4 to run.
At first, with such a small screen that's less than half the size of the monitors I'm used to at 10", I thought it was going to take some time getting used to the tiny font. In actual fact, the font sizes look very similar because of the higher resolutions the monitors I use are usually run at. The NC10 runs at a maximum resolution of 1028 x 600 as with all netbooks but, if you really wanted you can switch to 800 x 600 with the option of a squashed screen or borders. The display is sharp and very bright even at medium settings which is what I was kind of expecting after seeing how Samsung HD TVs appears to be the choice for console gamers.
The funny thing however is, while testing out the Samsung Network Manager, the program window itself was too big to let me click the next button! Also, I couldn't seem to locate where the MAC for the wireless card was but, with a little bit of fiddling around, I soon had the Atheros Wireless Adaptor connected to my router. Signal strength was stable at the maximum 54Mbps even after moving out into another room.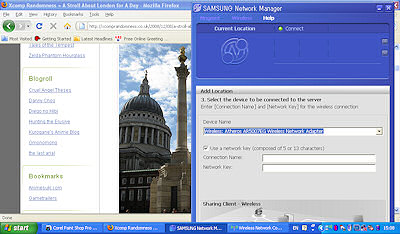 While surfing the web, one or two webpages had problems being displayed. The scrollable areas located off-screen and there was no scroll bar to get to them. Fortunately, a "touchpad gesture" feature, which is enabled by default, allows you to place two fingers onto the trackpad, moving them apart to zoom in or vice-versa.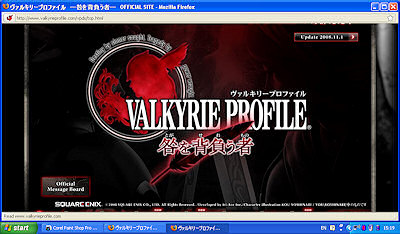 However, the zoom feature only works for sites that aren't presented in Flash. For ones that are, you might not be so lucky although switching to full screen browsing mode usually helps.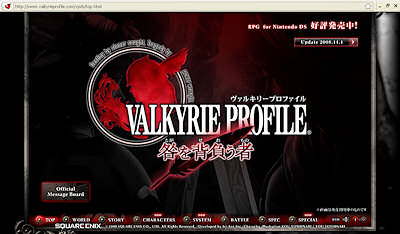 There is a built-in 1.3MP Namuga webcam located at the centre-top of the screen can be viewed using the pre-installed "Play Camera" and works fine for video conferencing. The internal mic set at the top-right of the keyboard, is sensitive enough so that you don't have to lean in to speak.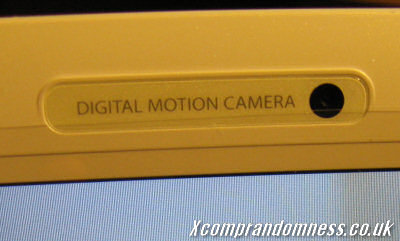 Using Play Camera, you can record movies and take pictures choosing from three resolutions 352x288, 640 x 480 and 1280 x 1024. There's a fair bit of noise but the image quality is generally good considering the camera's size.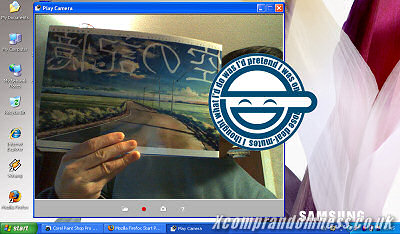 As mentioned earlier, I had initially thought only the NC10 had a scrollable touchpad because of the mini scroll strip at the side but, as long as you upgrade your laptop's Synaptic software to version seven, you'll have it too as part of the selection of gestures. They're very handy if you don't want to take out your mouse much. You just place your finger on the markings (or the right edge of your touchpad if you don't have them) then move your finger in a circular motion around the pad to scroll anywhere there has a scroll bar. It works amazingly well.
The touchpad itself is very small much like other netbooks so, anyone with large fingers will want to try this out at a store first. If you're used to the bigger "full sized" track pads on laptops, you'll probably find yourself wondering why the cursor stopped moving a lot at first because your finger wanders off so quickly and when it does, you don't notice it much because the pad doesn't have a very deep indentation. Adjusting the sensitivity of the track pad in Control Panel helps a bit, though.
Unlike the Acer Aspire One, the touchpad buttons aren't located to the sides of the pad. Instead, the left-click and right-click buttons can be performed by tapping what appears to be a single button underneath the pad.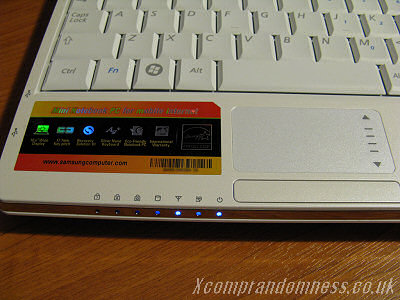 For the keyboard, I don't really like the small backspace key. It's kind of hard to hit compared to the long full sized one that I'm used to. You also have to hold down the function key now to make use of the "Home" and "End" keys now which can take some getting used to. Otherwise, the "93% sized" keyboard is easy to tap at and generally responsive.
Not too sure about the "bacteria free" part about the keyboard, though. Samsung claims it's coated with "nano-sized silver ion powder" to keep it germs free. Sounds a bit gimmicky to be honest.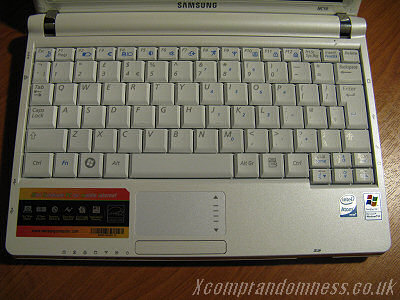 Battery Life
The 6 cell 5200mAh lithium-ion battery is managed by Samsung's Battery Manager. Using the "Maximum Battery" scheme, which runs the Atom processor at a lower 800Mhz as mentioned earlier and makes use of the lowest brightness setting, I managed to get between 6 to 7 hours out of it when listening to music while word processing or browsing the web - more than double the time of my old laptop which had a 4400mAh battery. I don't even need to carry my adaptor with me into campus now!
However, if you're watching videos from your hard drive or tend to stream a lot of video from sites such as Youtube then, you'll probably end up with just over 5 hours of battery time from a full charge due to the increase in wireless signals and extra processing.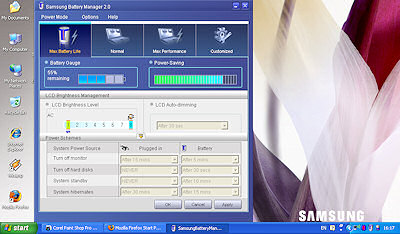 There is a set of power saving options that allow you to adjust the CPU speed, brightness and backlight timer. It mixes all this with the power schemes that Windows offer so you have to go directly into Control Panel to adjust the Standby and Hibernation settings. One setting of interest is that there's an "auto" CPU speed setting which means the CPU will adjust accordingly to save power. You can watch the estimated time left on your battery fluctuating wildly when using this.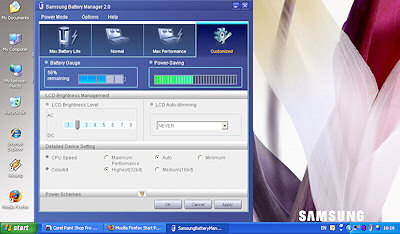 More power options are available in the BIOS which allows you to set whether the Wi-Fi is always on and what the screen brightness is when plugged in. The odd thing is I found the BIOS very difficult to access because it boots up so quickly there's hardly any time to hit the right function key!
The included battery also protrudes slightly with a bar underneath it which means it slants downwards from the screen. If you're used to seating laptops on your lap as you work then, you will have to get used to the NC10 tilting backwards whenever you're not holding it down my resting your hands below the keyboard. Fortunately, it doesn't tilt to the point it completely falls backwards and off your lap!
Fan Noise and Cooling

There's lots of vents with a very gently blowing fan on the left-hand side. It's a very quiet machine when in "Normal Battery" mode. The fan is spinning very slowly and you practically can't hear it in a quiet room. Only if you put your hand to the side can you feel a very light breeze.
Choosing "Max Performance" or plugging it into the mains however, means the fan starts to pick up fairly frequently but it still remains at a reasonable level. It would have been nice if Samsung allowed one to drop the CPU speed to keep the netbook quiet, though. On the other hand, my Acer sounds like it's powering a hair dryer when running on full speed!
The Outer Design
Two of the vents you'll find at the front which is ugly if you have the keyboard at eye level but, most of the time, you're looking down at it so you won't notice them.
You'll aso find there's a non-spring loaded slot for SD(HC) and MMC cards at the front.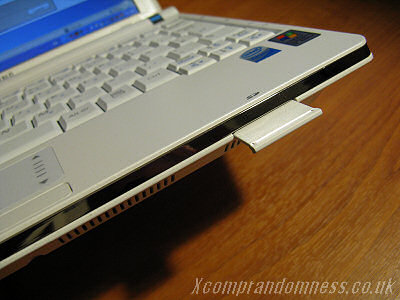 The small circular, three watt speakers are oddly positioned underneath the laptop. The quality of sound is acceptable but, hard on the ears when it comes to action filled videos and loud noises but, how often will you be using the speakers anyway?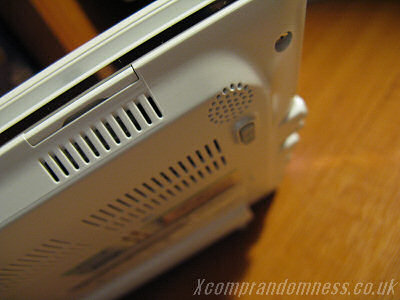 A circular power switch is positioned at the right-hand side and has a cool blue glow to it. You don't have to worry about the NC10 being accidentally turned on because with the lid closed, the power button doesn't work. You'll also find a Kingston security lock slot, one USB socket as well as sockets for earphones and an external mic.
Along the left-hand side, there are two more USB sockets, a LAN socket and the connector for the AC adaptor.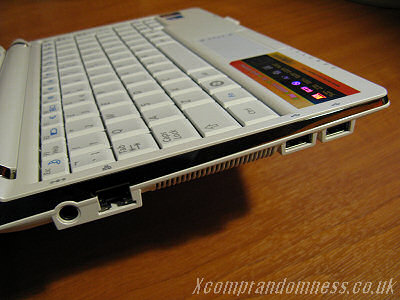 As you may have noticed earlier, all the LED indicator lights including those for key modes such as caps lock are positioned on the front along a smooth metallic strip that wraps around the perimeter of the netbook. I think I would have preferred the indicators to be aligned along the top of the laptop because, glancing down at the edge isn't too comfortable. The strip itself is a fingerprint magnet which means you'll have to wipe it often to keep it smudge free and you will eventually see faint scratches on it no matter how careful you are.
As far as build is concerned, it feels very sturdy although I definitely wouldn't put heavy objects on top of it! It's very light and can easily be carried around with one hand. I've been carrying it around campus for the past few weeks in my bag with only the included case covering it and I've had no problems so far.
Conclusion
Well, time to say goodbye to my Acer Travelmate 4101LMi... Kind of sad to see it go because it was my first laptop and It's served me well for the few years I've had it but, it was a pain carrying on flights. Intel is already working on a duo core version of the Atom processor dubbed "Diamondville" but, I'm very happy with the Samsung NC10 netbook because it does everything I need it to already. It's got long battery life, adequate processing power for the tasks I want done and fits into a regular bag.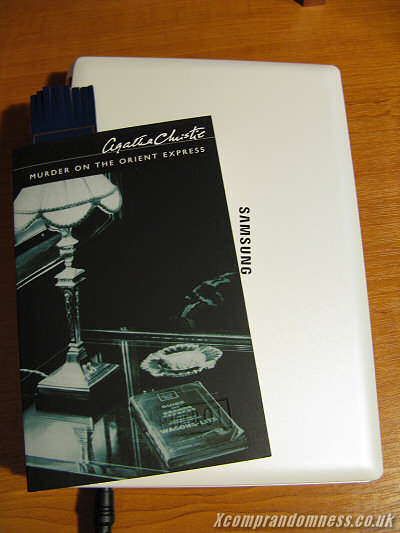 Likes
Light-weight at just over 1kg with battery.
Small and sturdy enough to fit into most bags without case.
Handy touchpad gestures work amazingly well.
Excellent battery life at close to 7 hours.
Fairly good built-in microphone and webcam.
Sharp and bright display.
Quiet operation, low fan noise.
Dislikes
Practically no pre-installed software.
Lacks an optical drive.
Small backspace key.
No dedicated navigation keys.
Typing mode indicators could be easier to view.
Small touchpad.