Devil Survivor Site Open with Trailer
Atlus' Devil Survivor site is now officially open with a wallpaper and a video to watch. Unfortunately, it's nothing exciting because there's no gameplay footage, just a lot of narration. The music doesn't sound too good either although it may grow on me once I get to play the game.
Game's been given a B by CERO for player 12 years or older. Also came across two more bits of info about the staff...
Character Design
Suzuhito Yasuda (Yozakura Quartet Manga and Kamisama Kazoku Illustrations)
Sound Composer
Takami Asano (Godiego)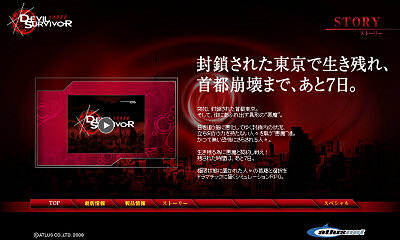 Maybe that explains why I don't like the video's music... Then again, I listened to Meguro's Kuzunoha Raidou compositions and they remind me so much of P4's music. I think he might need to work on varying his music a little more again.