Aniplex is planning a live concert "Persona Music Live" dedicated to the most recent titles in the Persona series on August 22nd at Akasaka Blitz, tickets costing 4500 Yen (US$41) each. The music will cover the upcoming Persona 4, the currently on air Persona Trinity Soul and PS2 RPG Persona 3. The artists who will be singing live on stage will be: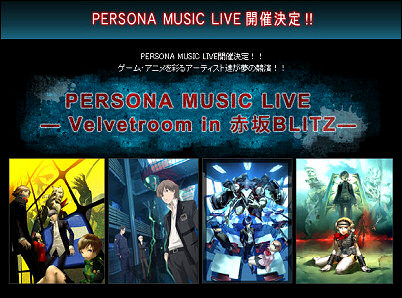 Well, maybe Shoji Meguro won't be singing but yes, the man himself, who composed the music for other popular Atlus games including Trauma Centre, will be present that evening too. This will just be after the release of the PTS and P4 OSTs so the music will be ready by then. Think they'll have cosplayers too like at Pentavision's DJ Max Live Miracle Concert?
Looking at the list, it appears Yumi isn't the one responsible for P4's vocal. It's Shihoko Hirata who I can't find much about on. Either way, her rapping reminds me of Halcali.
And looks like Flow won't be joining them to perform PTS' second opening, "Word of the Voice".