Persona 4, Soundtrack and More Pre-order Goodies Revealed
Now here's some pre-order goodies for Persona 4 that you might not be able to get from import stores because in addition to Konami Style's Special Edition, other local Japanese retailers will be offering some more exclusive bonus items.
First up, by pre-ordering with 7Dream.com players can get a set of 5 original illustrated postcards featuring P4 of course. Or if they choose to go with Media Land on the other hand, they can obtain a telephone card featuring Rise Kujikawa in her former idol glory. Last but not least, Geo E-Shop offers a file folder with the MC and Kuma on it.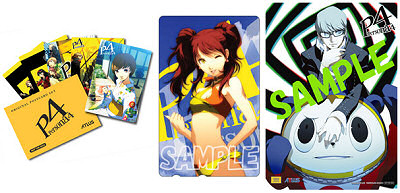 The release date for the Persona 4 OST has also been revealed due for July 23rd, about two weeks after the RPG's release and can be pre-ordered with Play-Asia.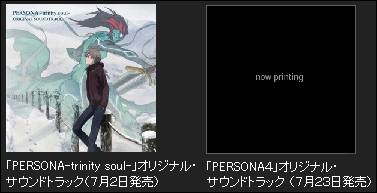 Choices eh? I wonder if Atlus will be releasing another special edition when P4 reaches Western shores just like they did with P3? I'll be looking forward to the P4 OST besides the Persona Trinity Soul OST. All the music I've heard so far have been really catchy and I can't wait to hear the full version of "Found Me"!
I'm still listening to the P3 soundtracks now. I think "3/31" from the P3 FES OST may probably be the best instrumental track out of the discs. It somehow has a soothing, relaxing style to it.