Sigma Harmonics, Resolving the Corrupted Past
So, Square-Enix's "It's a Wonderful World (The World Ends with You)" for the DS introduced some new ideas into their line of games allowing you to play on both screens at once. Now it looks like they have another one up their sleeves with Sigma Harmonics, a game that will contain over 800 illustrations, developed by many of the staff members who were involved with the FFVII titles such as Yoshinori Kitase.
The story begins in the place known as "Kurogami Mansion" located deep underground Tokyo. Ancient demons known as the "Ouma", who affect the thoughts and emotions of humans in the past negatively, are sealed within a giant clock there where students train to master the power of sound with the Kurogami family of "Sound Users".
However, in an instant the world is changed before them with their surroundings turning into ruins, the skies being polluted and no signs of humans. The only ones remaining are Sigma Kurogami and his childhood friend Neon Tsukiyumi, a "Card User". Finding out that someone has rewritten the past, they decide to resolve the mysteries that surround various murders.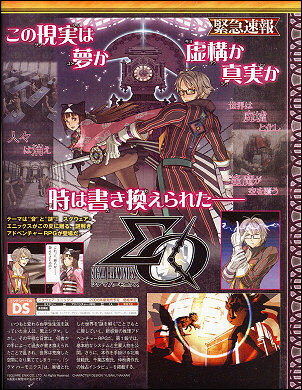 Sounding a bit like Konami's Time Hollow but, its gameplay is sounding a lot more interesting.
Sigma will be responsible for the detective part of the game where he must gather "sound" clues left behind by many incidents such as murders. You can then try solving the mysteries whenever you feel you've got enough clues. This takes place on a Go-like board with different symbols and the idea is to link the black sound stones together. For this reason there are multiple solutions and of course, there will be other symbols that stand in your way. By solving these murders you will help re-direct history to its rightful course.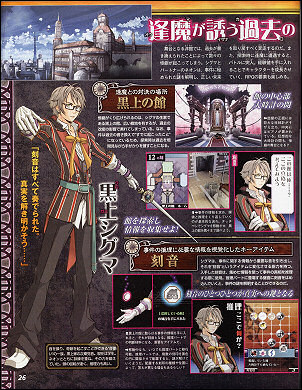 Of course while collecting these clues you will also be exploring dungeons where you will be attacked by the Ouma and the only means of fighting them is with Neon who can summon gods upon herself and use their abilities. However because of this, Sigma will have to be giving her directions from nearby by performing music. As you collect more cards, the attack patterns you can perform will increase. Bosses you end up facing will directly be related to how you solve the mysteries. There also another "gimmick" that has yet to be revealed according to Famitsu's interview with the staff.
The game will apparently not contain any CG movies but instead, will scroll the camera around single illustrations to tell the story and there are over 800 in the game.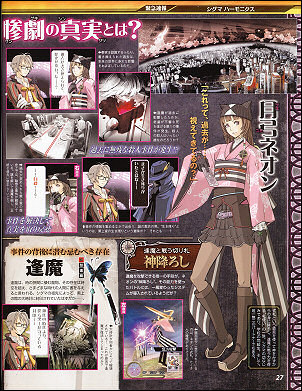 There are people saying how it has Atlus' Persona vibe to it and I don't disagree with its dark setting. I'll definitely be giving it a play!
You can expect this game sometime this summer.