Microsoft Office Ultimate 2007 for Students and Another Look at Piracy
Decided to purchase Microsoft Office 2007 Ultimate Edition because I saw a poster at uni offering it for only around 10% of its RRP for students. That means you're only paying £40 instead of the RRP of £500. You need a valid academic e-mail address to be eligible for this offer and is available until April 2008.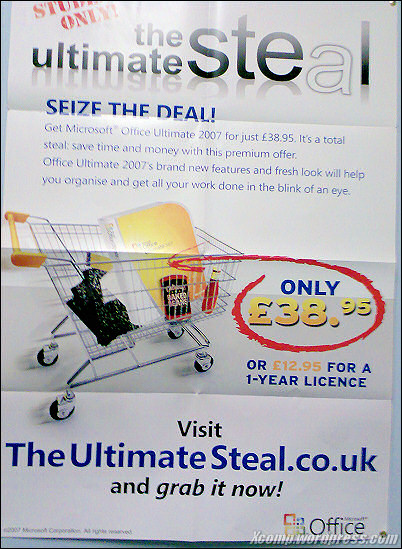 Once you pay on Theultimatesteal.co.uk you get a key and the option to download the office suite. The offer applies to USA students too it seems.
It's another £10 for a CD copy and this is what you get.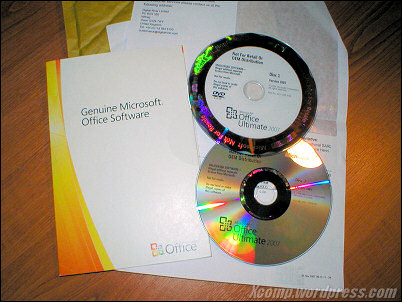 The interface seems to have undergone a drastic change compared to the Office I'm used to using but it's actually pretty good. Also like the content page generator which comes in handy for assignments.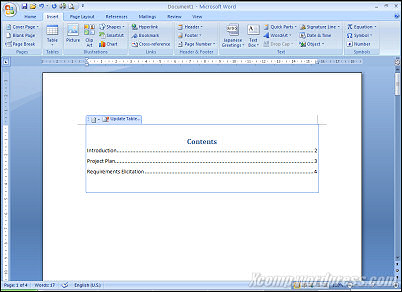 Some of you must be thinking, why buy it when you can get it for "free"? Well, for a number of good reasons.
You don't need to go trawling the net for a working "backup" copy.
Spend time finding a working serial key.
Run potentially dangerous patches to "unlock" programs.
The software itself may have been modded with dangerous code.
Get the latest patches and updates without problems.
There's actually plenty of real legitimately free software these days anyway so there's really no reason to go through that much trouble. To name a few there's Open Office, AVG Anti-virus Free Edition and Google's Software Pack. If you go with a free Linux distribution such as Ubuntu then you'll have a even much wider selection at your fingertips too with less exploitations to worry about.
However, the problem about using free and open source software such as Open Office is, you won't become familiar with the software used in industry if you were to go for an office based job in my opinion.
And in case you're thinking you're safe as long as you have a large selection of virus scanners on your computer when you're using illegitimate software, you could be wrong. I used to have a good number of scanners on my PC too and run them every now and then to check for any malicious files. They had always come up clean.
However, despite those results I actually caught a number of processes running my default browser in the background opening connections while I was working with an emulated Unix terminal in Windows. When I tracked back to find out what was running them, it turned out some of the "backup" software I installed was responsible. Ironically, it was one of the spyware scanners.
Even with games, there's a risk because you need to go to the trouble of modding your console whether it's via software or hardware. There's also a lot of trouble playing them too as developers come up with new ways of protecting their intellectual property but, they certainly won't run like in this mock up video as long as you're up-to-date with the scene. It can still take quite a bit of patience like with Super Mario Galaxy, though.
The other day, my lecturer was taking a trip down memory lane talking about how hard drives were only a few MB. Then he laughs and says, "These days they're more than a thousand times bigger but, they're still not big enough for all the pirate material you lot download eh?" Everyone laughed and I guess it is true with students. You wouldn't be filling up your hard drives otherwise unless you worked in the media and need high quality sources such as images to print those giant A1 sized posters outdoors.
Well, it can't be helped when broadband connections are so cheap and there's so many more ways you can share files on the internet now. Free stuff is always tempting, no?